Award-winning novelist Kamila Shamsie visits the University of Exeter for 'writing masterclass' and on-stage interview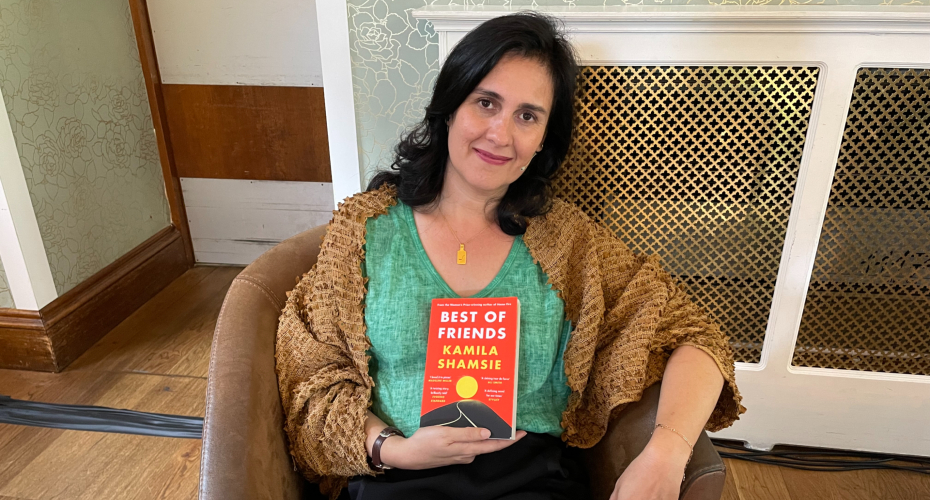 Acclaimed novelist Kamila Shamsie has provided an exclusive insight into the art of her writing after meeting students and alumni at the University of Exeter.
Kamila, the author of eight novels including the Women's Prize for Fiction-winning Home Fire, hosted a writing masterclass with postgraduate research students on Exeter's Creative Writing Programme.
Then in the afternoon, following a symposium focused on her work, she took to the stage for a one-to-one interview in front of an audience of University alumni, students and staff.
It was Kamila's first visit to the University since her 2022 Honorary Doctorate of English, awarded in recognition of her contribution to literature. Her work includes Burnt Shadows (2009), A God in Every Stone (2014) and Home Fire (2018) which in addition to winning the Women's Prize for Fiction, was longlisted for the Man Booker Prize, and shortlisted for the Costa Prize.
The day was orchestrated by Amina Yaqin, Professor of World and Postcolonial Literatures in the Department of English and Creative Writing.
"Kamila is an inspirational novelist, whose cerebral, playful style has won her countless admirers around the world," said Professor Yaqin. "So, we were thrilled to welcome her back to our campus and to have had this amazing opportunity to hear her insights as a leading British writer. It is not often that one gets to spend half a day with a writer like Kamila."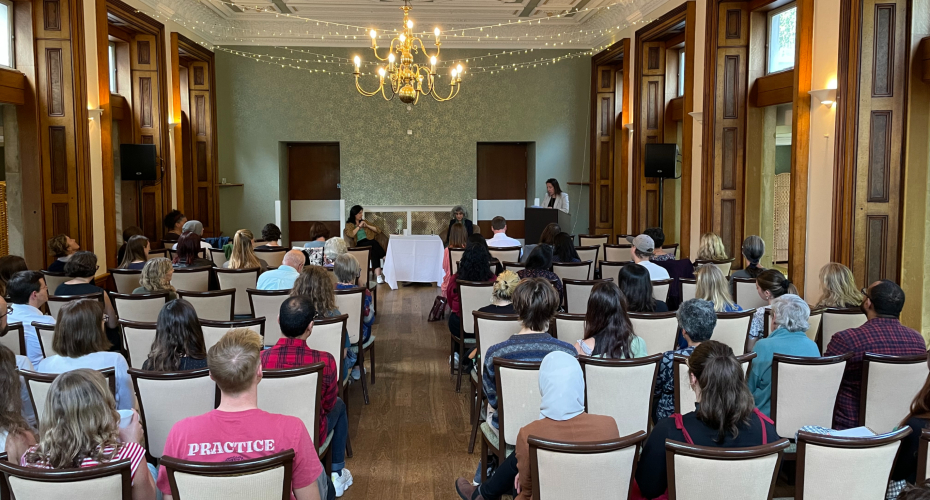 During the masterclass, Kamila spoke to Creative Writing PGR students about adapting Antigone for Home Fire and getting them to think about how they might adapt classical texts for a modern audience.
This was followed by the symposium, which was held at Reed Hall on the Streatham campus. Here, her work was discussed by an esteemed literary panel comprising Professor Ankhi Mukherjee (University of Oxford), Dr Rehana Ahmed (Queen Mary, University of London), Professor Peter Morey (University of Birmingham) and Dr Florian Stadtler (Bristol University).
Kamila then took to the stage herself for a conversation with Professor Yaqin, talking about the writing process and why every story matters regardless of where it comes from. The audience was treated to insights from her latest novel Best of Friends set in Karachi and London. She spoke of the success that came with Home Fire, a novel she wrote after becoming a British citizen. Kamila claimed A God in Every Stone as one of her favourite novels immersed in a vast expanse of history. She also captivated the audience with highlights from her writing career and shared some of the frustrations confronting Black and Asian writers in the publishing industry.
A Vice-President of the Royal Society of Literature and Professor of Creative Writing at the University of Manchester, Kamila grew up in Karachi, and has seen her work translated into more than 30 languages.
Her first novel, In the City by the Sea, was shortlisted for The Mail on Sunday/John Llewellyn Rhys Prize, and Salt and Saffron, her second, won her a place on Orange's list of '21 writers for the 21st century'. Her most recent novel, Best of Friends (2022), won the Karachi Literature Festival/Getz fiction award (Pakistan) and was shortlisted for the Indie Book Awards. This year, her short story Churails has been shortlisted for the BBC National Short Story Award, and she is also a past recipient of the Prime Minister's Award for Literature in Pakistan.