Giving a 'BOOST' to older people with back condition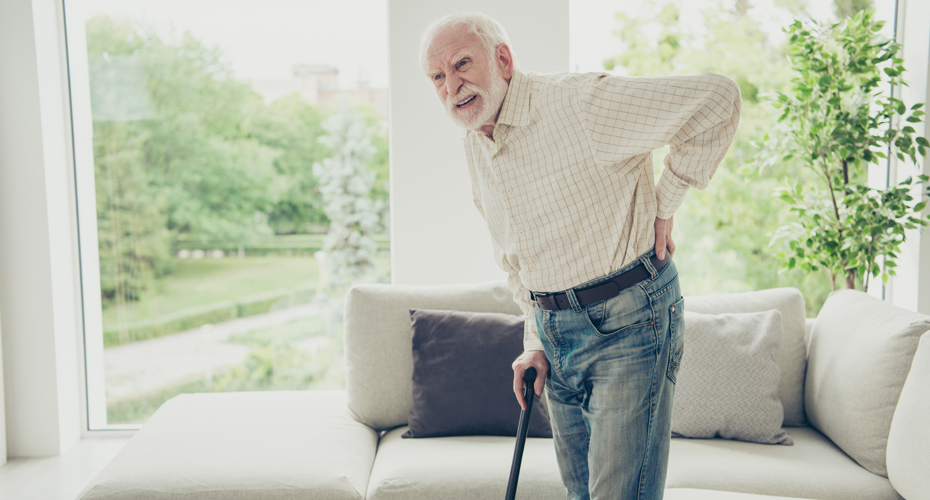 The University of Exeter is working with the NHS and council providers to broaden access to the BOOST rehabilitation programme for older people with lumbar spinal stenosis.
BOOST (Better Outcomes for Older people with Spinal Trouble) is a 12-week rehabilitation programme for people aged over 65 with symptomatic lumbar spinal stenosis. The programme engages people in group education, strengthening exercises and supervised walking.
Within the spine, the spinal cord sits runs through a central tunnel (canal). With age, changes occur in the spinal canal including narrowing of the canal (known as lumbar spinal stenosis). For some, this narrowing can crowd and irritate the nerve roots causing pain and other symptoms in the lower back and / or legs. This is called symptomatic lumbar spinal stenosis. The condition is common, with 11% of the population affected, and can have significant impact on people's ability to walk, stand, and to engage in their daily life.
The BOOST programme has already been shown to improve walking ability and physical function, and to reduce falls risk by 40 per cent in a randomised controlled trial conducted at the University of Oxford in collaboration with the University of Exeter. The National Institute for Health Research has awarded additional funding to the University of Exeter to help get BOOST to patients.
Dr Helen Richmond-Davies, of the University of Exeter, who is leading the study, said: "Lumbar spinal stenosis can have a huge impact on people's quality of life both physically and mentally, and having access to a programme like BOOST could really change lives. However, it isn't easy for clinicians to take research findings and apply them to their clinical practice. This funding gives us a unique opportunity to work with clinical staff to learn how we can modify the programme to improve its use in clinical practice.
"We have fostered a community of physiotherapists, service managers, and patients to make iterative improvements to the programme. We've also developed a digital training resource to provide clinicians with the knowledge, skills, and support to deliver BOOST in their clinical practice, and we are exploring novel ways of delivering BOOST in conjunction with council activity providers. Our hope is that this will provide an option to resource constrained NHS providers but will also improve access across the community due to the disperse facilities owned by council providers. My hope is that through all these activities, we will see BOOST reach the people that need it."
Two studies are being carried out, involving patients who have been referred for NHS physiotherapy and have symptomatic lumbar spinal stenosis. The first study aims to evaluate the refined BOOST programme. To do this, researchers will collect data from patients before they start the refined programme and again after six months. They will measure pain-related disability, quality of life, walking capacity, and satisfaction. They will also interview the health professionals delivering the refined programme to understand their experiences. In the second study, researchers will evaluate the digital training resource. They will evaluate learning from and satisfaction with the training, and will collect patient outcomes again at the start of the programme and after 6 months.
This work is supported by the NIHR Exeter Biomedical Research Centre.