Medicine and Health students recognised at awards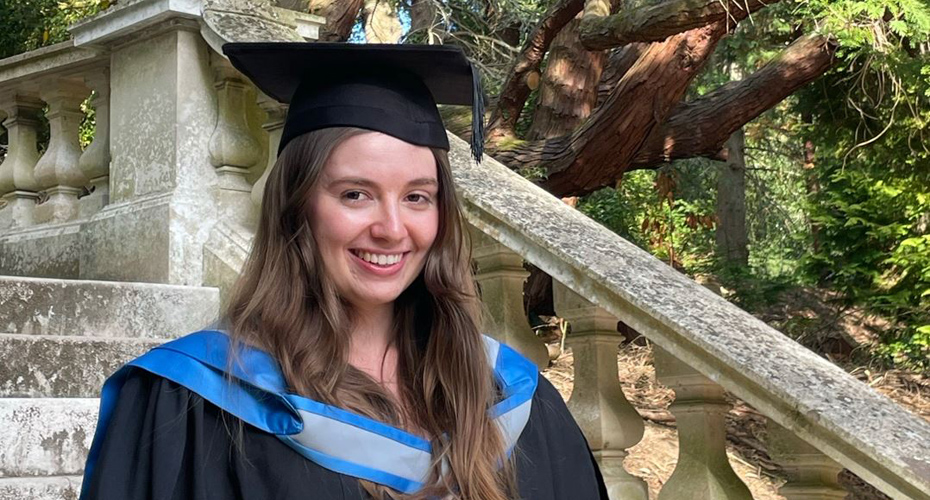 A Medical Sciences student whose campaign helped accelerate a number of changes to improve student safety at night has been awarded a prize, at an awards ceremony that marks students' achievements in academia and beyond.
The University of Exeter's Medical Science and Health 8th Prizes and Awards ceremony took place Wednesday February 8th at St Mellion Golf Club in Cornwall.
The prizes also recognised Medicine student Anna Richards, who created a scheme to recycle medical scrubs by selling old 5th years' scrubs who were graduating and selling them to current medical students who wanted another pair. She raised £1,400 for Anthony Nolan Trust, while helping being more eco-friendly and limit waste.
A prize also went to Medicine student Emily Jones, whose work with the Resuscitation Council UK's Restart a Heart campaign helped to recruit 21 universities to take part in the campaign. Across student-led events, 8,421 people were taught CPR and the use of a defibrillator.
The prizes seek to acknowledge some of the brightest student stars among the Medicine, Medical Sciences, Medical Imaging and Neuroscience programmes. Over 120 awards were given, recognising academic achievement as well as extra-curricular activities, which range from making a difference in their communities to fundraising feats.
Among the winners was Medical Sciences student Isabel Burn, winning the Citizenship Prize in recognition of her work which helped to bring about positive change to benefit student safety in Exeter's nightlife. Isabel started her campaign after experiencing harassment at night-time and it was backed by local MP – Ben Bradshaw. Her work was one of a number of initiatives which brought about accelerated changes at the university, including: 
Offering a night bus service and bystander intervention prevention training.
Designated safe walking routes across campus with increased lighting.
Introduced a 'Safe Zone' app, co-designed with students, allowing them to raise an immediate alert.
Continuation of a taxi scheme, enabling cash-strapped students a safe return to their accommodation without paying a fare.
Isabel, now an Exeter graduate, said: "I'm thankful for this award, which recognises the efforts I made to improve student safety at night, and I'm pleased to see that the university has taken first steps. I began my campaign after experiencing harassment and assault myself, amid awareness that misogyny exists on campus, and beyond.
"I researched successful night safety schemes at other universities, and campaigned to establish a similar organisation in Exeter, which received support on a student survey. In York, their NightSafe scheme is low-cost and has been cited as an example of good practice, so I hope work continues to develop a similar organisation at Exeter.
"Students deserve to feel safe at night, and the university needs tocontinuetheirwork to ensure everyone can get home without harm."
Oliver Kennett, a medicine student, won the Newquay Health Centre Sporting Achievement Prize for undertaking an epic 990-mile cycle from Land's End to John O'Groats in Scotland – the most northern point in the UK's mainland. He completed this gruelling feat with two other university friends, raising over £2,000 for Devon Air Ambulance. The three received no outside help, independently overcoming mechanical issues, injuries and severe weather. Oliver hopes to embark on a career in emergency medicine.
Oliver said: "This was a once in a lifetime opportunity I simply couldn't pass on and Devon Air Ambulance hold a special place in my heart. I'm so grateful to receive this award as an amateur cyclist beforehand. The skills and experience I have gained will stay with me for a lifetime. I hope that the money raised will help Devon Air Ambulance continue their heroic work here in the Southwest."
Medical student Azizi Shelik-Ali, won the Citizenship Award in founding a multicultural society and the UK's first national BAME medical conference last year, attended by over 150 people. The conference provides a platform for health professionals and students across the UK to come together, share their experiences, and discuss important issues related to diversity and inclusion in the medical field. Azizi collaborated with his peers: Rida, Danny, Caitlin, Beth and Timothy.
Medical sciences student Andrew Jubane, won the ­­­­Extra Curricular Award for the role he played in designing a mental health literacy course for undergraduates. With his peers, rather than creating a traditional course with grading criteria and assessments, Andrew created a YouTube channel. Today, this channel is a space where students can share their experiences with mental health challenges. The channel features university lecturers and other mental health professionals speaking on what can be best done if someone needs support, pointing them to points of help available.
Professor Ian Fussell, Associate Pro Vice Chancellor Education at the University of Exeter Faculty of Health and Life Sciences, who hosted the event, said: "It's amazing to hear all the incredible feats our students achieve, whether that be a part of their extremely challenging studies or in their own time. They're a real credit to us and themselves, bringing wide benefits to their communities. We're hugely proud of them all, and I look forward to all they'll achieve as dedicated future leaders in the fields of health and wellbeing."
Full list of prize winners
AMK Best Overall Score – Y1 BMBS Alice Moulds
AMK Best Overall Score – Y2 BMBS Fiona (Gemma) Harris
AMK Best Overall Score – Y3 BMBS Sophie Blummers
AMK Best Overall Score – Y4 BMBS Alexandria Sebastio
OSCE Best Overall Score – Y1 BMBS Nicky Ahadi
OSCE Best Overall Score – Y2 BMBS Grace Reid
OSCE Best Overall Score – Y3 BMBS Isabelle Mayne
OSCE Best Overall Score – Y4 BMBS Nina Elliot
SSC Best Overall Score – Y1 BMBS Benjamin Brown
SSC Best Overall Score – Y1 BMBS Riley Griffiths
SSC Best Overall Score – Y2 BMBS James Miller
SSC Best Overall Score – Y2 BMBS Lauren Nankivell
SSC Best Overall Score – Y3 BMBS Kitty Forster
SSC Best Overall Score – Y3 BMBS Isabelle Mayne
SSC Best Overall Score – Y4 BMBS              Emily Nicholson
SSC Best Overall Score – Y4 BMBS Lyuben Truykov
Duchy Health Prize James Oliver
Dr Ken MacLeod Memorial Prize for Professionalism Y1 Harry Costin
Dr Ken MacLeod Memorial Prize for Professionalism Y2 Nel Williams
Dr Ken MacLeod Memorial Prize for Professionalism Y3 Virginia Vilkelyte
Dr Ken MacLeod Memorial Prize for Professionalism Y4 Mimi Mostefai
Dr Ken MacLeod Memorial Prize for Professionalism Y5 Johannes Yu
Dr Grant Neumegen Prize Howard Winsten Korver
Paul Lock Memorial Prize in Paediatrics Zain Ahmad
Paul Loock Clinical Academic Prize in Paediatrics Emily Jones
Peter Thursby Memorial Prize Alicia Gilliat
Elective Photo Prize Winner Winner Charlotte Emsden
Elective Photo Prize Runner Up Naomi Blower
Newquay Health Centre Sporting Achievement Prize Oliver Kennett
Special Commendation for Reflective Practice and Professionalism Anna Gahol
Special Commendation for Reflective Practice and Professionalism Dmytro Prasolov
Special Commendation for Reflective Practice and Professionalism Georgia Hope
Special Commendation for Reflective Practice and Professionalism (BSc Medical Sciences) Y2 Louisa May Wilmore
Special Commendation for Reflective Practice and Professionalism (BSc Medical Sciences) Y2 Georgie Hallett
Special Commendation for Reflective Practice and Professionalism (BSc Medical Sciences) Y1 Oleg Girnyk
Special Commendation for Reflective Practice and Professionalism (BSc Medical Sciences) Y1 Emma Haxton
Special Commendation for Scientific Research and Communication (BSc Medical Sciences) Y1 Yip Hin
Special Commendation for Scientific Research and Communication (BSc Medical Sciences) Y2 with PTY Kyle Diddams
Special Commendation for Scientific Research and Communication (BSc Medical Sciences) FY Chloe Keitch
Year One Prize (BSc Medical Sciences) Yip Hin
Final Year BSc Medical Sciences Michaelis Vasiliadis
Medical Sicences Year 1 Employability Award Y1 Jacob Lund
Peer Support Champion Y2 Y2 PAL Dill Shepherd
Peer Support Champion FY FY PAL Michaelis Vasiliadis
Final Year Endocrinology project prize MS Thomas Worthington MS
Final Year Endocrinology project prize MS Jade Patel MS
Society of Endocrinology Project prize PTY MS Junfeng Nie
Society of Endocrinology Project prize PTY Neuro Elsa Oakes
Special Commendation for Reflective Practice and Professionalism (SEMS)FY Natalya Helvadjian Williams FY
Special Commendation for Reflective Practice and Professionalism (SEMS)Y2 Y2 Caitlyn Sampson
Special Commendation for Reflective Practice and Professionalism (SEMS)Y1 Y1 Josie Pickering
Medical Sciences Year prizes Y2 Caitlyn Sampson
Special Commendation for Reflective Practice and Professionalism (Neuro) Y2     Leonie Boesch
Special Commendation for Reflective Practice and Professionalism (Neuro) Y2     Stella-Ann Shelton-Sayer
Special Commendation for Reflective Practice and Professionalism (Neuro) Y2     Jack Hawthorne
Special Commendation for Reflective Practice and Professionalism (Neuro) Y2 Sebastian Whitman
Special Commendation for Reflective Practice and Professionalism (Neuro) Y2     Tahlia Parker
Special Commendation for Reflective Practice and Professionalism (Neuro) Y2     Giulia Sandri
Special Commendation for Reflective Practice and Professionalism (Neuro) FY     Rosalind Hull
Special Commendation for Reflective Practice and Professionalism (Neuro) FY     Kaitlin Dailey
Special Commendation for Reflective Practice and Professionalism (Neuro) FY     Jessica Lewis
Society for Endocrinology Undergraduate Achievement Award Georgia Morgan
Society for Endocrinology Undergraduate Achievement Award – Eliza Gibb
Medical Imaging Year 1 Prize Adrian Swaine
Medical Imaging Year 1 Prize Ching HUI
Medical Imaging Year 1 Prize Owen WIlliams
Medcial Imaging Year 2 Prize Katie Harvie
Medcial Imaging Year 2 Prize Sarah Greed
Medcial Imaging Year 2 Prize Emily Congo
Medcial Imaging Year 2 Prize 2020/21 Susannah Leigh
Medcial Imaging Year 2 Prize 2020/21 Victoria Tager
Medcial Imaging Year 2 Prize 2020/21 Mollie Reburn
Medcial Imaging Year 2 Prize 2020/21 Carl Vilela-Mansell
Medical Imaging Year 3 Prize Mollie Reburn
Medical Imaging Year 3 Prize Megan Elliott
Medical Imaging Year 3 Prize Gemma Hooper
Medical Imaging Clinical Performance Year One Courtney Messenger
Medical Imaging Clinical Performance Year Two Thomas Yapp
Medical Imaging Clinical Performance Year Three Molly Graham
Medical Imaging Clinical Professionalism Award Year One Charis Hui
Medical Imaging Clinical Professionalism Award Year Two Dise Ockri
Medical Imaging Clinical Professionalism Award Year Three Molly Graham
Medical Imaging Outsanding Patient Care Award Year One Charis HUI
Medical Imaging Outsanding Patient Care Award Year Two Emma Warburton
Medical Imaging Outsanding Patient Care Award Year Three Carl Vilela – Mansell
Medical Imaging College Commendations Debbie Birchall
Medical Imaging College Commendation John Corner
Medical Imaging Dean's Commendations Chelsie Das
Rothband Prize for Innovation Chelsie Das
Rothband Prize for Innovation Jaqueline Hilley
Rothband Prize for Innovation Gemma Hooper
Chris Wright Image Interpretation Award Victoria Tager
Degee Apprentices Stage 1 Prize Sept cohort Natalie Armstrong
Degee Apprentices Stage 1 Prize Sept cohort Thomas Francis
Degee Apprentices Stage 1 Prize Sept cohort Bethany White
Degee Apprentices Stage 2 Prize Sept cohort Paula Russ
Degee Apprentices Stage 2 Prize Sept cohort Lisa Sweet
Degee Apprentices Stage 2 Prize Sept cohort Chris Maynard
Degree Apprentices College Commendation Kerry Johnson
Degree Apprentices Stage 1 March cohort Zach Warren
Degree Apprentices Stage 1 March cohort Clare Meadows
Degree Apprentices Stage 1 March cohort Jamie Brown
Degree Apprentices Stage 2 March cohort Rachael Bradford
Degree Apprentices Stage 2 March cohort Georgina Brimblecombe
Degree Apprentices Stage 2 March cohort Cassandra Bednall
Laura Acton Award Paula Russ
Health Data Science Amy Grace Heather
Extreme Medicine Nicola Mcleary
Environment and Human Health Hannah Graves
Master of Public Health Benedict Shaw
Clinical Education Amy Haeffner
Genomic Medicine Natalie Martin
Advanced Clinical Practice Claire Senior
Health Research Methods Eileen Mairi Morrow
Healthcare Leadership and Management Rebecca Dyar
Practice Certificate in Independent and Supplementary Prescribing programme Stacie Marks
Most Inspirational Teacher Pre Clinical BMBS Tim Harrower
Most Inspirational Teacher Clinical BMBS Jurg Ehmann
Supporting Hand – Pre Clinical Nick Davies
Educational Inspirer Dr Jane Nash