University of Exeter names Truro medical teaching space in honour of generous donor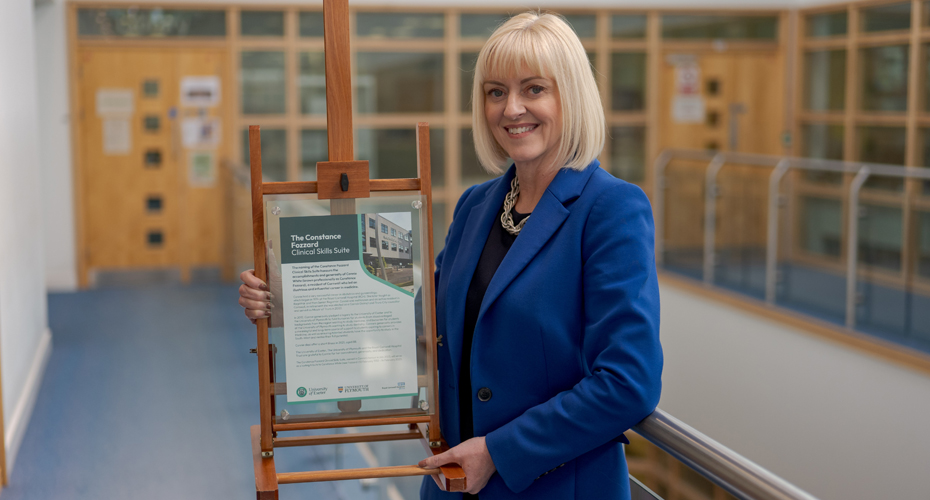 A medical consultant's generous donation of more than £2million is being recognised through the naming of a medical teaching facility.
The Constance Fozzard Clinical Skills Suite on the University of Exeter's Truro campus was formally renamed at an event on 12 July.
The naming of the Clinical Skills Suite honours the accomplishments and generosity of Connie White, a Cornwall resident who led an illustrious and influential career in Medicine. She died after a short illness in 2021, aged 88. When Connie worked at the Royal Cornwall Hospital Trust she practiced as Miss Connie Fozzard and her legacy states the formation of the Fozzard Bursary Fund.
Connie, who worked as a consultant and Registrar at the hospital, left a donation to the University of Exeter Medical School – likely to top £2 million – from her estate. The money will fund bursaries for medical students from the region from disadvantaged backgrounds. A further sum was left to Plymouth Medical School for those who choose to study fascio maxillary surgery.
Connie studied medicine at Imperial College London and went on to have a successful career in obstetrics and gynaecology, which began at the Royal Cornwall Hospital. She later taught as Registrar and then Senior Registrar. Throughout her prestigious career, she served on various national committees including the BMA board of medical education, BMA board of science and was a Member of Medical Education in Europe.
The event at the newly named space was hosted by Professor Lisa Roberts, Vice-Chancellor and Chief Executive at The University of Exeter.
The Clinical Skills area is utilised by both University of Exeter medical students and University of Plymouth nursing students. In addition, staff from both universities as well as Royal Cornwall Hospital staff and GPs involved in teaching or examining clinical skills regularly use the suite.
Professor Ian Fussell, Associate Pro Vice Chancellor of Education at Exeter University Faculty of Health and Life Sciences worked with Connie in 1992 at the Royal Cornwall Hospital Trust. He said: "Connie always put patient care absolutely first and had a very loyal public following. She expected the very best from her team at all times and had extremely exacting standards. Her dedication to the public and education of future doctors could not be made more clear than from the wonderful legacy she has left to the University of Exeter Medical School and we will forever be grateful and always remember her."