Wearable device aims to transform mobility in Parkinson's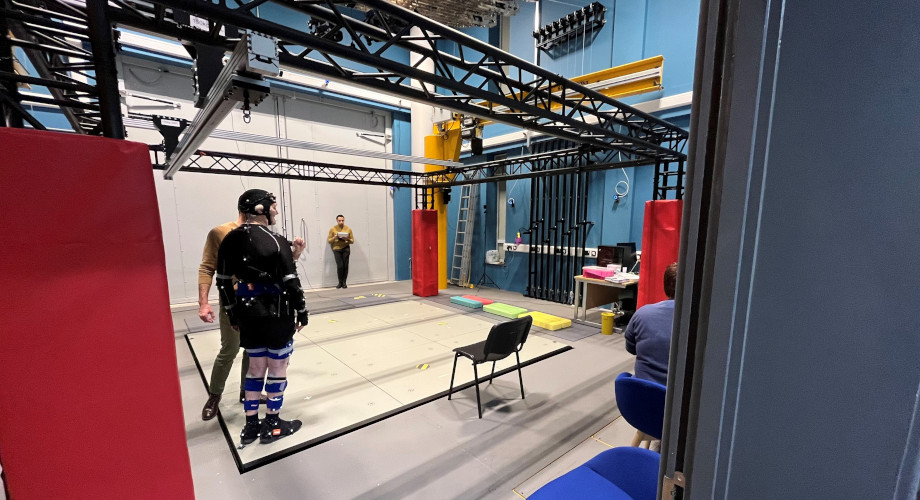 A pioneering partnership is developing the use of wearable devices to transform mobility for people with Parkinson's – unlocking the potential for greater independence and preventing potential injury.
The collaboration between the University of Exeter and gaitQ Limited, a spinout from the University of Oxford, seeks to address the walking challenges faced by many with Parkinson's, such as the debilitating "freezing of gait". This symptom can leave people feel that their feet are stuck to the ground, meaning they have difficulty walking.
Funded by a £1.4m award from National Institute for Health and Care Research (NIHR), the three-year project, entitled "Smart wearable device that helps people with Parkinson's walk better", champions the cause of transforming care for people with Parkinson's.
The centrepiece of this initiative is a state-of-the-art wearable device by gaitQ. The device features two "pods" affixed to the upper calves, which send out vibrational cues, guiding the wearer through their steps, with the aim of improving confidence in walking.
Testing of the new device will take place in the cutting-edge VSimulators facility, at Exeter Science Park. uses the flexible space including a moving floor, to simulate real-world environments, enabling the team to scrutinise the device's efficacy. This approach aids in accumulating precise data, essential for refining and potentially amplifying the device's capabilities.
The initiative is led by gaitQ, who create wearable medical technologies promoting enhanced mobility. The company is joined in this venture by academics from the University of Exeter's Medical School led by Professor Helen Dawes, Rehabilitation research theme lead at the NIHR's Exeter Biomedical Research Centre, a partnership between the University of Exeter, the Royal Devon Hospital and NHS organisations, and Health Innovation Oxford & Thames Valley, with input from a trustee of the charity Parkinson's UK.
The project also aims to explore the tangible impact and potential benefits of the gaitQ device, as well as assessing its performance in real-world scenarios. Further expanding its research scope, the project will delve into other conditions influencing gait alterations, including post-stroke recovery and the aftermath of hip and knee replacements.
Dr Tristan Collins, CEO of gaitQ said: "Having introduced our first product in the UK market, we are embarking on our mission to improve the mobility of people with Parkinson's. Whilst our immediate focus lies in enhancing product awareness and market penetration, the horizon holds promising advancements, contingent upon the clinical outcomes of our ongoing tests."
Echoing this sentiment, Professor Helen Dawes from the University of Exeter's Medical School, commented: "We hope to identify an effective method that helps people with Parkinson's and other gait conditions walk more safely and smoothly. A consequence is that they will remain active for longer, which delays disease progression and can lead to an improved quality of life in general."
Dr Dongli Li, gaitQ's Founder, encapsulated the project's broader vision, "This research will be of interest to people who experience gait difficulties, such as people with Parkinson's, and people recovering from stroke, and hip or knee replacement. We aim to help them walk better, have lower fall risk, and live more actively and independently."
James Bassitt, Facility Manager of VSimulators, said: "In our pursuit to transform the lives of individuals living with Parkinson's and other gait-related challenges, the University of Exeter is embarking on a groundbreaking journey with gaitQ Limited. Through the integration of cutting-edge wearable technology and the remarkable capabilities of the VSimulators facility, we aspire to restore independence and confidence in walking. With the generous support of a £1.4m grant from NIHR and the collaboration of the Oxford Academic Health Science Network, this venture is poised to redefine mobility, enhance lives and pave the way for a brighter, more active, and independent future for those who need it most."