National award for consumer behaviour and communications expert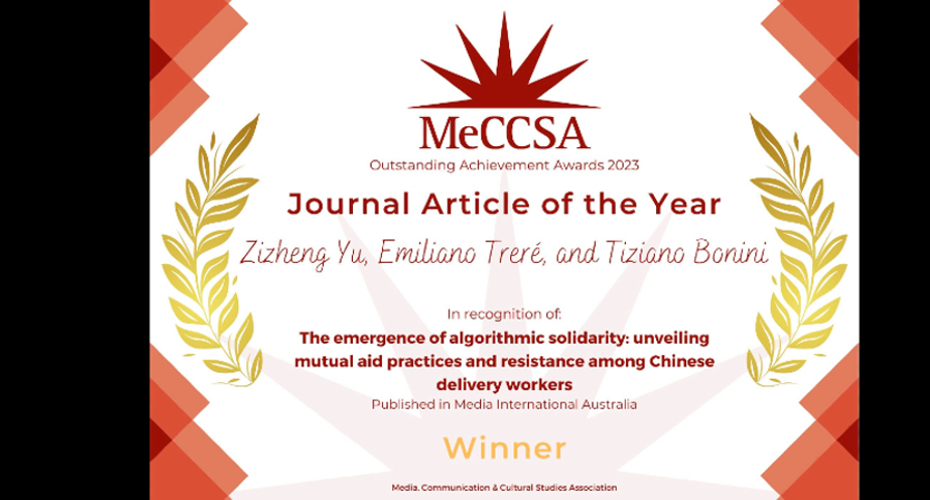 A University academic whose expertise lies in exploring consumer behaviour, activism and information and communications technology has been recognised for his latest research project with a national award.
Dr Zizheng Yu, Lecturer in Promotional Media, was awarded the prestigious 'Journal Article of the Year' award from the Media, Communication and Cultural Studies Association for his study on Chinese delivery workers.
Written with co-authors Emiliano Treré and Tiziano Bonini, the article, The Emergence of Algorithmic Solidarity: Unveiling Mutual Aid Practices and Resistance Among Chinese Delivery Workers, was published in Media International Australia. It examines how food delivery platforms in China have set up their own WeChat groups in different cities to facilitate communication between riders and issue work notices.
By interviewing 12 Chinese riders from four platforms (Meituan, Eleme, SF Express and Flash EX) in five cities, and drawing on a four-month online observation of seven private WeChat groups, their study explores how Chinese riders game the algorithm-mediated governing system of food delivery platforms and how they mobilize WeChat to build solidarity networks to assist each other and better cope with the platform economy.
Their research shows that, despite lacking opportunities for collective action within a highly controlled work environment, Chinese riders can exercise individual and collective agency to partially and temporarily improve their working conditions.
The article has sparked debate in the industry and resulted in Dr Yu presenting the findings at the Bonavero Institute for Human Rights at the University of Oxford in June 2023. This research was also reported by WIRED in its article China's Gig Workers Are Challenging Their Algorithmic Bosses.
"On behalf of the Communications team and the wider department of Communications, Drama and Film, I'd like to warmly congratulate Zizheng and his co-authors on this fantastic achievement," said Dr Neil Ewen, Senior Lecturer and Subject Lead. "MeCCSA is the leading subject association in the UK for the study of media and communication and this award is great recognition of their important and original research. Zizheng only recently joined our team and this signifies a brilliant start to his career at Exeter."
Dr Yu is Programme Director for the MA in Social Media and Digital Marketing, and is an Admission Tutor for Communications.