From "manny" to the courtroom – Lewis celebrates his journey to becoming a barrister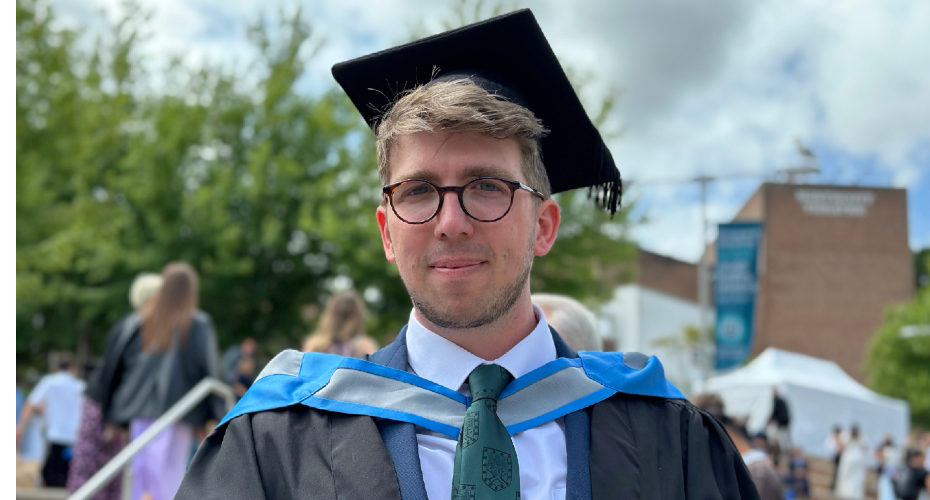 After losing his mother as a child and leaving school to care for his family Lewis Dean never expected to be a student – now he's celebrating not only graduating with a law degree, but the start of his training to become a barrister.
After a decade-long career as a nanny for wealthy families around the world, Lewis has been offered a place to study the Bar Training Course in Bristol. Lewis has also been offered a pupillage at an Exeter barrister's chambers.
Following his time at the University of Exeter Lewis will specialise in family law, using his experiences of childhood trauma and working for many families, to support those going through complex situations.
Lewis, who graduated this week, said: "My life has allowed me to learn and understand how complex family life can be – rich or poor. I've experienced challenging times in my life, and I want to help others cope with the same experiences. I never thought I would go to university, let alone become a barrister. Where I grew up, and being from a working-class family, barristers were local celebrities."
Lewis, originally from Devises, still works as a nanny at the weekends. He has also worked as a special constable for Wiltshire Police, where he supported the most vulnerable in society.
His mum died of cancer when he was 17, and he gave up studying for A-levels to support his younger brother by working in a coffee shop. The brothers lost their family home and had to live in mouldy and unsuitable emergency accommodation.
His career as a nanny began when a customer in the coffee shop was looking for childcare. Eventually Lewis joined an agency and spent 11 years travelling and living around the world with wealthy families.
He decided to return to studying for A-levels when he was 27 through private online tuition, alongside his job, and achieved three A-grades. The pandemic made him reassess his future and apply for university, and Lewis chose the University of Exeter, mainly because he enjoys surfing.
Lewis said: "I assumed I was destined to be a high-earning nanny working around the world. But with that career, your life is their life. I was very happy, but the pandemic and the move of the family I was working for abroad really made me make the big decision to start a degree.
"The experiences I've been through have certainly been character building. Our mum instilled in us at an early age that we should learn to do jobs ourselves, so she taught us to cook, iron and other household tasks. She was an amazing, strong woman who was a big part of the community where we lived. Her legacy helps me now and I think will really help me in my career.
"My mum always said you should open the door to everyone until they give you a reason not to. I think my career and life experiences mean I'll be able to communicate well with many families going through difficult times. Through my previous nanny jobs, I have extensive experience in being discreet and understanding the complexities of family dynamics.
"I've had the great privilege of being there for parents and for their children, acting as a support network for the whole family. I've been involved in complex medical care, divorces, and cross-continent moves. This is a real foundation for me to kick start my legal training in family law".
Lewis hopes to specialise as a barrister in cases involving coercive and controlling behaviour, as well as complex divorce cases. It is extremely unusual for undergraduates to secure a pupillage before they have started the Bar Training Course.
Lewis is also campaigning for better access to funding for the Bar Training Course. Currently, those who complete the non-MA version are not entitled to student finance loans. He has written to the Bar Standards Board, Bar Council and Department of Education to express his concerns. Hundreds of people around the country have donated online to fund Lewis's course after he wrote about his pathway to law.