Roxane Gay: With One 'N' – Exeter UNESCO City of Literature and the University of Exeter host renowned author, Roxane Gay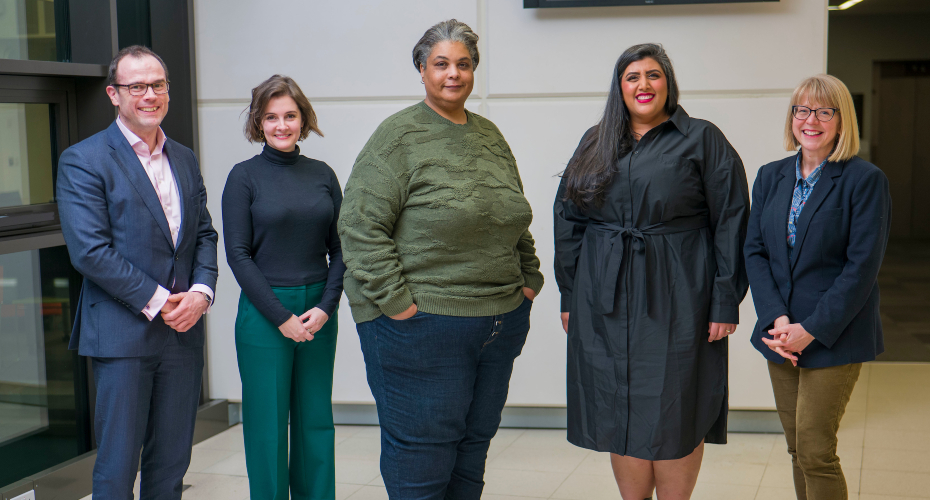 Exeter UNESCO City of Literature and the faculty of Humanities, Arts and Social Sciences at the University hosted internationally acclaimed author Roxane Gay this month, as part of her first live UK tour.
Roxane, considered to be a leading feminist voice of our time, first met with a small group of students drawn from Guild Societies, the Department of English & Creative Writing's MAs in Publishing and Creative Writing and from Exeter College.
The group enjoyed an hour's Q&A with Roxane, covering a wide range of issues, including approaches to creative and critical writing and pitfalls in publishing, friendship and gossip, questions of feminism, sexism and writing about traumatic experience.
A conversation between Roxane and inclusion and equity specialist – and University graduate – Sharifa Hashem followed, in the Forum Alumni Auditorium on the Streatham Campus.
Tickets for the event sold out in advance and the audience (aided by a British sign language interpreter) were privy to a wide-ranging discussion that explored topics from politics and pop culture and the impacts of the pandemic, to feminism, women's bodies, sexuality, reading habits and reality television.
In the latter part of the event, questions gathered from the audience prior to the show were put to Roxane, before she took further Q&A from the auditorium, covering topics including approaches to feminism in school teaching, menopause and the Marvel cinematic universe.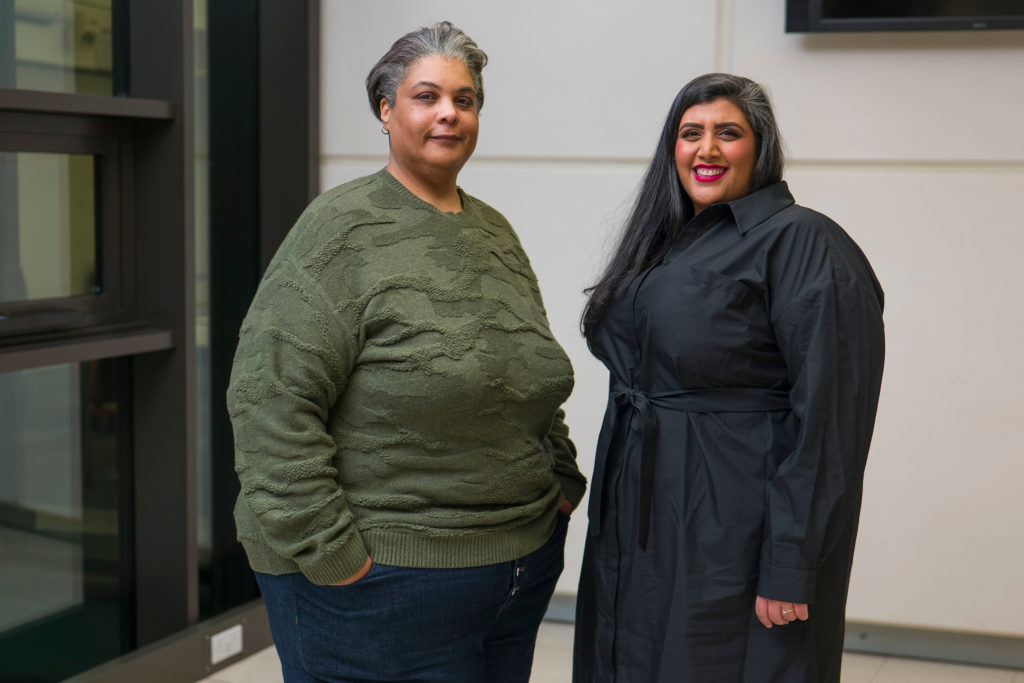 Bookbag bookshop, Exeter's only independent book shop, were selling books including copies of Roxane's bestselling Bad Feminist (2014) and Hunger (2017) before and after the event. The evening closed with a book signing.
Professor Adam Watt, Deputy Pro-Vice-Chancellor for the Faculty of Humanities, Arts and Social Sciences, said: "We were thrilled to welcome Roxane Gay. Right across our University, academics and students engage with questions of gender, class, race, and society, often through the lens of literature and culture. The opportunity to hear Roxane Gay's incomparable take on these matters in person was a wonderful experience and privilege for our whole community."
Roxane's body of work is renowned internationally, including her aforementioned collection of essays, Bad Feminist, her bestselling book, Hunger: A Memoir of (My) Body, and for being the first black woman to lead a Marvel title, writing a comic series in the Black Panther universe called World of Wakanda.
She hosts the Webby Award-winning podcast The Roxane Gay Agenda and pens the "work friend" advice column for the New York Times. In 2021, she began her own publishing imprint with Grove Atlantic, "Roxane Gay Books." She has several books forthcoming including How to Be Heard, on writing advice and how to use your voice, as well as The Year I Learned Everything, a YA novel. She is also at work on television and film projects including a film adaptation of Hunger and a television adaptation of her comic book The Banks.
Sharifa Milford-Al Hashemy is a graduate from Exeter's Masters in Gender and Identity and has conducted academic research on gender equity, social policy, and law in the Middle East.