Exeter's 'solid gold' standard for teaching excellence amongst best in the UK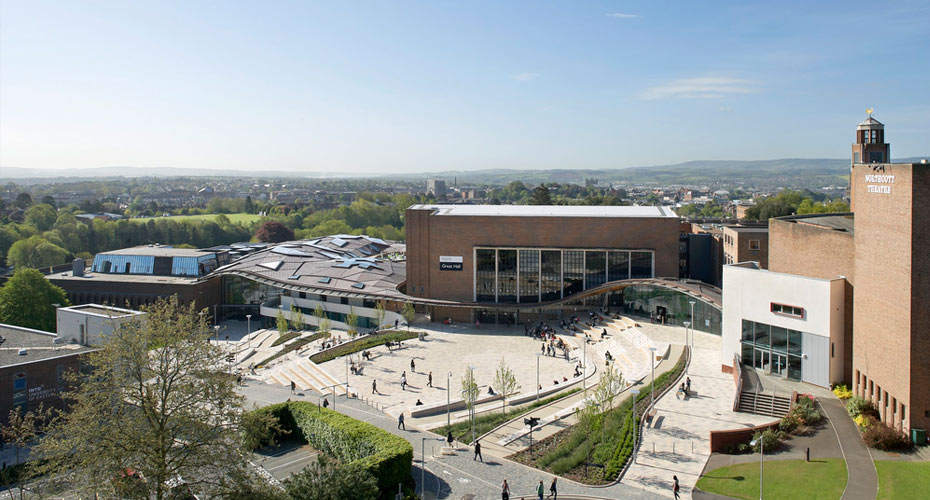 The University of Exeter has secured a 'solid gold' standard for its commitment to providing world-class teaching, in the 2023 Teaching Excellence Framework assessment.
The University is amongst an elite group of Higher Education institutions to be recognised as consistently providing outstanding teaching, learning and student outcomes to secure the 'Gold Overall' standard in the TEF assessment, published today (28 September 2023).
The prestigious gold rating is underpinned by Exeter receiving Gold ratings in the two aspects of the assessment – Student Experience and Student Outcomes. Exeter is only one of four Russell Group institutions to achieve this 'solid gold' assessment.
The prestigious gold rating has been awarded in recognition of Exeter's unwavering and sector-leading commitment to delivering outstanding teaching quality, a world-class learning environment and outstanding outcomes for its students for graduate employment. The TEF Panel judged that the outstanding and high quality features apply to Exeter students, from all backgrounds.
The TEF Panel highlighted the University's several groundbreaking initiatives, including its 'Transformative Education Framework' to support departments to embed inclusive education, racial and social justice, and sustainability into the curriculum, in awarding the Gold standard.
The panel also recognised the supportive student submission, led by our Students' Guild and Students' Union, recognising a culture of working with our students to enhance practices that support the teaching and assessment practices.
Professor Lisa Roberts, President and Vice-Chancellor of the University of Exeter said: "We are absolutely delighted to have been awarded the Gold Overall TEF rating, supported by gold ratings for both student experience and student outcomes, in this latest national Teaching Excellence Framework. This wonderful achievement, which is amongst the very best achieved across the UK, is a powerful reflection of the sector-leading partnership the University has with our students, which ensures our world-leading research and teaching truly flourishes.
"These TEF results are a result of the hard-work, commitment and dedication of all our staff and students over recent years, and I am sure they will all share an immense sense of pride and happiness at this recognition.
The Framework is a key indicator of our commitment to excellence in education, and ensuring all our students experience the very best teaching and learning environments. This also provides another strong platform for Exeter to drive forward and build on our successes, such as our pivotal Success for All initiative, ensuring everyone has the very best opportunity to reach their full potential."
Professor Tim Quine, Vice-President and Deputy Vice-Chancellor (Education and Student Experience) at the University of Exeter added: "We are delighted to receive a Gold award again and we celebrate this recognition of our outstanding teaching and learning and our commitment to excellent outcomes for all of our students.
"The Gold award reflects the quality of education achieved whentalented, engaged students from all backgrounds study collaboratively with passionate educators whose subject expertise is informed by their world-leading research and whose teaching is informed by scholarly engagement with pedagogy and innovation.
"This is a whole-University enterprise, enabled and supported by partnership with our student unions and the commitment of our professional staff. Looking ahead, we will continue to work together to make bold changes to our curricula to ensure that we continue to challenge and inspire our community of learners from every background to thrive, develop the skills they will need for the future and lead the change the world needs."
The Teaching Excellence Framework (TEF) 2023 is a UK government initiative aimed at ensuring high-quality teaching in higher education institutions. Its primary purpose is to provide prospective students and their families with clear and easily understandable information about the quality of teaching and learning at universities and colleges.
The TEF also encourages universities and colleges to continually improve their teaching standards and student support services. By recognizing and rewarding institutions that deliver excellent teaching, it aims to enhance the overall quality of higher education in the UK.
TEF 2023 assesses institutions based on various criteria, focussing on student outcomes and student experience. TEF ratings apply to the University overall and are valid for four years, from 2023 to 2027. The University of Exeter participated in the inaugural TEF exercise and achieved a Gold TEF rating in June 2017.
You can read more about the TEF on the Office for Students website