University of Exeter welcomes the High Commissioner of India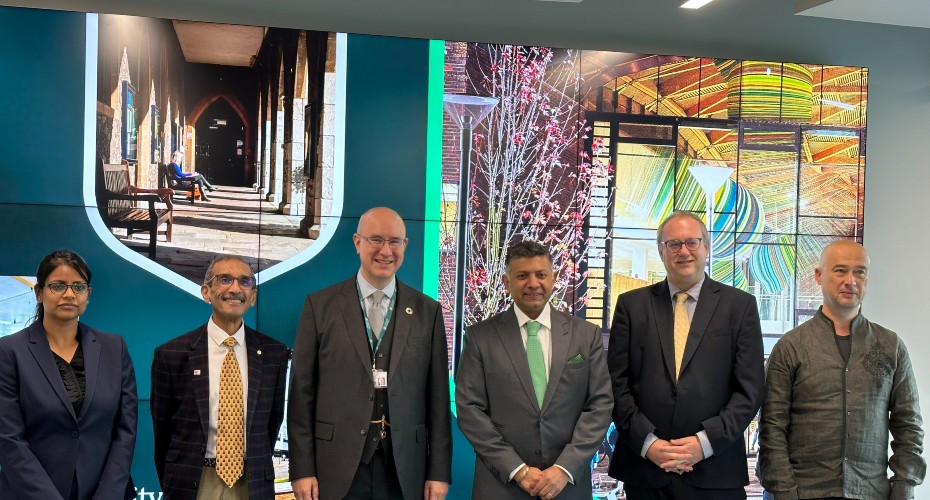 The High Commissioner of India, His Excellency Mr Vikram K. Doraiswami, has paid a special visit to the University of Exeter to discuss fresh opportunities in both research and education.
His Excellency met with a range of staff and students during the visit, held on Friday September 15th, to learn more about Exeter's top-level research priorities, our international partnerships, and the University's thriving Indian student and staff community.
Stuart Brocklehurst, Exeter Deputy Vice Chancellor for Business Engagement, introduced the High Commissioner to Exeter's Strategy 2030 and our ambitions to create a Greener, Healthier and Fairer world for all.
Mr Brocklehurst also brought attention to some of the key areas of research excellence which resonate with India's own priorities –including Exeter's work on Critical Minerals, Climate Change, Sustainable Transitions, Water Systems, and Antimicrobial Resistance.
The High Commissioner, who was joined on the visit by Nidhi Choudhary, First Secretary Education with the High Commission, also met with a small group of academics to showcase some of Exeter's world leading research and facilities.
Professor Ion Sucala, Head of the Department of Engineering introduced a wide range of projects where Exeter are currently collaborating with Indian partners, including those from the Centre for Water Systems and the development of a key partnership with IIT Madras around sustainable transitions.
The High Commissioner also received a tour of Exeter's £52 million Living Systems Institute building by Dr Akshay Bhinge, to see some of Exeter's state-of-the-art laboratories in action. Additionally, Dr Bhinge, Dr Dibyendu Dutta, and PhD student Anuj Tiwari presented some brief case studies of inter-disciplinary work bringing together expertise in biosciences, medicine, physics, mathematicians, and computer scientists to understand living systems and the diseases that impact them.
Finally, the High Commissioner attended a Humanities and Social Sciences session hosted by Exeter's South Asia Research Centre. The Heads of the South Asia Research Centre, Kalathmika Natarajan and Shubranshu Mishra, provided the High Commissioner with an overview of the wide-ranging projects the group is undertaking, before different staff drawn from across the centre provided some brief snapshots of the research they are undertaking on issues across South Asia.
Speaking after the event, Mr Brocklehurst said: "It was a great pleasure to welcome His Excellency to the University of Exeter. Not only has Exeter's Indian student population and alumni community grown rapidly in recent years, but the number of projects we are developing with Indian universities and corporate partners continues to grow apace.
"We look forward to continuing to deepen our ties with India, as we work together on tackling a range of global challenges discussed today. For example, Exeter recently placed 1st in the world for the THE Impact Rankings for SDG6: Clean Water and Sanitation.
"Working together with our corporate and University partners in this space is an institutional priority, as we seek to tackle major water systems challenges impacting both India, the UK, and the rest of the world. It was enormously helpful to benefit from the insights provided by the High Commissioner into how we can work with government and partners to meet these challenges and strengthen our impact within India."