Cornwall pub beer garden named best for wildlife and nature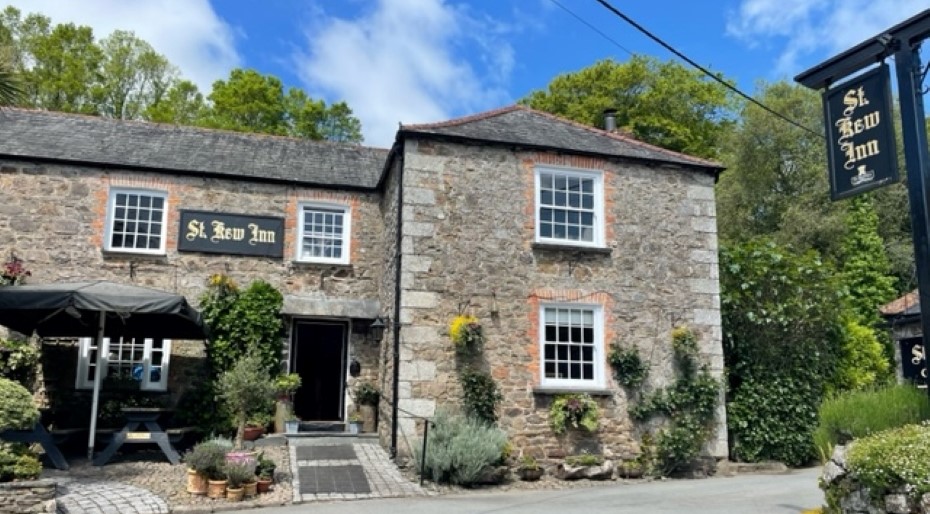 A Cornish pub is celebrating after winning a competition to make 'space for nature' in its beer garden.
Pubs from Lands' End to Torpoint took up the challenge to make their outside spaces havens for wildlife as part of the Pint and Hedgehog scheme, led by the University of Exeter's Tevi project in collaboration with St Austell Brewery and with the support of the Cornwall Wildlife Trust.
The St Kew Inn, a 15th century pub in the village of St Kew, near Bodmin, was judged to have done the most to make its garden wildlife-friendly, with The New Inn in Tywardreath and Polgooth Inn near St Austell making up the top three.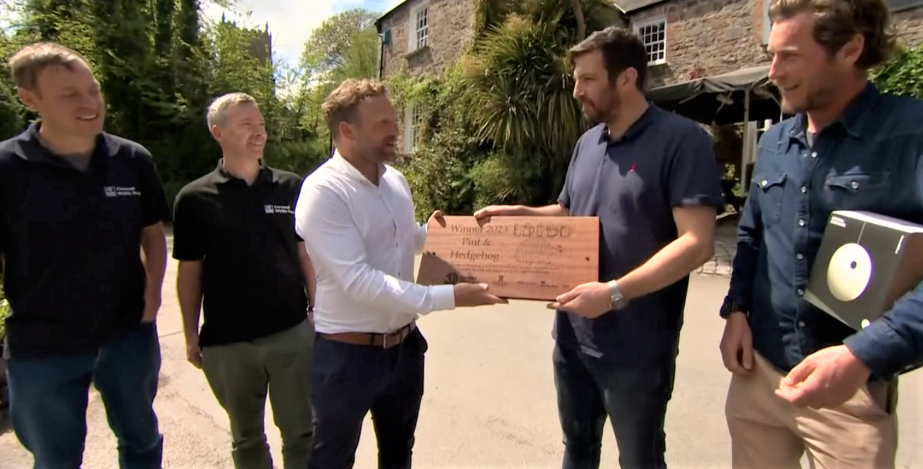 St Kew, which is run by Sarah Allen and Mike Masters, was presented with a winner's plaque on Monday after going above and beyond the judges' suggestions for boosting nature and wildlife when they first visited the picturesque pub in December last year.
"They'd really done quite a lot since our first visit," said Tim Hunt, Impact and Partnership Development Manager at Tevi, who judged the competition alongside Piers Thompson from St Austell Brewery.
"They'd put in compost heaps, they'd let the grass grow, made brand new herb gardens and planted fruit trees to make a new orchard, as well as planting a big wildflower meadow.
"They'd also put in a pond – even though a stream already runs through the site – which is going to improve biodiversity in the area massively.
"And what impressed us is that they put things like bird feeders and bird boxes in areas where customers don't go, which showed us that they were doing it purely for nature and not just because it looks nice."
Landlord of The St Kew Inn, Mike Masters, said: "It's basically a win-win for everyone, if we can regenerate the biodiversity it'll effectively give our customers a better place to eat and drink."
The team also encouraged the pubs to think about the environment outside their gardens, with St Kew creating wildlife corridors by removing fencing panels to allow deer from the nearby Area of Outstanding Natural Beauty to pass through the site.
"A lot of these pubs are surrounded by biodiverse countryside so if they're creating a little fortress where nature can't pass through it's not going to help the local biodiversity," Tim explained.
Each landlord committed to spend whatever they could afford on improving the natural environment in their pub gardens, an amount match-funded by St Austell Brewery, who also supplied the prize money of £550 – to be split between the three winners with the stipulation it is spent on making space for nature.
"Doing this is great for the pub because it makes it a more attractive place to be, so that's good for business as well as having a positive impact on staff wellbeing and making the customer experience so much better – people prefer to sit where there's birds feeding and you're next to a wild flower meadow to sitting in a beer garden with gravel under your feet," said Tim.
"But the most important thing is actually making space for nature, improving the biodiversity of the site."
Piers Thompson, External Relations Director at St Austell Brewery said: "We're proud to have collaborated with Tevi and the Cornwall Wildlife Trust on this important initiative. As a business, looking after the environment is at the heart of everything that we do, so we're delighted to be rewarding three of our tenants for creative biodiverse beer gardens and spaces for nature and local wildlife to thrive.
"A big congratulations to our winners, the St Kew Inn and our runners up – the New Inn Tywardreath and the Polgooth Inn."