The University of Exeter unveils exciting plans to build new Multi-Faith Centre at Streatham Campus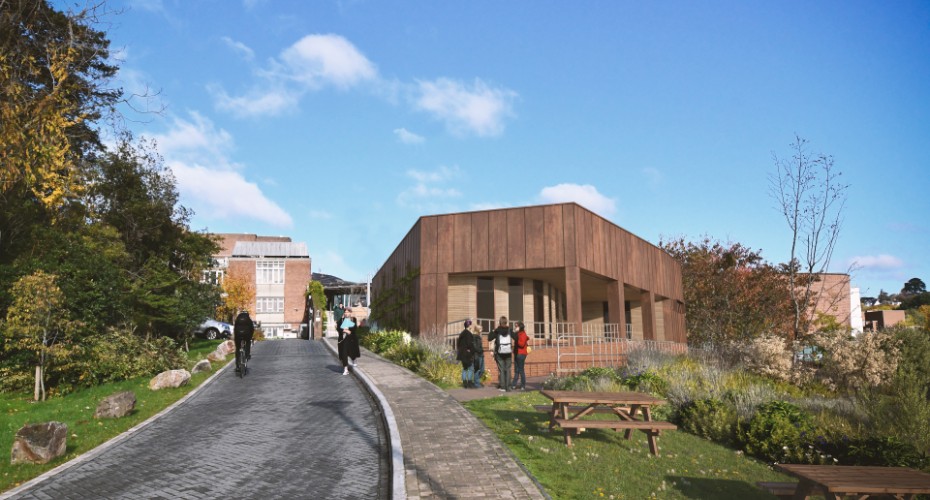 Plans to build a new, purpose built Multi-Faith Centre on Streatham Campus at the University of Exeter have been approved by Exeter City Council this month.
The proposal, which is currently in the design phase, have been unveiled by the University with plans to build a dedicated Multi-Faith Centre to replace the existing Muslim prayer rooms and multi-faith spaces in the Old Library, creating a new space for quiet reflection and multi-faith activities, which promote respect, community and inclusion across the University.
The proposal is for the new centre to be built opposite the Forum's South Piazza, next to Poole Gate Road, which is currently a grassed area used socially by students and staff.
The new Multi-Faith Centre will include a 50 person Muslim prayer space and a multi-faith space for quiet reflection, services and events. It will also house communal meeting space, a kitchen, a dedicated office for the Multifaith Chaplaincy Team, a Changing Places Facility and an external terrace area.
Shraddha Chaudhary, Assistant Director for Culture and Inclusion at the University of Exeter said: "We are really excited to progress our plans for the new Multi-Faith Centre. The University is committed to supporting equality, diversity and inclusion and developing cultural competence working with partners across Exeter and Cornwall, and the wider region.
"We want to provide our students and staff with a dedicated environment for quiet reflection and to hold multi-faith activities. The Students' Guild, local faith leaders and the Multi-Faith Chaplaincy team are contributing to the plans for the new building and we can't wait to see the finished centre."
The University of Exeter, and the plans for the Multi-Faith Centre align with the University's Strategy 2030, under the values of Respect, Community and Inclusion.
Sustainability and reducing carbon emissions are fundamental to the design of the new Multi-Faith Centre. The University is committed to achieving carbon neutrality in terms of regulated carbon emissions, through a combination of sustainability initiatives throughout the design, construction and maintenance phases of the new building. This will include the use of highly efficient porotherm blocks, air source heat pumps and PV panels on the roof of the building.
The project has been developed to date by Faithful and Gould, Group Emmett Design, SE3Design, Sands, SDS and ARUP.
Willmott Dixon is the University's appointed contractor who will support in completing the detailed designs for the building before construction commences. The project team expect to start work on construction of the building in Summer next year.
Rob Woolcock, Director at Willmott Dixon commented: "Having worked with the University of Exeter on a number of projects we are looking forward to delivering this new and inclusive Multi-Faith Centre and supporting the University's commitment to diversity, inclusion, culture and heritage of its students and the wider community. This project aligns with our commitment to push the boundaries of sustainable design construction and operation of building."
For more information and for regular updates on the Multi-Faith Centre, please visit: https://www.exeter.ac.uk/about/vision/capitalstrategy/featuredprojects/multifaithcentre/