University of Exeter and Hospiscare team up to recycle Christmas trees for the third year running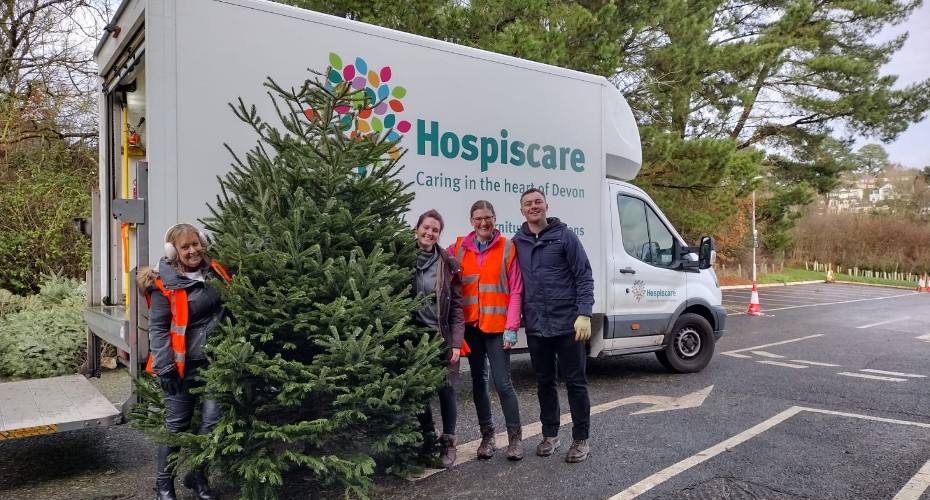 The University of Exeter and Hospiscare have teamed up once again to recycle Christmas trees and support terminally ill people and their families.
Hospiscare's vans collected trees from households across Exeter, Exmouth, Honiton, Tiverton, Sidmouth and Ottery St Mary on 13th and 14th January, in exchange for a £10 donation.
Trees were then taken to the University's Streatham Campus to be chipped by the Grounds Team and the chippings have been used as mulch for the university's shrub beds.
Laura Robertson, Fundraising Projects Manager at Hospiscare said: "This year we had an amazing 85 volunteers helping us to collect more than 2,000 real Christmas trees across Exeter and East and Mid Devon, which raised over £24,000 for Hospiscare."
"This initiative simply wouldn't be possible without the generous support from our local community and organisations like the University of Exeter donating their time and invaluable services. The money raised from our tree collection campaign will help us support more local patients and families living with terminal illness, who need us now more than ever."
David Evans, Grounds and Sports Operations Manager at the University of Exeter said: "The University Grounds Team feel privileged to support Hospiscare once again through the Christmas tree recycling scheme. It's been a fantastic effort by all involved and we're proud to be able to provide for our community in Devon, at a time when it is needed most."
The partnership between the University of Exeter and Hospiscare is in its third year, and together, they have collected over 4,500 trees, with the scheme raising over £55,000 for the charity since it began.
To find out more about Hospiscare and the Christmas tree recycling scheme, visit: https://www.hospiscare.co.uk/events/christmas-tree-recycling/