University of Exeter to sponsor Exeter Respect Festival 2023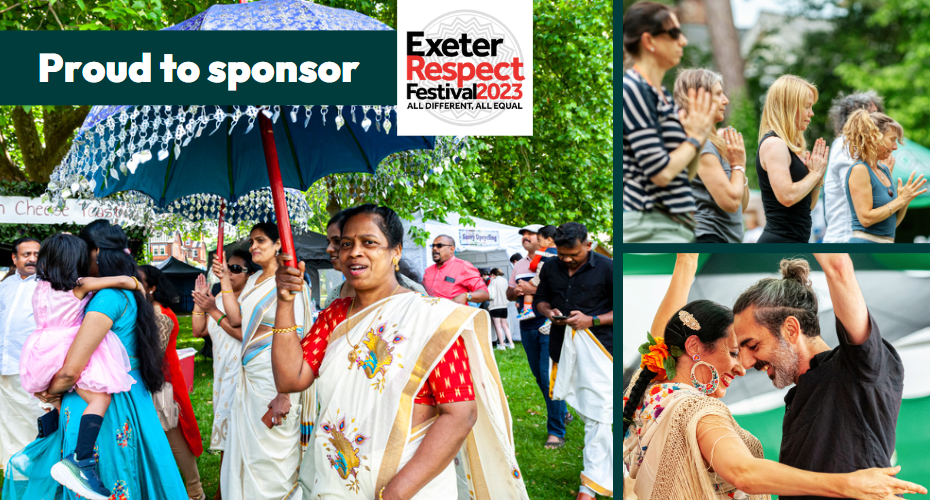 The University of Exeter has today announced they are once again proudly one of this year's sponsors of Exeter Respect Festival, being held at Belmont Park on Saturday 10th and Sunday 11th June.
This year marks the 26th anniversary of the first Respect Festival in Exeter in 1997, that brought communities together to celebrate their differences and commonalities.
Exeter Respect is the city's annual celebration of diversity using the performing and creative arts to engage the wider community in saying no to racism and all forms of prejudice and attracts around 20,000 people each year.
This year's theme for the festival is Diversity Built Britain. "Diversity Built Britain" is a phrase that highlights the importance of diversity in shaping the social, cultural, and economic landscape of modern-day Britain. It acknowledges the contributions of individuals from diverse ethnic, racial, and cultural backgrounds in building and enriching the country's heritage and history.
The phrase is often used to celebrate and promote diversity, inclusion, and multiculturalism, and to challenge stereotypes and discrimination. It recognises that Britain's identity and success as a nation are deeply intertwined with the diversity of its population and the different perspectives, skills, and experiences that people bring to the table.
Overall, "Diversity Built Britain" is a powerful statement that reinforces the idea that diversity is not just a buzzword or a box-ticking exercise, but a fundamental aspect of British society that should be celebrated and embraced.
Shraddha Chaudhary, Assistant Director for Culture and Inclusion at The University of Exeter said: "We are proud to be continuing our longstanding relationship with Exeter Respect and supporting the Respect festival. The festival is a great opportunity for our students and colleagues to connect with the wider Exeter community and showcase solidarity with and commitment to our values."
The University of Exeter is guided by best practice in its work on Equality, Diversity and Inclusion through awards and accreditations. The University secured a Race Equality Charter bronze award in September 2020, that recognises the university's commitment to and efforts towards advancing race equality in higher education.
The festival is free for all to attend, and doors will be opening to the public at 11:30 on Saturday 10th June and 10:00 on Sunday 11th June.
The university is also set to host Exeter Respect on Campus in October, across all three campuses in Devon and Cornwall. In 2018, the University of Exeter and Students' Guild partnered with Exeter Respect to bring together the first Exeter Respect on Campus. Through the Respect on Campus Festival, the university seeks to engage students and colleagues in responding to issues of racism, discrimination and this year's theme Diversity Built Britain.
For more information about the Exeter Respect Festival, visit: https://www.exeter-respect.org/