Community food growing is flourishing in Cornwall but needs more solid support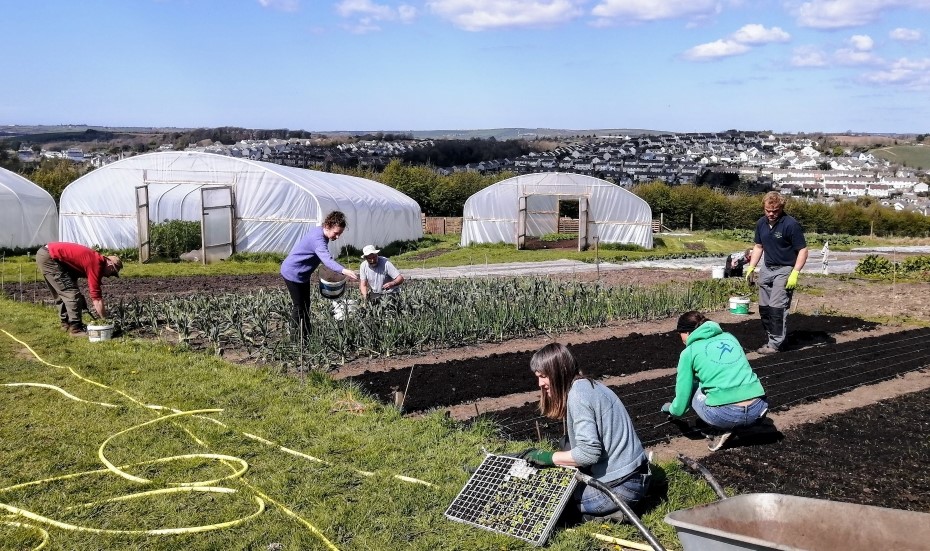 Community food growing schemes are flourishing in Cornwall but urgently need access to more land, funding and skills in order to expand and thrive, according to a new report.
Existing growing schemes throughout Cornwall succeed against the odds as they overcome barriers including a shortage of land, inadequate funding, short-term leaseholds, lack of infrastructure and equipment, the report says.
The inquiry into the state of community growing in Cornwall aimed to measure its impacts, benefits and barriers to future growth. It was undertaken by a joint working group set up by Cornwall and Isles of Scilly Leadership Board with the newly-set up Sustainable Food Cornwall and the University of Exeter's Environment and Sustainability Institute based at Penryn.
"There is not enough land available to satisfy existing demand for community growing spaces, and that demand is increasing," the report concludes. "Most community growing schemes would benefit from additional skills, funding, resources and support to flourish and deliver their full community value."
Thousands of people are involved in more than 60 community growing spaces across Cornwall that produce a wide range of benefits including good quality food, new community relationships, training and skills, business development and environmental improvements, the report reveals. They use largely agroecological, regenerative and low-input growing methods and vary from community supported agriculture schemes and community orchards to community farms and gardens.
Lord Robin Teverson, chair of the joint working group, said: "Community growing schemes, whether big or small, are an important dimension of local life in Cornwall. Apart from the obvious opportunity for communities to grow their own produce, they give new skills and experience to individuals of all ages. They can be the only way that some families are able to put quality food on the table. For those with mental health difficulties, helping a growing scheme can be a real healer."
The report includes a survey of parish and town councils, undertaken by Cornwall Association of Local Councils, and case studies of larger community growing schemes across Cornwall – Bosavern Community Farm at St Just, Camel Community Supported Agriculture at Wadebridge, Growing Links at Penzance, Loveland in Penryn, Newquay Orchard in Newquay, Soul Farm in Flushing, and Tamar Grow Local in Callington.
Bosavern Community Farm director Katie Kirk welcomed the report. "Community growing really engages people in growing fruit and veg and working with nature for local benefit," she said. "The recommended actions and insights point to an exciting future for community growing in Cornwall that will lead to increased social innovation and resilience."
Professor Jane Wills, Director of the University of Exeter's Environment and Sustainability Institute said that support for community growing schemes headed the list when community leaders in Cornwall were asked to name their top idea for making a positive contribution to people and planet. 
"This report highlights all the wonderful work that is already being done and makes a number of recommendations about how we can better support and develop this work," she said. "It would be great to see a step-change in efforts to connect landowners to local community groups in the months ahead."
Community Growing in Cornwall: The impact and potential of local sustainable food growing in Cornwall is produced by Sustainable Food Cornwall and the University of Exeter, supported by the Cornwall and Isles of Scilly Leadership Board's Community Growing Working Group.
For more information about community growing schemes in Cornwall contact Sustainable Food Cornwall at hello@sustainablefoodcornwall.org.uk