£4.6million backing for GW4 Alliance-led project to retrofit UK homes into energy efficient and low-carbon housing units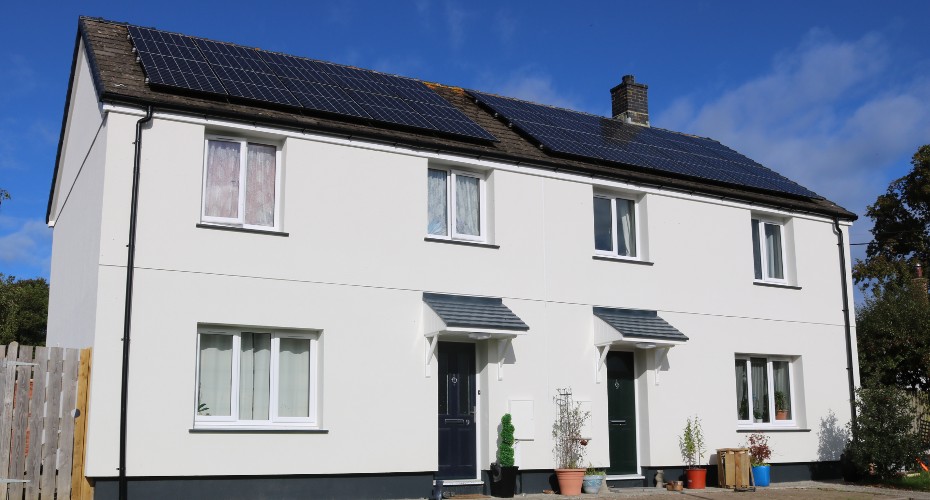 Researchers from the University of Exeter are part of a GW4 Alliance-led project in partnership with industry experts, community groups and local authorities to retrofit UK homes into 'Beyond Net Zero' liveable homes as part of the Green Transition Ecosystem awards.
Green Transition Ecosystems (GTEs) are large-scale projects that focus on translating the best design-led research into real-world benefits. Capitalising on clusters of design excellence, GTEs will address distinct challenges posed by the climate crisis including, but not limited to, realising Net Zero goals. GTES are the flagship funding strand of the £25m Future Observatory: Design The Green Transition programme, funded by the AHRC and delivered in partnership with the Design Museum.
The UK's housing sector contributes to around twenty per cent of the country's total carbon emissions and with a staggering eighty per cent of homes that will be occupied in the year 2050 already built, retrofitting houses to improving energy efficiency and reduce carbon emissions is critical to achieving UK's Net-Zero targets.
The £4.6million award from Arts and Humanities Research Council (AHRC) will enable the team from Exeter and other members of the GW4 Alliance (Bath, Bristol and Cardiff universities) to design, test and implement innovative prototype bio-based lower carbon solutions to improve energy efficiency and resilience in the retrofitted homes. They will also evaluate the performance of the new retrofitted homes in comparison to traditional synthetic materials.
Dr Catherine Butler, Associate Professor in Human Geography at University of Exeter, said: "The challenge of renovating our existing housing stock is crucial for delivering on multiple sustainability goals, including climate change, health, and wider wellbeing.
"I'm excited to be part of this important project that addresses this challenge in ways which embed collaborative design processes with residents at the core to transform future homes so that they work for people and planet."
The project will also demonstrate bio-based solutions across a small number of traditional brick-built houses in Bristol and Swansea, constructed by councils between 1920-1940. These account for approximately 1.1 million of the homes occupied in the UK today and are generally viewed as one of the more challenging styles of houses to retrofit. The longer-term goal is to create scalable and transferable designs and solutions to retrofit a greater number of houses and different house types.
Professor Gabriella Giannachi, Professor of Performance and New Media in the Department of English and Director of the Centre for Intermedia and Creative Technology said:
"The Transforming Housing and Homes for Future Generations GTE' will establish a world-leading innovation ecosystem for the co-design of Beyond Net Zero homes. We will work with local communities in Bristol and Swansea to transform existing social housing and produce a scalable framework, collaborating with The Future Observatory and The Design Museum, to establish a legacy for this project.
"Working with the GTE will allow me to produce a step-change in my research on how practices empower communities in co-curating their heritage, which I first discussed in my two monographs Archive Everything (MIT 2016 and, in Italian, Treccani 2022) and Technologies of the Self-Portrait (Routledge 2022 and, in Italian, Treccani 2023), can have beneficial impacts on social justice and wellbeing."
Professor Christopher Smith, Executive Chair of the Arts and Humanities Research Council said:"Design is a critical bridge between research and innovation. Placing the individual act of production or consumption within the context of a wider system of social and economic behaviour is critical to productivity, development and sustainability.
"That's why design is the essential tool for us to confront and chart a path through our current global and local predicaments, and that's why AHRC has placed design at the heart of its strategy for collaboration within UKRI.
"From health systems to energy efficiency to sustainability, these four Green Transition Ecosystem projects the UK are at the cutting edge of design, offering models for problem solving, and will touch on lives right across the UK."
Dr Allan Sudlow, Directors of Partnerships and Engagement at Arts and Humanities Research Council added:"Design innovation is crucial to the mission of decarbonising our economy and society by 2050, and it is via exceptional design thinking that we can bring human, social and scientific research and innovation together to achieve this."
Minister for Energy Efficiency and Green Finance Lord Callanan said: "Today's £4.6 million funds – backed with Government funding – will be a key contribution towards helping cut emissions and making homes more energy efficient.
"By testing different renewable resources to help keep homes warm and save households money on their energy bills, this project will further support our ambition to cut energy demand by 15% by 2030. And by working closely with communities, the project will also help ensure that local views and experiences are front and centre in our transition to a cleaner, more secure energy system."