Future Bright for Entrepreneurial Engineers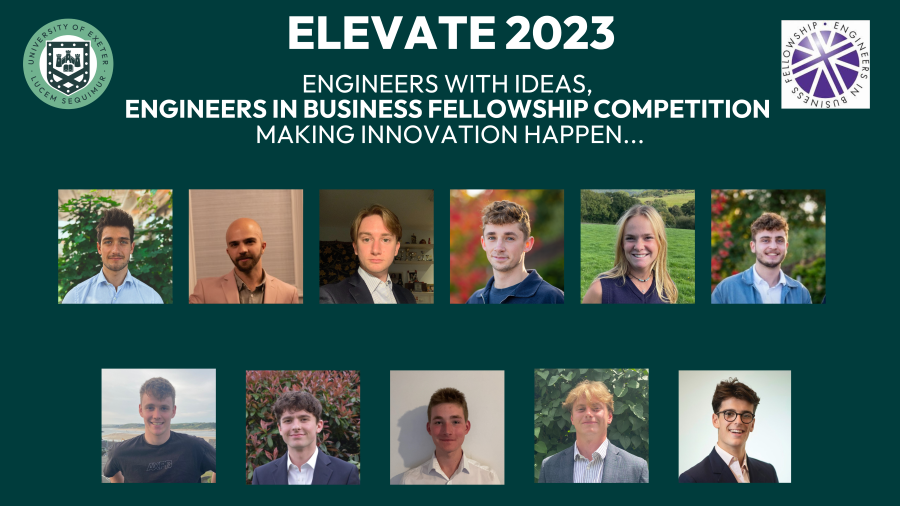 The University's annual Elevate Engineers in Business Fellowship Competition, funded by the national Sainsbury Management Fellows Charity, which saw a record number of students take part and 17 teams pitched their innovative business ideas on 29 March this year.
The annual competition, which is designed to encourage and support engineers who want to take their ideas from the drawing board to the marketplace, received applications from across the University. Eligible applicants include current and recently graduated engineering and computer science students as individual applicants or teams that contain at least one engineering and computer science student. 36 students took part in the local level of the competition this year, with 17 teams pitching their entrepreneurial ideas to our panel of judges.
After a rigorous pitching and selection process, the winners of the Elevate Engineers in Business Competition have been announced. Taking the top prize of £1000 is Barrel Bros LTD, a team that impressed the judges with their innovative liquid stock monitoring system to enable bar owners to track beer use, for increased quality, efficiency and profit. In second place, receiving £600, is Henry Graham, founder of Receat, who developed a novel solution to the problem of food waste and loneliness. And in third place, receiving £450, is Eleanor Griffin, co-founder of Opas Guides, a company that is providing bespoke 3D printed jig models of knee joints to surgeons to make hip replacement surgery quicker, cheaper and with improved recovery time.
"We were blown away by the quality of the ideas and the passion and creativity shown by all the participants," said one of the judges. "It was a tough decision to choose the winners, but we were impressed by the potential impact of the winning projects and the dedication of the teams behind them."
Exeter's promising entrepreneurial student teams are now preparing to take part in the national level of the competition in London this summer and autumn, to compete for an £11,000 prize pot. The competition will provide an opportunity for the winners to showcase their projects to a wider audience and gain valuable exposure and feedback.
"We are thrilled to see such a strong response to the Elevate Engineers in Business Competition this year. Building on Exeter's well established tradition of entrepreneurial innovation and interdisciplinary problem solving," said Professor Ion Sucala, Head of Engineering at the University of Exeter. "We believe that engineers have a unique perspective on innovation and problem-solving, and we are excited to support the University's next generation of engineer-entrepreneurs as they bring their ideas to life."
Panellists included Samantha Mickleburgh serial entrepreneur and Entrepreneur in Residence, Patrick O'Connell, Managing Director at Helliers Ltd and Royal Society of Engineering Entrepreneur in Residence, and Ceri Howells, Lecturer in Engineering and Entrepreneurship.
Congratulations to all the winners and thank you to the judges for their time and expertise in selecting the winners. We can't wait to see what the future holds for these innovative projects.