Exeter climate experts respond to G20 summit declaration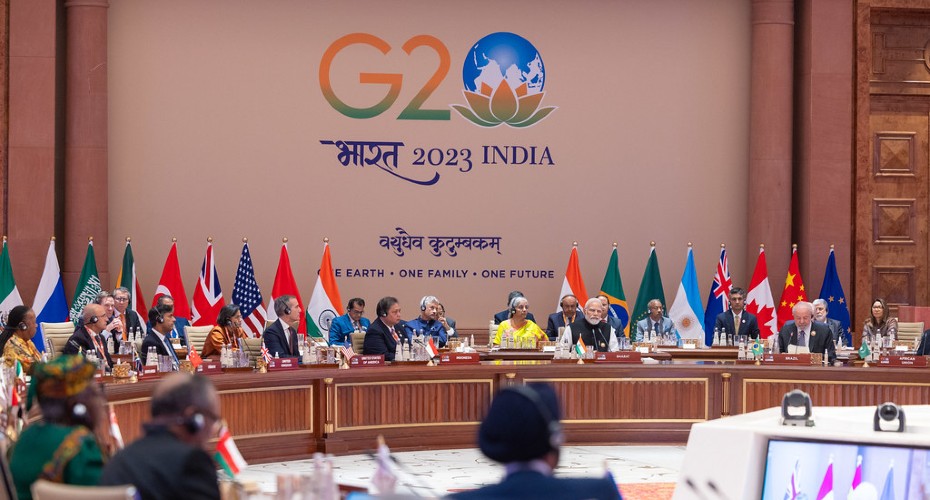 Climate researchers from the University of Exeter have given their views on the G20 leaders' declaration.
Outcomes of the G20 summit, held on 9-10 September in New Delhi, India, include an agreement to "pursue and encourage efforts to triple renewable energy capacity globally through existing targets and policies".
There was also a Global Biofuels Alliance agreed between India, US and Brazil, aimed at boosting the use of cleaner fuels.
Here's what Exeter's climate and environment researchers had to say:
Professor Peter Cox, Director of the Global Systems Institute, said: "This is a hugely wide-ranging statement that recognises the need to work much harder on the SDGs. However, there isn't anything new here on climate change action.
"Without a commitment to actively phase-out fossil fuels, or even a mention of more radical geoengineering approaches, it is merely lip-service to talk of pursuing efforts to limit the temperature increase to below 1.5oC."
Professor Pierre Friedlingstein, who leads the Global Carbon Budget, said: "While the G20 follows the words of IPCC and recognises that "limiting global warming to 1.5°C requires rapid, deep and sustained reductions in global GHG emissions", the G20 declaration falls short providing the route to achieve this.
"Although the G20 encourages efforts to 'triple renewable energy capacity globally', coal is only mentioned once without any quantitative timeline, and gas or oil are simply not discussed at all. Not ambitious enough, sorry!"
Professor Gail Whiteman, Professor of Sustainability at the University of Exeter Business School, said: "The G20 did not deliver substantial advancements on climate action.
"The world has 16 climate tipping points and five of these are in the polar regions and will be triggered between +1.5C and +2C.
"We are at a critical juncture where we rapidly phase down coal and fossil fuel use, or we stagger into climate catastrophe."