Exeter student finds success in academia and industry – proving autism is no barrier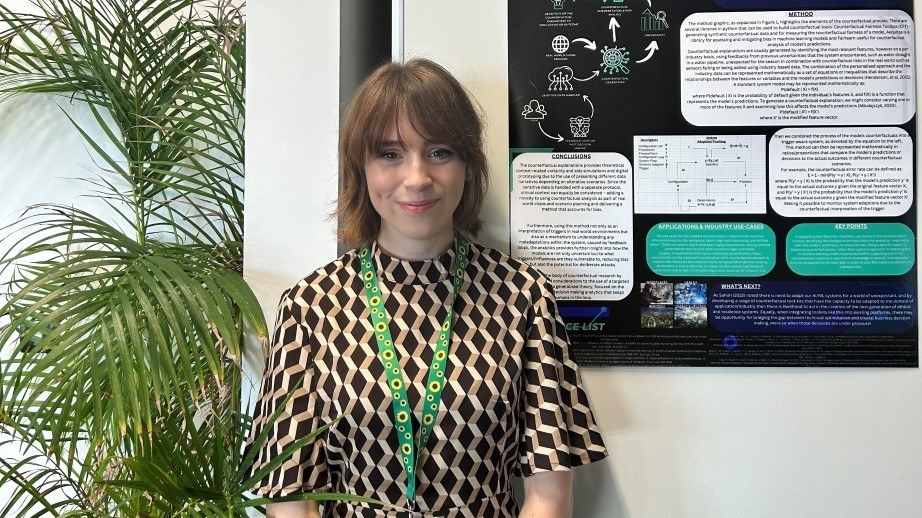 A University of Exeter student who won multiple awards for her AI start-up is also making waves in academia with an invitation to present a research paper at the World Congress of Undergraduate Research.
Elizabeth Chandler, a 22-year-old final year undergraduate based in Cornwall, recently won a Women in Tech Award as well as Innovate UK's Young Innovators Award for her budding start-up The Good Robot Company, which helps businesses become more inclusive by detecting and minimising bias in artificial intelligence (AI) and machine learning (ML) systems.
And last month she showcased the prototype of a robot that can detect when people are having a panic attack and notify a member of family or trusted friend at Metaverse conference in Penryn. It uses a form of non-continuous recording in order to ensure personal privacy and security.
But Lizbeth, who studies Business, is also blazing a trail in another field – academia, with a research paper on 'ethical AI' accepted for presentation at the World Congress of Undergraduate Research 2023 at the University of Warwick in April.
"When you're an entrepreneur most people say you should keep your methods to yourself but I thought 'I'm going to take a hybrid approach and actually talk about how I make AI more ethical to accelerate the industry progress in ethical development'," Lizbeth said.
"With my business The Good Robot Company, I use a novel method called 'counter-factual analysis' built into a bias toolkit so I made an academic paper to go with what I was doing in industry, and it got a lot of attention and inspired industry actors to collaborate further, which is really exciting!"
Lizbeth has an autism diagnosis and was diagnosed non-verbal until the age of 6. Whether designing a new product or writing research, she is driven by the idea that AI can actually enable the EDI (equality, diversity and inclusion) agenda, which she explains using recruitment as an example, though says the principle holds true across most industries.
"If an organisation uses AI tests to recruit people, such as evaluating facial expressions to gauge how socially adept people are, this is popular in large companies. This could mean people with autism may score very low, so the organisation, therefore "failing" the gamified test. My approach would consider the data between each outcome based on the exclusion/inclusion of those test results. If the person wasn't hired due to failing the facial expression part alone the company could therefore be breaking the Equalities Act of 2010 inadvertently," she said.
"A better solution is to look at the spectrum of scores that a person got, their interactions, the language they use in emails, rather than focus solely on one data source of facial expression testing for the social awareness part seeing how this could change the overall result – it's about how small changes can influence the overall decision."
The Good Robot Company aims to help companies create better, more inclusive tech solutions, her clients so far including fintech companies looking to detect fraud, utilities firms in the South West and recruitment firms.
As a first year undergraduate, Lizbeth made the unusual request to write her dissertation early. Also, writing and submitting three papers to the British Undergraduate Conference that year – all of which got accepted.
When she arrived at the University of Exeter she had already successfully finished Open University degree modules in Computer Science, which she started aged 16 and which she says gave her the 'building blocks' to her unique approach towards AI.
But it was at Exeter that her ideas took on a sense of social responsibility, and where she learned how to sell and commercialise her products.
"My degree has sustainability and circular economy integrated into it and I'm also fortunate that at Exeter there's a drive for student start-ups, and an encouragement of how to apply every module in real life situations. I was on the ikeep and the Summer Startup programme, and all of these were small influences that built up over time," she said.
With graduation rearing its head, the future looks bright for Lizbeth, who already has job offers and is choosing to go on to Accenture in London and join the operations team capitalising on her expertise in ethical and sustainable AI/ML.
She will still aim to submit papers for publication in the future, and wants to bridge both industry and academia and eventually going on to do a PhD.
Lizbeth counts among her heroes EY's Jennifer Turner as well as the American academic Temple Grandin, who inspired Lizbeth by documenting her own experiences with autism.
Lizbeth expressed resonating with the challenges Temple faced at university.
"I find the journey of her life inspiring," Lizbeth said. "She also has challenges with her disability but used her visual thinking to optimise what she was doing and create opportunities in both academia and industry. I watched the recent biopic about her and found it really moving. It inspired me, because I saw her overcome similar situations I have experienced and I thought, 'why can't I do the same?'"