Graduates urged to 'embrace gift of diversity' as Black British Business Awards founder honoured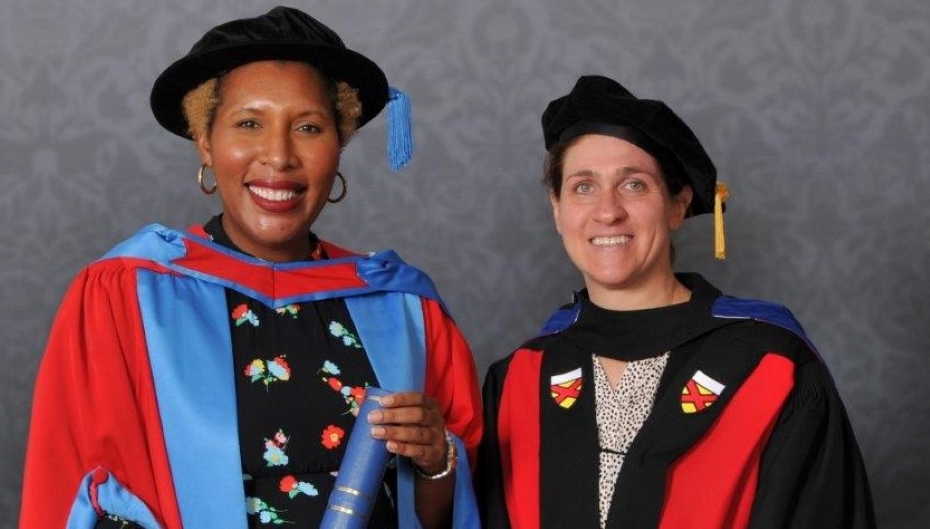 A leading advocate for equality, diversity and inclusion in business was this weekend awarded an honorary degree by the University of Exeter.
Melanie Eusebe MBE was presented the degree of Doctor of Laws in recognition of her commitment to championing diversity throughout a career encompassing roles at global organisations IBM, EY and Accenture as well as initiatives such as founding The Black British Business Awards (BBBA).
Currently a Director at Google leading Diversity and Inclusion across Europe, the Middle East and Africa, Melanie has been named in the top 200 women influencers in the creative industries, the top 100 Black leaders in the media and top 50 woman speakers in the UK, receiving an MBE in the 2021 Birthday Honours for her contribution to diversity in business and making a positive impact in her line of work.
Melanie was born in England but grew up in Canada, graduating in 2000 with a degree in Philosophy, Political Science and French from the University of Toronto before returning to the UK and completing a Master's Degree in Philosophy from Birkbeck, University of London.
She began her career as a Management Consultant, before in 2014 founding and launching The Black British Business Awards (BBBA), the largest awards programme of its kind, endorsed by former prime ministers David Cameron and Theresa May, as well as the then Mayor of London Boris Johnson, for shining a spotlight on talented business people of Black descent, providing role models and inspiration.
Melanie has also been Executive Producer of the Women of the World Festival (WoW), a global gender equality festival, and in 2014 she joined the commonwealth Women's Summit Committee where she worked for the advancement and economic empowerment of women in the Commonwealth.
Melanie Eusebe MBE, Honorary Graduate of the University of Exeter said: "It is an honour to be recognised by such an outstanding institution and to be included in the graduating class of a University dedicated to the very best in research, teaching and learning is truly a humbling experience."
In a moving address to the congregation, Melanie described the new graduates as "pioneers of tomorrow's world" and "torchbearers of the future", imploring them to remember that "diversity is not a challenge to overcome, but a gift to be embraced", adding: "Together we can build a society where every individual can flourish, where all your individual talents are nurtured and all of your dreams, regardless of your race, origin, class, religion, or gender are celebrated."
Professor Alexandra Gerbasi, Deputy Pro-Vice Chancellor of Faculty of Environment, Science and Economy and Dean of the University of Exeter Business School, said: "Today the University of Exeter is delighted to honour Melanie and welcome her as a member of our community for her lifelong commitment to championing diversity and for her ongoing commitment to uncover role models and inspire a new generation of leaders."