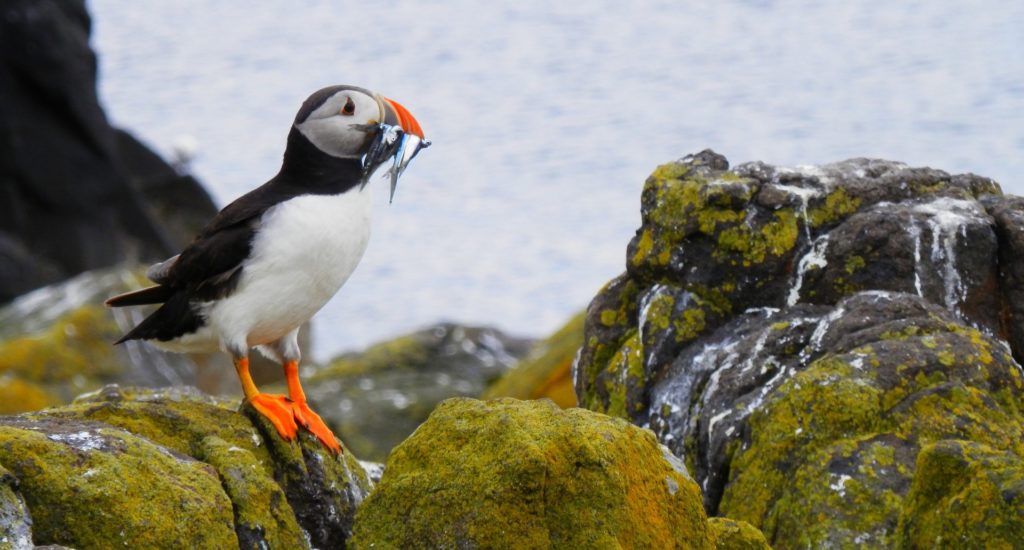 The UK must "make space for nature" and provide "genuine protection for wildlife" to restore the Wild Isles featured in Sir David Attenborough's new TV series, experts say.
The programme says Britain has become "one of the most nature-depleted countries in the world".
Researchers from the University of Exeter have commented on how the UK can turn the tide on the destruction and degradation of nature.
Professor Dave Hodgson, Director of the Centre for Ecology and Conservation, said: "Wild means different things to different people.
"What the UK really needs to do is to halt and reverse the declines of its important species, meanwhile managing species and activities that cause environmental harm.
"We need to protect our pollinators while managing our crop pests. We need to protect our birdlife while managing their predators. We need to protect our waters while managing pollution. We need to protect our flora while managing invasive weeds.
"We can do this alongside the protection of livelihoods and lifestyles, by valuing nature not just as a luxury but as an investment in long-term resilience and prosperity.
"Wildness will be a very welcome side-effect of our re-valuation of nature."
Dr Pamela Buchan said: "My marine research shows that emotional attachment to the marine environment and feeling dependent upon it are the biggest drivers for action for the ocean, and series like this will bring it home to people that we are all dependent upon a healthy natural world.
"For those inspired to take action, I would ask them to think big.
"Marine and environmental citizenship includes taking action to reduce our own personal impacts on the natural world, but also trying to change the way we impact the ocean as a society.
"One of the most effective ways to do this is to share our concerns with family and friends because there is strength in numbers.
"In the UK we have a right to be involved in environmental decision-making, and we can make ourselves heard by writing to councillors and MPs, responding to consultations about planning, signing and starting petitions, and coming together to ask government to do things differently for all our benefit."
Professor Kevin Gaston, who leads the RENEW biodiversity restoration project, said: "We need urgently to reverse the perilous state of our ecological inheritance.
"Biodiversity renewal is necessarily about people.
"It requires making more space for nature now, through our individual actions, communities, companies, and national institutions."
Professor Jane Wills, Director of the Environment and Sustainability Institute (ESI), said: "The ESI is celebrating its first decade of operation and is very proud to have been supporting the development of a pioneering nature recovery strategy led by the Cornwall and Isles of Scilly Local Nature Partnership.
"This provides an ambitious vision for 30% of our land and sea to be well-managed for nature by 2030.
"We are working together with key stakeholders to learn how best to realise this goal and are sharing best practice across the wider network of other regions on the rural-periphery of the country that belong to Britain's Leading Edge."
Professor Callum Roberts said: "Britain's seas are far less wild than they used to be, having been industrially fished for centuries.
"To try to reverse these losses, we have established an extensive network of Marine Protected Areas over the last 15 years, which now covers 38% of UK seas.
"Unfortunately, over 90% of these 'protected areas' still permit industrial fishing, giving nature no meaningful chance of recovery.
"Having achieved early the much-vaunted international target for 30% protection of the sea by 2030, agreed by the UN last year, the UK must now deliver genuine protection for wildlife.
"The government recently announced three highly protected marine areas for England, which offer the protection from exploitation that is needed and build resilience against climate change according to government advisers.
"Science we have undertaken at the University of Exeter says we need to establish 70 times more protected areas like this to deliver nature recovery in the sea."
Exeter Biology alumna Kate Ashbrook, General Secretary of Open Space Society, said: "I fell in love with Dartmoor when I was a teenager and knew that I wanted to be part of the campaign to save it from encroachment and development.
"Consequently, I went to the University of Exeter to be near Dartmoor and to study ecology.
"My time there inspired me further in my mission for Dartmoor but also opened my eyes to the beauty and grandeur of landscapes, their geology, archaeology and natural history, throughout Great Britain.
"For the last 40+ years I have been able to champion the protection of the countryside and urban spaces, and people's rights to enjoy them.
"We need tighter planning controls to protect our national parks, areas of outstanding natural beauty, and other special landscapes."
Brad Wickens (Economics & Agricultural Economics, 1994) said: "My time as a student at Exeter helped to inspire my interest in environmental sustainability and has culminated in a significant biodiversity regeneration project on our farm.
"It's great to see that the University's research continues to inform best practice and policy across areas including ecology, conservation, and biodiversity economics.
"Enhancing the scientific evidence base for biodiversity regeneration is essential to enable us to better protect and enhance wildlife in the UK and internationally."