Ukrainian refugee who won Exeter scholarship nominated for Student of the Year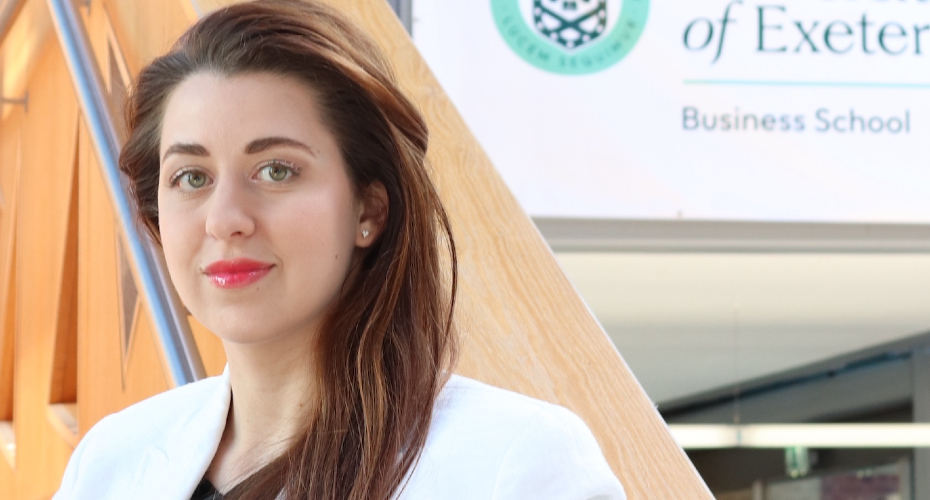 A student who fled war-torn Ukraine before embarking on her studies at the University of Exeter Business School has been nominated for the AMBA Student of the Year Award 2024.
Kateryna Halkina was nominated for the Association of MBAs award by her tutors on The Exeter MBA, who described her as someone who stands out for "exemplifying exceptional leadership, strong teamwork, goal-orientation and innovative thinking".  
Kateryna came to the UK as a refugee under the Homes for Ukraine scheme, settling in Dawlish near Exeter with a host family.
In Ukraine, Kateryna had been working for 10 years in a variety of roles including for KPMG, but she was ambitious to return to university to gain new skills and improve her employment prospects.
But after the house she lived in was looted and then destroyed in Hostomel, Kateryna found herself alone in the UK "without even a tenth" of the money needed to go back to university.
It was through a local priest that Kateryna found out about The Exeter MBA, and when she at first dismissed the programme as too expensive he suggested she might try to get a scholarship.
Kateryna said: "I would never have even considered it, but when he suggested I could get a scholarship I began looking into it and discovered The Exeter MBA Better World Scholarship, which I applied for and was successful."
Despite daily news of missile attacks back home, Kateryna has managed to prioritise her studies, driven by a clear vision of how the knowledge she gains could contribute to the rebuilding process in Ukraine after the war ends.
Kateryna said: "I've become really immersed in the idea of sustainability, which is embedded in the MBA programme and as my final project I researched circular economy and sustainability principles in the construction industry.
"There are so many demolished and partially destroyed or ruined buildings in Ukraine, and I was thinking what techniques or instruments can be used to generate something more productive from the construction waste.
"When doing my research I learnt of a house in the UK built from building industry and other waste materials, and I thought that it would be great if we could do this.
"Of course, this won't always be possible, but in general I just really appreciate the idea of using principles of sustainability in the future cities and building reconstruction."
While at Exeter, Kateryna has taken up studying Arabic, inspired by the MENA region's innovative sustainable development practices including the construction of smart cities in the desert.
She also completed the Exeter Award Programme and to improve her understanding of the needs of refugee communities, Kateryna undertook the Summer School of Forced Migration at Oxford School.
Professor Donald Lancaster, Programme Director of The Exeter MBA, praised Kateryna as "remarkable in our MBA community", saying: "Despite constant worry for her family in Ukraine, Kateryna strives to help those around her whilst maintaining her vision of sustainably rebuilding Ukraine.
"Kateryna's academic performance, her pursuit of self-improvement and commitment to diversity make her genuinely stand out in any MBA community and more than worthy of this nomination."
The winner of the AMBA Student of the Year Award 2024 will be announced on Friday 19 January 2024.