Exeter Scientist Duo join Prince and Princess of Wales at NHS Big Tea 75th anniversary party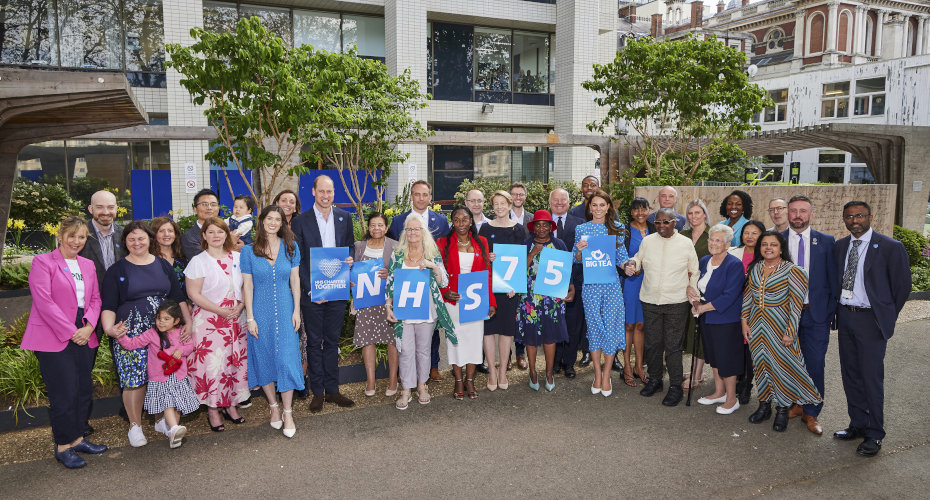 Scientists from Exeter Genomics Laboratory, part of the South West NHS Genomic Laboratory Hub have been honoured by Their Royal Highnesses The Prince and Princess of Wales at a very special NHS Big Tea party, marking the 75th anniversary of the NHS (Wednesday 5th July).
Dr Andy Parrish and Professor Emma Baple from Exeter, work in the South West Genomic laboratory hub, specifically in the Genomics Laboratory at the Royal Devon and Exeter hospital, who developed the world's first large-scale national rapid whole genome sequencing (WGS) service for critically ill babies and children. Families of children with rare genetic conditions often face a prolonged journey in their search for a diagnosis and when a child is acutely unwell on intensive care timing is everything. This pioneering service has transformed the prospects for finding a diagnosis quickly, often in less than 7 days, opening up the possibility of treating the genetic diagnosis when it can be lifesaving.
Hosted by NHS Charities Together – the national charity caring for the NHS, of which Their Royal Highnesses are Patrons – and television presenter Mel Giedroyc, the event was attended by members of the workforce and patients representing myriad achievements of the NHS and NHS charities over the last 75 years. It was held in the wellbeing garden of St Thomas' Hospital in London – a wellbeing initiative funded by Guy's and St Thomas' Charity.
The rapid whole genome sequencing service is a test to look for changes in genes in the seriously unwell child's DNA and can help determine if these are causing their illness. . It builds on three decades of research, carried in a partnership between the Royal Devon University Healthcare NHS Foundation Trust and the University of Exeter. This incredible national service is the only one of its kind anywhere in the world. It currently supports around 120 families in England every month, providing urgent answers for the sickest children in the country.
The event enabled the duo to meet a little boy called Reuben who, at three months old, was a patient whose life was saved by their team's service.
Dr Andy Parrish, Consultant Clinical Scientist and Head of the Exeter Geonomics Laboratory, said: "We weren't too sure what today was going to be but what a great surprise. It has been a lovely opportunity to share what we do – including supporting family's like Reuben, who it was a pleasure to meet in person for the first time and see him doing so well. It's also been wonderful to engage with other teams across the NHS who are doing excellent things in their own right."
Professor Emma Baple, Medical Director of the Laboratory and Professor of Genomic Medicine at the University of Exeter, said: "For children like Reuben, who was also at the event with his parents and big sister, every second counts. The faster we can get answers the greater chance we have to change that child's care and their outcome. Any child in England who is acutely unwell and needs a rapid test can have it – and it can be life changing and lifesaving in many cases – but without an NHS we simply wouldn't be able to provide it. There isn't anywhere else in the world that offers this service to every child and family that needs it.
"For us it was particularly special to meet Reuben because we haven't seen him since he's had his liver transplant less than a month ago. Children definitely keep us all grounded – there was a request for clotted cream, scones and a sausage roll halfway through the very serious conversation about innovation in the NHS! It's an incredible privilege to be part of such a phenomenal team and to see outcomes like the one achieved for this family. That's why we all get up in the morning and go to work."
Atsushi Tanaka, Reuben's father said "We are grateful for every minute we spend together as a family. Thank you is not enough. Your support has changed Reuben's life but also our family's."
Other guests The Prince and Princess met with included Aneira Thomas, the first baby born on the NHS, to pioneers in research and those on the frontline tackling Covid-19. The guest list honoured staff past and present, including three generations of NHS workers from one family – inspired by grandmother and former nurse of nearly 50 years, Blanche Hines, who was part of the Windrush generation.
A surprise visit for those invited, The Prince and Princess even arrived early to help lay the tables and put finishing touches on a birthday cake. Their Royal Highnesses discussed current challenges and thanked staff for the work they continue to do, and – in the spirit of the tea party – even attempted to settle the long-standing scone debate regarding jam or cream first, with The Princess voting for jam, and Prince William preferring whatever is closest. They concluded their visit with a video message for the entire NHS: "Wishing everyone a very happy 75th birthday for the NHS. Thank you so much for all you do."
Ellie Orton OBE, Chief Executive of NHS Charities Together, said: "We want to say a huge thank you to our Royal Patrons, and everyone who's helped celebrate the 75th anniversary of our beloved NHS this year. As the national charity caring for the NHS, NHS Charities Together is here for anyone who wants to give something back to its people, who all give so much to us, and that extra support has never been so important. It includes providing staff psychologists, counselling, peer support training and so much more.
"It's not too late to arrange your own NHS Big Tea party and raise vital funds to support NHS charities – find out how you can get involved at nhscharitiestogether.co.uk."
Eurovision and former Great-British Bake Off presenter Mel Giedroyc was the host for the event on behalf of NHS Charities Together, and said: "The NHS is part of our DNA in this country so it was an utter privilege to be involved in this NHS Big Tea surprise to celebrate 75 years of the NHS and NHS charities. People were so delighted and it was just a quintessentially lovely, British day, celebrating our health service that we all love so much. I hope we will continue to love and take care of it for the next 750 years, because it's something truly precious – and what would we do without it? I have it to thank for my hernia operations!"
The Prince and Princess of Wales became Royal Patrons for NHS Charities Together in December 2020, during the height of the Covid-19 pandemic. Since then, their support for the charity has helped to shine a light on the incredible and ongoing contribution of the NHS workforce and the role of NHS charities in helping the NHS go further for everyone.
Now entering its sixth year, the NHS Big Tea brings the nation together to celebrate the NHS and raise funds to provide the extra support needed for staff, patients, and volunteers. All funds raised from the NHS Big Tea contribute to key projects supporting the incredible NHS workforce, the long-term recovery of the NHS following Covid-19, and projects improving care for patients and communities.
To find out more about the work of NHS charities, or how you can host your own NHS Big Tea event pack, please visit www.nhscharitiestogether.co.uk