Exeter's medical science and healthcare students recognise staff for excellence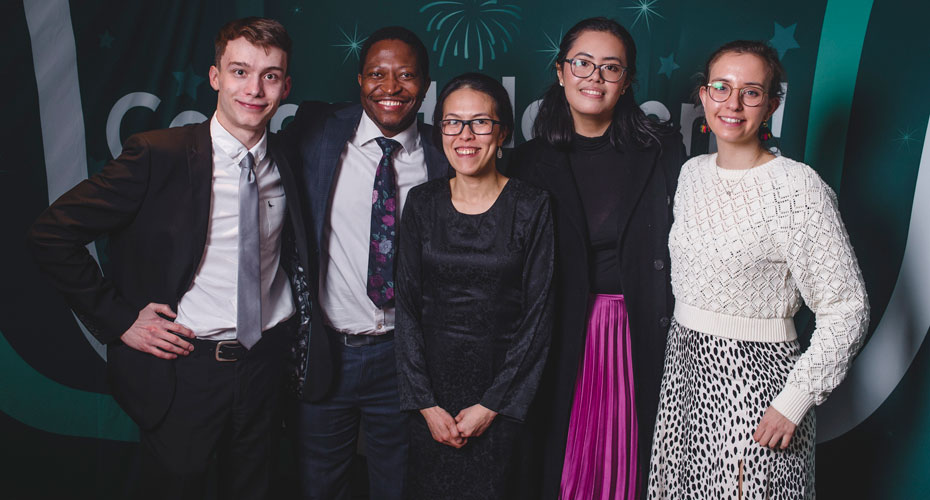 Students in the University of Exeter's Health Professions and Sciences Awards have awarded prizes to staff to thank them for their support.
As part of Exeter's clinical programme annual prize-giving awards ceremony, students nominate teachers across a range of categories. The 20 nominations include University of Exeter staff, and NHS teams that have provided excellent and innovative teaching to students on placement.
Presented at St Mellion Golf Club last night, the award categories included inspirational teaching, the "shoulder donor" for supportive teaching, and the "helping hand".
Medical Imaging student Dise Orkri described Gillian Phua, winner of the Medical Sciences Educational Inspirer, as a "wonderful teacher", and said: "Dr Phua has an amazing energy when she is in the class room that makes her teaching sessions engaging and stimulating, and this is true even when she is teaching online!"
Neuroscience student Elsa Oakes said Professor Kate Ellacott was nominated for the Most Inspirational Teacher for the "unrelenting dedication she demonstrates in her teaching, and the care and approachability she exhibits towards students."
The Sport and Exercise Medical Sciences students said Dr Maisha Reza, Lecturer in Biomedical Science, was nominated for Inspirational Teacher, saying:
"Dr Maisha is such a genuine person and makes the whole class feel included in the learning experiences on her module. She is clearly passionate about the topics she teaches and this has made us really listen and take on board what she is teaching us."
They added that Professor Obi Ukoumune, Lecturer in Medical Statistics, was nominated as Educational Inspirer for his "Unique gift for making even the most complex and boring topics come to life and make sense. He genuinely cares about our learning and strives to set time aside to help us understand what he is teaching and to address all of our questions."
Medicine student Tobi Akinlou said Professor Jurg Ehman, Lecturer in Medicine, was nominated for the subject's most inspirational teacher because: "He always encourages us to keep on keeping on, he is so dedicated to building our confidence and supporting us to become competent doctors."
Tobi also commended Professor Nick Davies, saying "Nick's passion for surgery and education shines through. This enthusiasm inspires us to look beyond graduation and to our future as doctors, helping us figure out our next steps."
Professor Ian Fussell, Associate Pro Vice Chancellor Education at the University of Exeter's Faculty of Health and Life Sciences, who hosted the event, said: "These staff prizes are incredibly heart-warming and valued by the winners, because they are voted for by students. Our staff are absolutely outstanding – they deliver a world-class education, while instilling qualities of empathy, compassion and life-long learning, by leading from the front. I'm incredibly proud of our entire community."
The full list of staff winners is:
Most Inspirational Teacher Pre Clinical BMBS Tim Harrower
Most Inspirational Teacher Clinical BMBS Jurg Ehmann
Supporting Hand – Pre Clinical Nick Davies
Educational Inspirer Dr Jane Nash
Excellence and innovation in Clinical Teaching Team award for GP Practices – Exeter Coleridge Medical Practice Exeter
Excellence and innovation in Clinical Teaching Team award for GP Practices – Truro Sunnyside Truro
Excellence and innovation in Clinical Teaching Team award for Hospital teams – Exeter RD&E ENT RD&E Exeter
Excellence and innovation in Clinical Teaching Team award for Hospital teams – Truro RCHT Haematology Truro
Medical Sciences Inspirational Teacher Gillian Phua
Medical Sciences Supporting hand Joanna Tarr
Medical Sciences Educational Inspirer Siobhan O'Dwyer
SEMS Inspirational Teacher Musarrat Maisha Reza
SEMS Supporting Hand Alex Clarke
SEMS Educational Inspirer Obi Ukoumune
Neuroscience Most Inspriational Teacher Kate Ellacott
Neuroscience Supporting Hand Talitha Kerrigan
Neuroscience Educational Inspirer Craig Beall
MI Inspirational Teacher Ben Sherlock
MI Supporting Hand Robyn Lane
MI Educational Inspirer Fiona Mellor
Best placement Hospital team Derriford