Patients and doctors tackle Great West Run together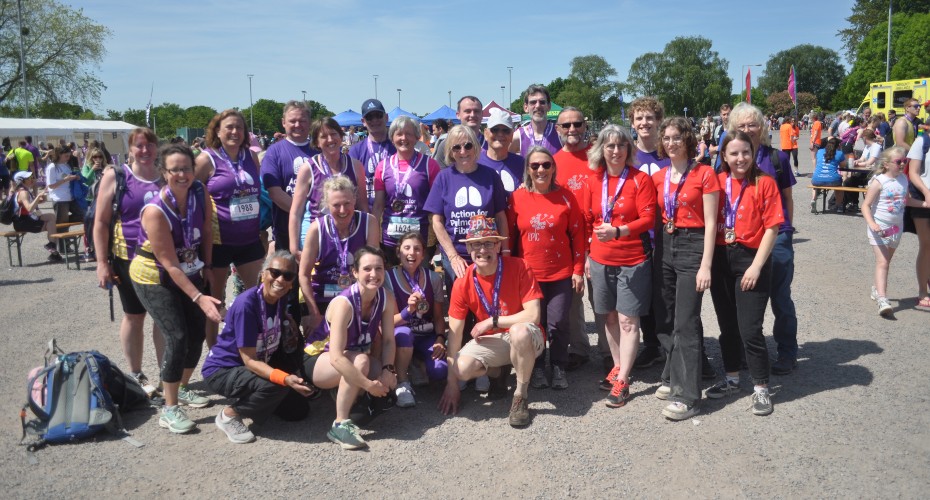 Pulmonary fibrosis patients teamed up with clinicians and researchers for a Great West Run challenge in Exeter on Sunday.
When patients heard that clinical and academic staff were training for the half marathon event to raise money for pulmonary fibrosis research, they were so touched that they decided to join the Community Mile event – including one patient who completed the mile carrying his own oxygen.
Dr Anna Duckworth and Professor Chris Scotton from the University of Exeter teamed up with staff from the Royal Devon University Healthcare NHS Foundation Trust to tackle the half marathon distance, raising funds for pulmonary fibrosis research, while patients ran or walked a mile.
George Vosper, who lives with pulmonary fibrosis said: "It was such an inspirational day and emotional day. Our healthcare professionals and researchers have shown us yet again how much they care about making lives better for those who live with, and are affected by, Pulmonary Fibrosis. They have literally gone the 12.5 extra miles for us! Together we are stronger."
Sarah Lines, Interstitial Lung Disease Team Lead and Clinical Nurse Specialist at Royal Devon University Healthcare NHS Foundation Trust said: "What a glorious day. The sun shone and there was a good breeze and the Community Milers and 10k cheered us off. The ½ marathon runners were relieved by the shade along Stoke Road before tackling the Prince of Wales Road hill up to the University. We all made it back to the Arena in good time and were delighted to be welcomed back by the rest of the team who had waited for us to finish."
You can donate to EPIC research in Exeter or national research and support at Action for Pulmonary Fibrosis via the following JustGiving pages: