A story of hot rocks, queerness and cowboys – Cornwall born theatremaker debuts new show commissioned by the University of Exeter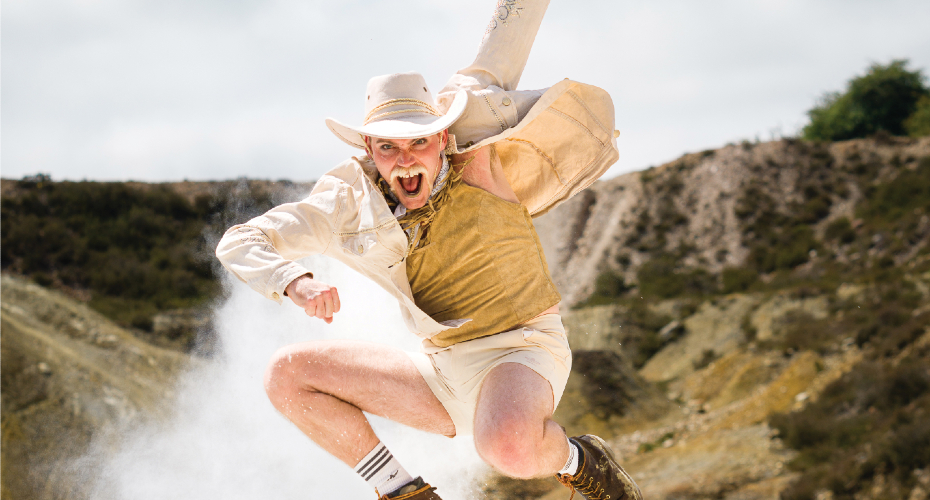 'All That Glitters' is a newly devised solo live performance piece by Cornwall born theatre maker Tom Jackson Greaves which explores the complex and nuanced world of critical minerals through the eyes of a Cornish millennial dreaming of progress.
Commissioned by Arts and Culture, University of Exeter and supported by imPOSSIBLE Producing, the project focuses on Cornwall's unique history and future as a global innovator. Developed over an intensive four-month research period, the commission has seen Tom collaborate with an exciting interdisciplinary team of researchers and academics at the Penryn campus, including those at the world-leading Camborne School of Mines and Geographers, Historians, and Politics academics from the Department of Humanities and Social Sciences.
From day trips to the beautiful Luxulyan Valley and the mining village of St Dennis, to site visits to Cornish Lithium and the underground tunnels of Cornish Metals, Tom, and the show's co-director Kyla Goodey, have delved deep into Cornwall's mining heritage and landscape, discovering more about the county's mining past, present and future.
The show itself is being performed in the former miner's dry at historic East Pool Mine near Redruth. An early 18th century copper and then tin mine, it closed in 1945 before coming into the ownership and care of the National Trust in 1967.
James Breslin, Visitor Operations and Experience Manager at the National Trust said "We're thrilled to see the Miners Dry at East Pool Mine being used by the University of Exeter for 'All that Glitters'. As the mine's changing room, this building would have historically been the centre of the working community here and it's really exciting to see it used in a creative way that brings a new audience to this important site."
As well as collaborator and co-director Kyla Goodey, the show also brings together a talented Cornwall based creative team including Lighting and Projection Designer, Joshua Pharo, Sound Designer and Recordist, Ciaran Clarke, and writer Anna Maria Murphy, who has been instrumental in feeding in the voices and stories from local Cornish communities.
Fiercely fabulous and funny, the show combines two storylines; Tom's personal journey growing up in Cornwall, and that of the newly in demand mineral, Lithium. The piece unfolds through fast paced storytelling, lip syncs, video projection, atmospheric soundscapes and dance to offer an entertaining new perspective on a complex subject matter that many of us are only just discovering.
Tom and Kyla said "Making this show has been revelatory, listening to geologists, miners and local voices and finding a way to marry global, personal and local stories that touch on mining and being other in Cornwall."
Annie Sheen, Programme Manager for Arts and Culture, University of Exeter added "This is the first time our Art Commission has been based at our Cornwall campus in Penryn. We wanted to connect people to the research happening at the University in a really engaging way. There is a long and important tradition of making art about mining in Cornwall. This piece is part of that legacy, but also brings a contemporary relevance to the narrative. Critical minerals is a complex topic to cover, you will leave asking some very important questions about the choices we make in regard to Cornwall's future in our global world."
You can see work-in-progress performances of 'All That Glitters' at the Miner's Dry, East Pool Mine National Trust, near Redruth on Wednesday 12th July (7.30pm) and Thursday 13th July (2pm and 7.30pm). Tickets are free but extremely limited and must be booked in advance. The show is suitable for ages 14+ and has a running time 70 minutes approx.
Following the final performance on Thursday 13th July, the project team are also inviting audience members to stay and join them in a facilitated critical discussion in response to the show. This session will offer the opportunity for the audience and the creative team to come together to explore the process behind the making of the narrative and share what they hope audiences will take away from this newly devised piece of theatre.
Book your tickets here.
Find out more about the commission here.