New book explores the history of witchcraft across seven centuries and 13 notorious cases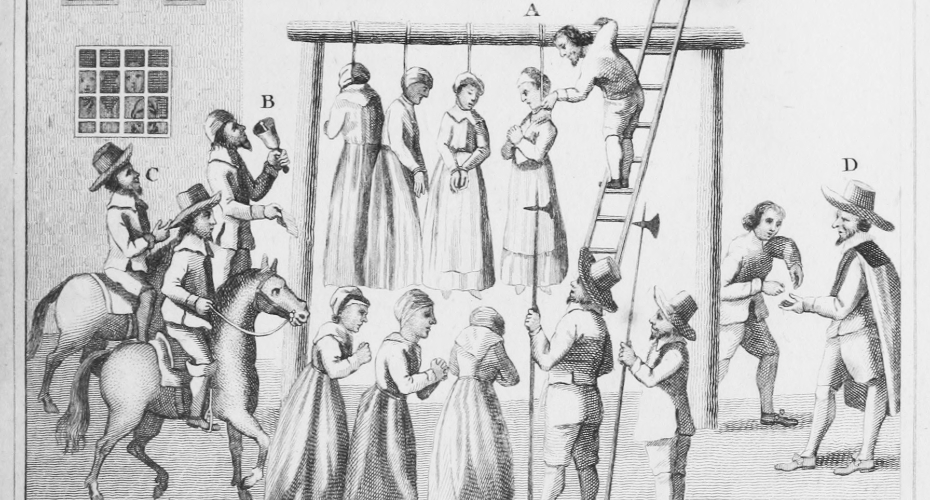 The history of witchcraft and the centuries of persecution that it has aroused have been explored in a new book focusing on 13 of the most infamous cases from around the world.
Witchcraft: A History in 13 Trials covers a 700-year time span that encompasses some of the earliest witch trials in Europe to the very modern 'witch hunt' of Stormy Daniels in Donald Trump's America.
Authored by Professor Marion Gibson, of the University of Exeter, the book also includes the notorious 17th century cases at Salem, Massachusetts, and the Manningtree witches of Civil War-era Essex, which saw hundreds of people put on trial – and many executed.
Professor Gibson, Professor of Renaissance and Magical Literatures, has spent more than 25 years researching the subject and says that the issue of witchcraft is still relevant today.
"What I wanted to do with this history book was show that the age of the 'witch trial' has never really ceased," Professor Gibson says. "We still talk about 'witch-hunts', especially in a political context as we've seen from the comments by Boris Johnson in just the last week. All around the world people are being accused and executed in large numbers. I wanted people to think about how the idea of witches came to be, what we use it for now and if there are any similarities between the groups of people who have been accused over the 700 years."
The first half of the book spans a 200-year period that explores key witchcraft cases during the Middle Ages, beginning with the trial of Helena Scheuberin in 1485 Innsbruck. Scheuberin fought back against her accuser, Heinrich Kramer, and won the case, but the result was Kramer's highly influential work Malleus Maleficarum, which established a blueprint for persecution of women across the continent.
This section also covers the work of Matthew Hopkins, the self-styled Witchfinder General, who largely operated in East Anglia from 1644 to 1647. Professor Gibson says the legacy of Hopkins' actions has been somewhat overlooked by history.
"I don't think we really talk enough in England about how we had this awful history of witch-hunting," she says. "We project an image of being a fair and just country, one that treats people quite well. But we haven't always done that, as evidenced in this period when up to 300 people were accused and around 200 executed. This was mass scapegoating and an event that we as a nation need to know more about."
The second half of the book covers the 18th century onwards, a period where witchcraft was redefined, says Professor Gibson, focusing less upon magic and more on politics, religion, and social factors. This includes cases from the 1920s and 40s such as that of Helen Duncan, whose nine-month jail sentence in 1944 was the last time anyone in Britain was convicted of witchcraft.
The book concludes with the case of Stormy Daniels, a self-confessed witch and former pornographic film star, who sued Donald Trump over a Non-Disclosure Agreement.
"I think it is important that Helena Scheuberin and Stormy Daniels open and close this book," adds Professor Gibson. "Like Scheuberin, Daniels fought back, and she suffered her own witch-hunt through the media and the actions of Trump's supporters. It reveals that, while these cases have their own textures and contexts, the underlying and overwhelming connection is that misogyny lies at the heart of accusations of witchcraft. We estimate that around 75% of those accused during the 15th—18th centuries were women, and that is still the case today in areas such as Southern Africa. The irony is that those people who often cry foul that they are being 'witch-hunted' are powerful white men."
Professor Gibson, based in the University's Department of English and Creative Writing, travelled around the country to find archives of material on witchcraft. This included fascinating insights into countries such as Lesotho, thanks to colonial-era documents stored in London.
"I do think it's a really topical issue," Professor Gibson concludes. "We can all think of examples of injustice, of women who have been treated unjustly. It's a history of misogyny and people being persecuted without good reason. At the same time, people are inherently fascinated by that element of magic and mystique that surrounds the witch figure. When I say to people that I research witch trials they immediately respond to it – I even get asked if I am a witch or pagan!"
Withcraft: A History in 13 Trials has been published by Simon & Schuster and is released on Thursday 22 June.
Professor Gibson has written extensively on the subject of witchcraft, including The Witches of St Osyth: Persecution, Murder and Betrayal in Elizabethan England for Cambridge University Press. Her next book will be a more detailed exploration of Matthew Hopkins and the Manningtree cases.