New research project launched to recover the lost history of women in 19th century theatre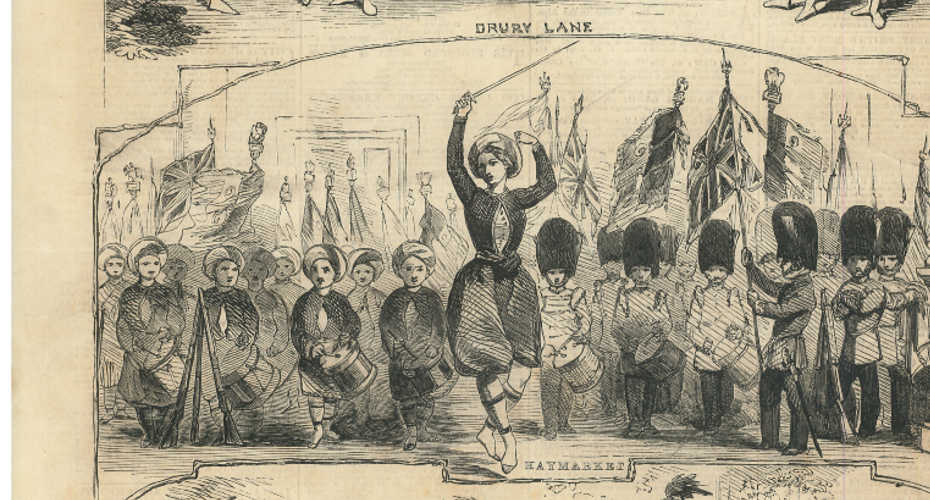 The overlooked work of thousands of women who helped to shape the evolution of theatre during the 19th century is set to be the focus of a new international research programme.
WOMENTHEATRENET will challenge current histories that have ignored or dismissed the impact of women on the basis that they were involved in popular forms of theatre and performance and not responsible for works of great literary merit.
Led by the University in conjunction with an international team of collaborators, and funded by a five-year European Research Council Advanced Grant of almost €2.35m, the project will focus on the interlinked theatrical cultures of Britain, Ireland, Australia and India.
Working also with a contemporary theatre production company, the project will seek to offer theatre directors a selection of performable classic plays written by women from the 1700s onwards.
"The theatre of the 19th century theatre is often ignored in histories because it's seen as the age of trashy melodramas and pantomimes, served up to mass audiences, with no great dramatic literature," says research lead Professor Kate Newey, Chair in Theatre History, in Exeter's Department of Communications, Drama and Film. "But it's an important theatrical period because the popular entertainment culture that emerged in London and Paris after the French Revolution had a fundamental influence on what we see and enjoy today.
"Women were involved in all of this and worked on terms almost equal to their male colleagues, often collaboratively within family groups or as husband-and-wife partnerships. But the significance of this has been overlooked by historians because they were not seen to be writing great literary dramas."
Working with the Universities of Bristol and Valencia, and Visiting Research Fellows from around the world, the project will cover three research themes: women working in mainstream and popular theatre; performance practices outside of traditional theatres; and the cosmopolitan and international networks through which women's work migrated, including those who moved between different media and genres.
The project will develop case studies that explore these themes, such as how women's work influenced the development of a colonial theatre in Australia; the challenges faced by women working in Irish theatre; and the role that women played in the close competition between London and Paris, particularly in the post-Revolutionary popular theatre.
"London theatre in the 19th century was the first industrial urban theatre profession for a mass popular audience, and London theatre professionals travelled the world with their hugely popular melodramas and spectacular sensation dramas," Prof. Newey says. "So, we exported English theatre across the British Empire – to the cities of Mumbai, Kolkata, Sydney and Melbourne – and WOMENTHEATRENET will explore the role of women in that process. For example, in 1821, one of the first English-style commercial theatres in India was managed by a 'Mrs Bristow' – but we know almost nothing about her."
The team will conduct an exhaustive search through digitised resources and holdings in international libraries, as well as major theatre archives such as the Larpent and Lord Chamberlain's Collections; the Victoria & Albert Museum Theatre Collections; and collections in Bristol, Melbourne and Canberra. They will also consult materials and archival documents found in broader culture such as adverts, press notices and reviews, interviews, letters and diaries.
Many of the resources and material unearthed by WOMENTHEATRENET will be made available for others to study through an online database. And the team will work with Cornwall-based theatre company Scary Little Girls to explore and experiment with some of these historical plays by women, and offer them as open-access, edited versions, for theatre companies to use.
A total of 218 Advanced Grants have been announced by the ERC, representing more than half a billion Euros in funding from the Horizon Europe programme. Aimed at 'outstanding research leaders' across the continent, the grants attracted more than 1,600 applications from a broad range of fields, including medicine, physics, social sciences and humanities.
The University received two Advanced Grants in total, with Professor Sallie Lamb, Pro-Vice-Chancellor and Executive Dean of the Faculty of Health and Life Sciences, successful for a project involving virtual reality and aiming find new ways to prevent older people falling.
"The invisibility of women is still a problem on our national stages. Hopefully this project will contribute to both changing the textbooks that document women's role in the development of theatre and leave a legacy of performable classics for contemporary directors."

Professor Kate Newey