Reinvigorating teaching practices is helping to boost teaching for creativity in schools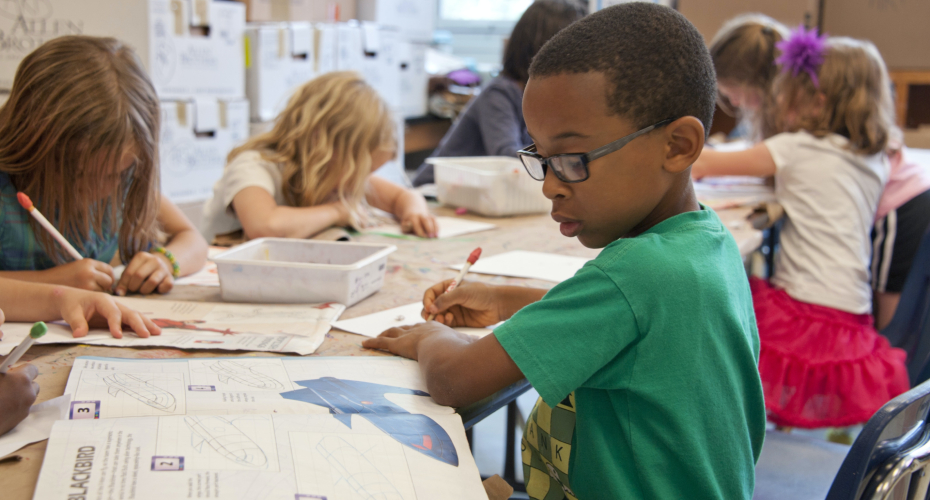 Teachers and leaders from the Penryn Partnership in West Cornwall are working with University of Exeter experts to boost creativity among children through a year of classroom-based action research.
Their findings have now been published highlighting teaching and learning strategies to inspire teachers across the country as part of a national pilot funded by Arts Council England and Freelands Foundation.
Penryn Partnership teacher researchers have worked with academics as part of the Penryn Creativity Collaboratives to investigate if teaching for creativity across the curriculum leads to young people who are better prepared for their future.
Teachers taking part have reported they have increasing confidence and practice in teaching for creativity. Children are taking more risks in developing ideas, and lessons based around real-world situations have helped them feel more of a connection with the knowledge and skills that they had previously been taught. Student comments support this: "I never used to take risks…I always used to think I was going to make a mistake" (Primary school student).
University of Exeter researchers have found notable increases in both teachers' abilities to facilitate creativity and students developing creative skills.
One teacher said: "This study has confirmed to me that making the time and space for creativity in the secondary classroom is vital if we want to equip teenagers with the kinds of skills that they so clearly need for the future."
A five-part Penryn Partnership Model of Creative Skills was produced in collaboration with teachers, leaders and the University of Exeter researchers last year. The draft framework sets out how creative skills may develop over time, and supports teachers in teaching for creativity.
Sarah Childs who leads the Penryn Creativity Collaborative said: "We developed our classroom practice grounded on our research findings from Year 1. It has been inspirational to see the transformation in teachers' classroom practice and the resulting outcomes from our young people. We now want to encourage and support teachers and leaders to develop the teaching of creativity in their own schools."
During Year 2 across the Penryn Partnership schools a network of 13 teachers from primary and secondary schools led collaborative research projects, and the University of Exeter researchers gathered information about their findings. Teachers often worked in partnership with an industry or cultural partner who also inspired and contributed to the wider CPD (Continued Professional development) opportunities, alongside training and mentoring from the PCC team.
Associate Professor Kerry Chappell said: "Having worked together last year to develop an accessible framework for researching creativity, we were delighted to support the teachers this year to apply it to carrying out their own research. Across key stages and disciplines, their reports give us insight into how it's possible to teach for creativity – and the fact that our research synthesis was also able to demonstrate widespread developments in both creative teaching and students' creative skills shows that the Creativity Collaborative project has impact and could be scaled up nationally."
The Penryn Partnership now moves into its final year of the Arts Council England's Creativity Collaboratives programme. The project, and its research, are funded by the Arts Council with support from the Freelands Foundation and began in October 2021. At Penryn College, the project is led by Sarah Childs as lead practitioner, with the research study led and facilitated by Associate Professor Kerry Chappell and Ursula Crickmay. The Penryn Partnership is one of eight national pilots, building a network of schools that will test a range of innovative approaches to teaching for creativity.
To join a mailing list and be kept up-to-date with project progress and outputs; please email creativitycollaboratives@penryn-college.cornwall.sch.uk