UK-China humanities alliance gathers for key conference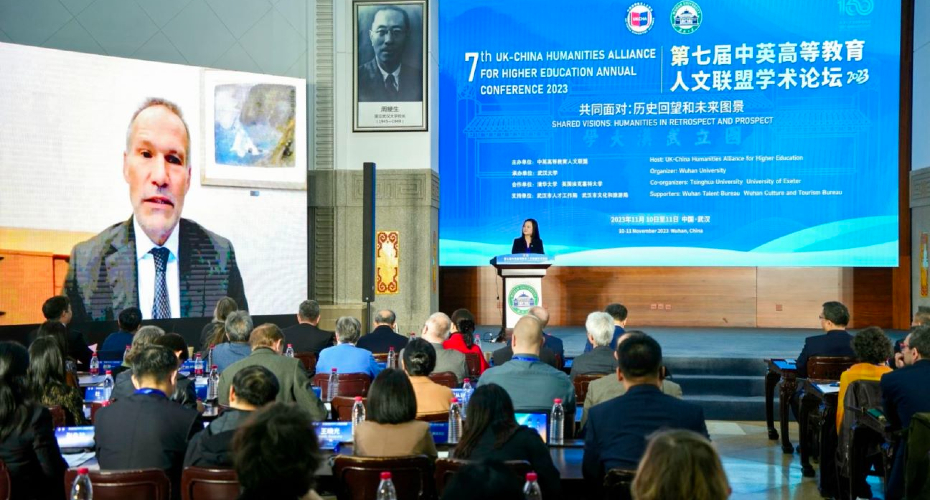 Senior academics representing the humanities at the University of Exeter have joined counterparts from the UK and China at a major conference to explore a range of issues for the higher education sector.
More than 100 academics from around 40 universities participated in the 7th UK-China Humanities Alliance (UKCHA) Conference, which was hosted earlier this month by Wuhan University, with support from Exeter and Tsinghua.
Held under the theme Shared Visions: Humanities in Retrospect and Prospect, the conference featured a range of panel discussions from 'The Impact of Science and Technology on Humanities, Cultures and Life-worlds'; to 'Literatures, World Histories and Intercultural Dialogue and Exchange'. It also featured the launch of the first UKCHA conference proceedings publication.
The UKCHA is an alliance of 17 leading universities and organisations in the UK and China. Exeter serves as the lead coordinating institution for the UK membership, with Professor Li Li, Associate Pro-Vice-Chancellor for Global Engagement in the Faculty of Humanities, Arts and Social Sciences, acting as UKCHA Deputy Secretary General. The Alliance has supported numerous activities to build connections between academics and students in the UK and China, facilitating compelling research and engagement events.
Professor Li, a Professor in Applied Linguistics and Language Education, delivered the opening speech. She told delegates: "This annual conference has significant meaning. It's not only the first in-person UKCHA conference in several years, when humanities researchers get together to share, discuss and debate, but more importantly, a fantastic platform for us to engage in intellectual exchange, intercultural encounters and interdisciplinary dialogues to address major global challenges, issues around the environment, technology, social justice and education fairness, to name a few."
Professor Dan Charman, Senior Vice President and Provost at Exeter, also expressed his support by video link, saying that "Exeter remains whole-heartedly committed to supporting the work of UKCHA". He added: "The UKCHA network brings together activities from across our nations, building bridges, encouraging cultural exchange and influencing the reception of policies. I'm very proud of Exeter's role in the UKCHA and the value this association undertakes using the power of humanities and social sciences to create positive change."
A total of 10 keynote speeches were delivered, including one by Dora Vargha, Professor of History and Medical Humanities, on 'Medical Humanities, Disease Management and Avenues for Collaboration', which drew upon her most recent research.
Supported by the (Re-)Connecting Research in China enabling grant from the British Council, 12 UK early-career scholars and leading academics also presented their work at the Conference, drawn from Exeter, UCL, SOAS University of London, and Cambridge.
Nick Thomas, the Director of British Council (China) highlighted the significance of the network, saying "Above all, the Alliance brings people together from a diversity of backgrounds, creating new connections between institutions, academics, and young people, and building understanding and trust. We're very proud at the British Council to support it."
Professor Yang Bin, the Chair of UKCHA, praised its impact, saying: "In our present era of globalisation, cross-cultural humanities exchanges play an increasingly important role in enhancing mutual learning, understanding and trust among different cultures […] Universities have the responsibility to foster cross-cultural humanities exchange and further promote globally-engaged research."
At the Conference, it was announced that Exeter will host the 2024 Conference of the Higher Education Young Talent Alliance (HEYTA) in September 2024. Students from China and the UK will be invited to the University for a programme of bespoke academic seminars and cultural engagement activities.
You can read about selected UKCHA activities on Exeter's UKCHA Website.