£200,000 research grant awarded to find high-risk lung cancers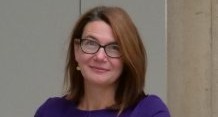 A £200,000 grant has been awarded by Cancer Research UK to improve early detection of lung cancer.
This funding will support Epi-ASCENT, a study led by University of Exeter's Professor Chrissie Thirlwell and Dr Amy Webster, with collaboration from Professor Sam Janes at University College London.
Current techniques to screen for lung cancer are limited to distinguishing between slow and aggressive features of the tumour. Due to this, current treatment of early stage cancers found through computerised tomography (CT) scans do not differ between those at high versus low risk of subsequent relapse.
The Epi-ASCENT study utilises DNA methylation, an epigenetic process, meaning one that regulates how genes are expressed through modifying our genetic code. The team will look at the role of DNA methylation in analysing the biology and genomics of surgically removed cancers with the aim of providing insight into the development of tumours.
Different DNA methylation patterns have been shown to inhibit or promote tumour growth. Examining these signatures can help understand the biology of tumours, and could help identify potential biomarkers, which can help scientists distinguish between aggressive and slow-growing lung cancers.
Professor Chrissie Thirlwell, Mireille Gillings Professor of Cancer Genomics, said: "Lung cancer is the most common cause of cancer death in the UK. Screening for lung cancer using low radiation CT scans saves lives by identifying lung cancers at an early stage when they can be surgically treated and cured.
"Our strategy will allow patient treatment plans to be individualised on a more precise basis, reducing the risk of potential treatment harms whilst maximising the benefits of early detection and thus improving patient outcomes."
Epi-ASCENT is an extension of ASCENT study, led by collaborators at University College London, which analyses the biological characteristics of surgically removed cancers.
Dr Iain Foulkes, Executive Director of Research and Innovation at Cancer Research UK, said: "Epigenetics is an exciting and rapidly developing field of research, so it's fantastic to see this applied to helping improve patient outcomes.
"By using epigenetic data, the Epi-ASCENT study will enable doctors to have a deeper understanding of a patient's cancer at the point of screening. In the future this could help shape treatment plans, so they are personalised for each patient, helping to improve the survival of people with lung cancer."