Survey takes to the skies over Cornwall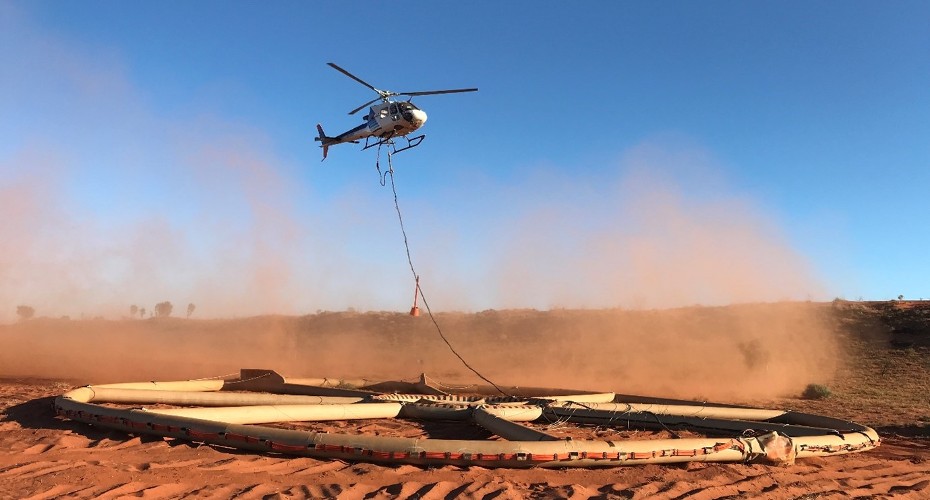 A sophisticated aerial survey to map the geology, natural resources and environment of Cornwall is due to take to the skies in the coming days.
A team from the Deep Digital Cornwall Project, led by the University of Exeter's Camborne School of Mines (CSM) and Institute for Data Science and Artificial Intelligence (IDSAI), are coordinating an airborne electromagnetic (AEM) survey over Cornwall, covering around 100km2 in two areas near United Downs and Redmoor, near Callington.
The survey will see a state-of -the-art sensor towed beneath a helicopter, to measure the natural electrical conductivity of the Earth's surface and subsurface, to help reveal the composition of soils and rocks, as well as the location of subsurface water.
The airborne survey will improve the understanding of Cornwall's geology including mapping of the granite underground, regional fault systems and location of mineralisation of potential economic interest.
It will help inform, for example: (i) exploration for minerals that contain the technology metals required for the transition to Net Zero (e.g., lithium, tin, tungsten, copper) ; (ii) the potential contribution of geothermal energy to the region's energy mix; and (iii) our understanding of hydrogeology and groundwater which is important to mitigate flooding and coastal erosion.
The survey, operated by New Resolution Geophysics (NRG), will fly at approximately 80 metres over the ground, rising to 240 metres when over more built-up areas, subject to Civil Aviation Authority requirements.
The survey is expected to start flying in the United Downs area on Thursday February 16th, and then will move to the Redmoor area near Callington. It may continue for up to two weeks depending on weather conditions.
The new data, which complement previous surveys in the area, including the Tellus South West project, will be made publicly available for further research via the Deep Digital Cornwall Hub and within the Deep Digital Cornwall 4D Visualisation Suite.
The data are being collected in collaboration with project delivery partners, Cornish Lithium and Cornwall Resources.
Professor Frances Wall, Camborne School of Mines, University of Exeter said: "It is really exciting to be flying this state-of-the-art geophysics survey. Preparations have been underway for some time to make sure everything is ready, including the official clearances and communication with local residents in the areas where the helicopter will fly.
"We are looking forward to seeing the new data and testing how it helps us understand Cornwall's important underground Geo resources, such as minerals we need for the energy transition and geothermal energy".
The Deep Digital Cornwall team will be posting further information including updates on survey times and locations on the project website.
The aim of Deep Digital Cornwall is to create a world-leading cluster of research-active, highly innovative businesses by researching digital solutions to a wide range of business opportunities connected to the underground including mining, geothermal, civil engineering, environmental, surveying, water resources, planning and permitting, heritage and tourism.