Defence Data Research Centre (DDRC) holds inaugral Data Study Group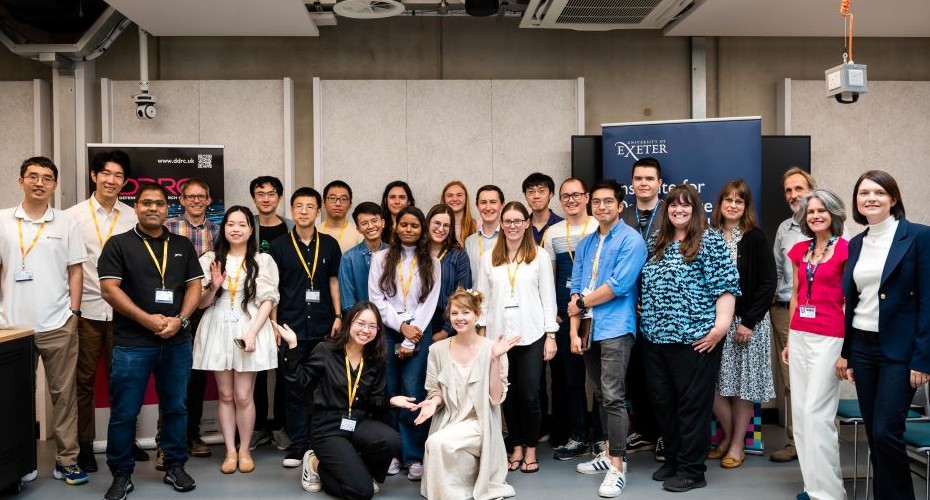 The Defence Data Research Centre (DDRC), a consortium led by the University of Exeter and funded by the Defence Science and Technology Laboratory (Dstl), recently conducted its inaugural Data Study Group in collaboration with The Alan Turing Institute.
This intensive 'collaborative sprint style research activity' brought together diverse organisations from industry, government, and the third sector for a week-long endeavour.
Twenty multidisciplinary researchers and academics from around the world pooled their expertise to tackle the challenge of developing machine learning algorithms capable of identifying cellular morphologies/patterns associated with toxin exposure.
The week was a massive success and culminated in presentations and reports to exhibit and publish the delegates findings. As we speak our Centre's professors are reviewing the final reports and look forward to any potential applications and further publications.
The Data Study Group offers a unique opportunity for researchers and scientists hailing from various cultures, disciplines, and career stages to exchange knowledge and harness the strength of their diverse backgrounds.
The Defence Data Research Centre is eagerly looking forward to its next challenge in 2024.
To learn more about the Centre, future DDRC Data Study Groups, and stay informed about upcoming challenges and events, please reach out to us at info@ddrc.uk.
Dominic Jenner, Dstl Challenge Lead said: "I would like to extend my thanks to the DDRC team for the running of their first successful data study group challenge, the event was a great success. I felt all the participants enjoyed the DSG and working with real world data over the course of the week.
"As always at these events a range of solutions were assessed with many successful attempts/methods used to solve the challenge. I was particularly impressed with the use of cutting edge ML tools such as SHAP (Shapley additive explanation) to aid in the explainability of the ML models used. The solutions presented at this DSG will now be assessed and discussed for the potential route of exploitation."
Glen Hart, Dstl DDRC Technical Lead added: "Data Study Groups are a great way to bring together a diverse set of people to explore a challenge area and come up with insights that would not otherwise be revealed.  It always amazes me how quickly a group of people who have not met before form effective teams and produce some really great outcomes in such a short space of time. 
"This Data Study Group did not disappoint and I'd like to thank all the participants for their dedication and hard work and also to the DDRC team, without whom this would not have been possible."
The DSG Facilitators provided a range of positive comments from the event.
Tiejun Wei (UCL) said : "Real world problem, solved by a team of different people. An occasion to learn, socialize and reflect on yourself."
Megan Joseph (UCL) added: "It was an intense week bringing together data scientists from many disciplines to contribute to a novel computational problem. I greatly enjoyed the DSG and was amazed by how much we achieved in just a week."
Sophia Moreton (Met Office) commented : Facilitating for the Turing DSG was a new but very rewarding and enjoyable experience for me, something I can apply in my current role and has boosted my confidence leading a team."