Exeter and Paris-Saclay establish new 'double PhD' agreement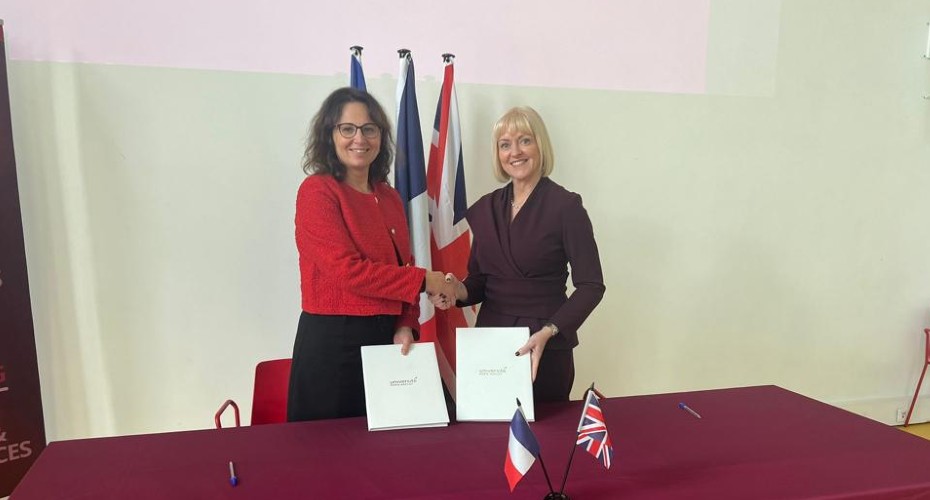 The University of Exeter has formally established a new PhD agreement with the Universite Paris-Saclay, it has been announced.
The new agreement was agreed during a special meeting between Exeter's President and Vice-Chancellor, Professor Lisa Roberts, and Paris-Saclay's President , Professor Estelle Iacona, this week.
It paves the way for Exeter & Paris-Saclay to collaboratively deliver a series of double PhD degree projects, with co-supervision. The universities are offering joint funding to provide tuition, living, travel and research costs, and the opportunity to obtain two PhD awards from both Exeter and Paris-Saclay.
Professor Roberts said: "Research and education cooperation between the UK and France carries great social and economic benefits for both sides. 
"Research-intensive universities like Exeter & Paris Saclay have a pivotal role to play in addressing the multifaceted challenges we face together, and this agreement will develop double degree PhD projects and promote mobility of PhD candidates between our two institutions.
"These students will become graduates of both universities, and they will gain valuable international experience through the opportunity to alternate between Exeter and Paris-Saclay, with co-supervision by experts in their fields from both institutions". 

During the event, the Presidents discussed the strong linkages that exist in areas of shared strategic priority between the two institutions, including Climate Science, Astrophysics, Computer Science and Cybersecurity, and how the partnership would bringing staff, students & faculty together to research, innovate & tackle some of the most pressing global challenges.
The Presidents were joined in conversation by Saclay's Vice President for International & European Affairs, Professor Sandrine Lacombe; the Vice President for PhD programmes, Sylvia Pommier; Professor Phillipe Bousquet (Director of the Laboratory for Climate Science and the Environment at Saclay); Guillaume Garreta (Director of International & European affairs); Sergei Shikalov (International Projects & Partnerships Coordinator); Essma Alem (International PhD Manager in the Doctoral College); and for Exeter, Stuart Westhead (Global Partnerships Regional Head); Dr Shaun Curtis (Director of Global Advancement).