Business leader and philanthropist warns of global risks of 'lethal humidity' during special visit to University of Exeter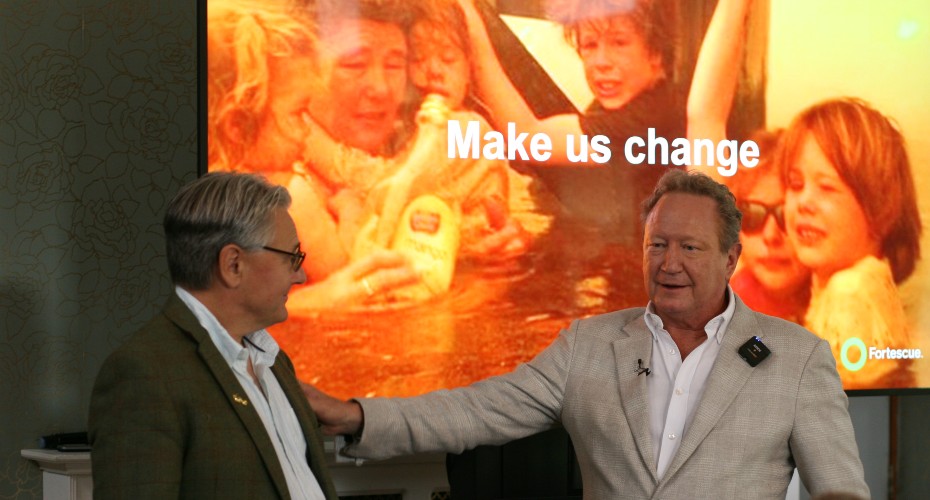 Business leader, green industrialist and philanthropist Dr Andrew Forrest visited the University of Exeter to give a lecture on "Lethal Humidity and the Upper Limit to Human Survival".
Dr Forrest is the Executive Chairman of a group of companies that use commercial, private and philanthropic finance to tackle climate change.
They include Fortescue, a $40 billion-listed natural resources company with major iron ore and green energy interests, and Tattarang which owns a portfolio of companies including Squadron, Australia's largest renewable energy owner, operator and developer.
His philanthropic work is channelled through the Minderoo Foundation, which uses an endowment exceeding AU$7.7 billion to focus on solutions to issues concerning human rights, ocean health, Indigenous disparity and equality for women and girls.
Dr Forrest was met by the University's Vice Chancellor Professor Lisa Roberts and Professor Alexandra Gerbasi, Dean of the University of Exeter Business School, before giving a lecture on what he describes as "the greatest greenwash (and disinformation) in the world: that global warming is the fault of the public".
In his lecture, entitled "Lethal Humidity and the Upper Limit to Human Survival", Dr Forrest argued global warming is the fault of "around one hundred business leaders globally", as well as policy makers, who have "wilfully or lazily failed to match policy settings to risk".
He explained: "Many of the risks posed by global warming are obvious – yet others remain poorly understood. As temperatures rise, humidity levels are also inching up, creating deadly conditions across the world. These conditions already exist in many parts of India, China, the United States and the Middle East and will place hundreds of millions of people at risk of death, leading to border chaos and uncontrollable migration, if the world fails to act now to replace fossil fuels with green energy.
Professor Lisa Roberts, President and Vice Chancellor of the University of Exeter, said: "We are delighted to have had the opportunity to welcome Dr Andrew Forrest to the University of Exeter, and to hear his lecture. Exeter is committed to working in partnership with businesses and charitable foundations globally to speed up the transition to a clean energy future and to address the climate crisis challenge we face."
During his visit Dr Forrest met with some of Exeter's leading climate scientists including Professor Tim Lenton, whose work on positive tipping points provides a blueprint for hope in the fight against climate change.