Social Science Festival workshop invites the public to imagine their Ideal City and World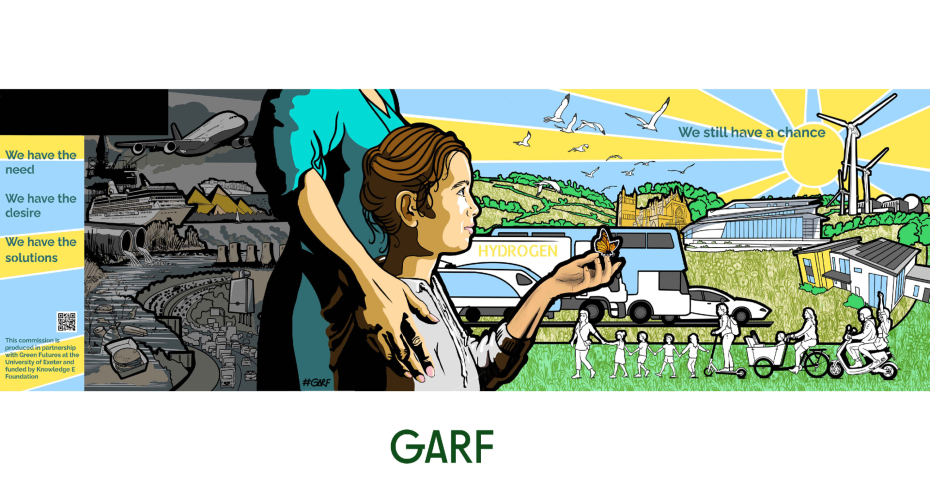 A creative workshop that will invite the public to imagine a world fit for future generations to inherit is set to be held in Exeter this weekend.
Ideal City, Ideal World will encourage participants to explore how words, music and visual art can inspire a collective vision of what a greener, healthier and fairer future might look like.
The event on Sunday, led by the University of Exeter, supports the institution's work to place art and culture at the heart of conversations on climate change. It also celebrates a new piece of street art that will be painted in the city in the new year, and which has been inspired by the University's COP27 We Still Have a Chance project. Attendees will gain an exclusive view of the design and will have a chance to meet the artist Gary Cook, known as Garf.
Ideal City, Ideal World is part of the 2023 Festival of Social Science, a UK-wide public celebration of the social sciences delivered by researchers in the higher education sector.
"At a time when many people are striving to create a more sustainable, healthy and socially just world, we need both science and art to help us to get there," says Dr Fatma Sabet, Postdoctoral knowledge exchange research fellow at the University and organiser of the event. "Through science we learn about the world, but it is through art that we can inspire people and spark their imagination. And that is the goal of this workshop; to share ideas, engage in thought-provoking conversations, and come together as a community to envisage a better and more liveable future for us all."
The workshop is open to 50 people, and will see participants being invited to listen to and engage with nature soundscapes, and with the help of Garf, having a go at creating their own visualisations for the city that reflect a greener, healthier and fairer future. Finally, participants will be able to post individual pledges on a visual representation of the river Exe to carry forward into the future.
At the event, Garf will introduce his mural and reveal the inspiration that shaped its design and realisation. His piece was chosen through an artistic commission, led by Art Work Exeter, in partnership with the University's Green Futures programme. A public vote followed on five shortlisted designs, and attendees will have an opportunity to visit the wall where it will be painted in the spring.
Stuart Crewes, Creative Director of Art Work Exeter, said: "Garf's mural is exactly on-message for the types of changes that I'd hope to see in the near future in Exeter. For me, having pride in our place and making it somewhere that people can thrive is all about being conscious of the impact of the things we do and making sure that provision is made for everyone to be on the journey together. I hope that this mural will be an inspiration and clarion call to others to make our city all it can be – and a positive message to people elsewhere that we care about the planet we share."
Funded by the Knowledge E Foundation in the United Arab Emirates, the piece is a legacy of the COP27 We Still Have a Chance project.
"It's such pleasure to be supporting this impactful project where many individuals and organisations have come together to share a message and inspire," says Kamran Kardan, CEO of Knowledge E. "Change happens when we start seeing things differently and decide to take action. We all can make a positive difference in our own way no matter how big or small. Hoping this mural can be an inspirational step towards a more sustainable future for us all and the generations after us."
Ideal City, Ideal World will be held on Sunday 12 November, from 1.30-3.30pm, in the Rougemont Room at Exeter Library. Pre-booking is essential and can be done via the Festival of Social Science website.
"We are thrilled that the work we have been leading for the past three years has created this legacy for the city, as it has a counterpart mural in Alexandria in Egypt," adds Dr Sabet. "Garf's beautiful art captures the ethos of the project so perfectly and the need to find solutions for the sake of our children and the generations to come."