Marine-i showcases marine tech innovation success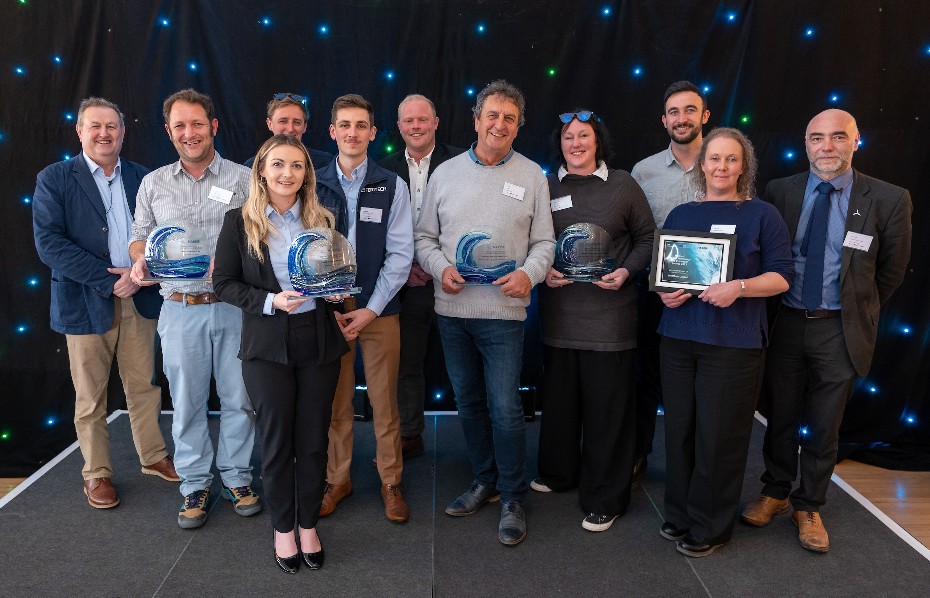 A Technology and Innovation Showcase event has celebrated the achievements of Marine-i in Cornwall and the Isles of Scilly, as the programme draws to a close.
Since its launch in 2017, the £13.4 million Marine-i collaboration has assisted nearly 200 marine tech businesses across Cornwall and the Isles of Scilly. Part funded by the European Regional Development Fund, the programme has helped businesses access research, product development and innovation support through grants, academic expertise and world class testing.
Businesses and stakeholders attended the Newquay event, which shared highlights from business projects supported by Marine-i over the last six years. Marine-i Technology and Innovation Awards were made to businesses in three categories having been selected by independent judges, including Thelma Sorensen OBE, Chair of the Cornwall Business Partnership, who presented the awards. The winners were announced as:
Impact on Cornwall Award. Winner: Feritech Global, an advanced marine engineering company with customers in over 40 countries that has opened a state of the art Innovation Centre in Cornwall.
Game Changing Innovation Award. Joint Winners: Tugdock, which has created a modular road transportable floating dry dock that can facilitate floating offshore wind turbine construction, and Biome Algae, which is at the forefront of sustainably farmed seaweed and novel bio-refined extracts.
Best New Start Up Award. Winner: Morek Engineering, a company which is pioneering new approaches to seafastening. A 'Highly Commended' award was also made to MintMech, which provides innovative solutions to the offshore wind industry.
Delegates heard presentations from Mark Duddridge, Chair of Cornwall and Isles of Scilly Local Enterprise Partnership, Ralph Singleton, Head of Funds for Cornwall at The FSE Group, Layla Burrows, South West Regional Manager for Innovate UK, and Prof Martin Siegert, Deputy Vice Chancellor (Cornwall) for University of Exeter, as well as some businesses supported by Marine-i. These included Ripl, Workfloat and Reflex Marine.
Simon Cheeseman of Offshore Renewable Energy Catapult said:
"Marine-i has been a critical project because it is always a challenge for local innovators to access research engineering support and test facilities to commercialise their excellent ideas. As well as expert advice, businesses have benefitted greatly from support in areas such as the design and testing of prototypes to prove the potential of their innovations. The Marine-i partnership has helped businesses to overcome barriers and accelerate their product launch."
Mark Duddridge, Chair of Cornwall and Isles of Scilly Local Enterprise Partnership, said:
"Marine-i has been a champion of marine tech in Cornwall and Scilly, spanning autonomous vessels to environmental protection and clean growth. We are particularly indebted for their support in developing the potential for floating offshore wind technology in our region, which we believe could be transformative for coastal communities in our area and make a huge contribution to achieving our goal of a net zero carbon economy by 2030."
Prof Lars Johanning of University of Exeter, Programme Director of Marine-i, said:
"It has been a huge privilege to work with so many inspiring businesses, helping accelerate their innovations across marine energy, marine manufacturing, maritime operations and marine environmental technologies. Many of the innovations Marine-i has supported on their journey towards commercialisation have been 'world firsts.' Meanwhile, the growth of floating offshore wind in the Celtic Sea is set to transform our region with over 4GW of floating offshore wind capacity targeted by 2035 and 20GW more anticipated by 2045. We are seeing outstanding innovation as the local supply chain rises to the challenge and invents new products and services to seize the opportunities arising. The marine tech sector in Cornwall and the Isles of Scilly is on the verge of an exceptionally exciting new era."
Marine-i also launched a publication at the event, showcasing projects supported by Marine-i and outlining key project outputs. This can be downloaded from the Marine-i website at www.marine-i.co.uk