UK Government International Education Champion honoured by the University of Exeter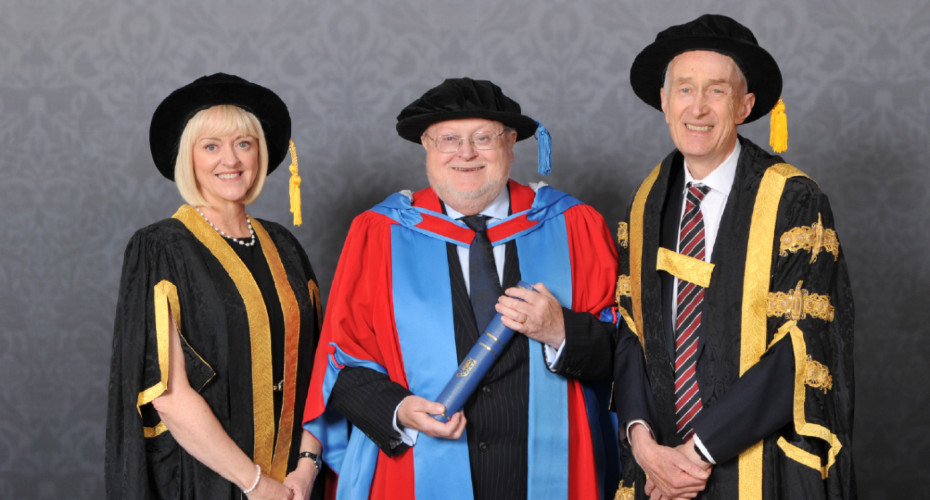 The UK Government's International Education Champion Professor Sir Steve Smith has been awarded an honorary degree by the University of Exeter.
Sir Steve, also the Prime Minister's Special Representative to Saudi Arabia for Education, is a renowned international relations scholar and is known for his influential roles in higher education over the past two decades.
He was previously Vice-Chancellor of the University of Exeter from 2002-2020 and former President of Universities UK.
The honorary degree was awarded as part of the University of Exeter's summer graduation ceremonies.
In his speech to students Sir Steve paid tribute to those he had worked with while at the University of Exeter and described the importance of the encouragement of his parents and a teacher when he was at school. He said his life had been "transformed utterly" by education.
Sir Steve said: "I am absolutely delighted to be awarded this Honorary Degree by the University of Exeter. I had a wonderful 18 years working at the University, and having retired to live in Exeter I can see even more clearly the enormously beneficial impact the university and its community have on the city and region. I am also delighted to see the university going from strength to strength, positively influencing so many people's lives and making such a massive contribution to solving so many problems that the world faces. I am proud to call myself an alumnus of the University of Exeter."
He is currently a Fulbright Commissioner, a Trustee of the Education and Employers Task Force, a Non-Executive Director of Unite Students, Chair of the Liveable Exeter Place Board, and a Patron of Exeter College. From 2006 he has been on the Board of Governors of RSIS at Nanyang Technological University, Singapore. In 2012 he was awarded the University of South Florida's Global Leadership Award.
Sir Steve holds a BSc, an MSc, and a PhD in International Relations from the University of Southampton. He served as President of the International Studies Association from 2003 to 2004 and is the author or editor of 17 books and over 100 journal articles.
Sir Steve was President of Universities UK (UUK) from 2009-2011. He was a Board member of the Russell Group (2012-2020); Chair of UUK's International Policy Network (2015-2020); Member of the UUK Board (2006-2020); Chair of the UCAS Board (2013– 2019) and Board member of the Heart of the South West Local Enterprise Partnership (2013-2020).
From June 2007 until May 2010, he led for higher education on the Prime Minister's National Council of Excellence in Education. In 2000 he was elected as a Fellow of the Academy of the Learned Societies in the Social Sciences (FAcSS). He was knighted in the 2011 Queen's Birthday Honours for services to higher education. In 2019, he was made a Freeman of the City of Exeter for his contribution to Exeter.
Professor Lisa Roberts, University of Exeter Vice Chancellor, said: "We are delighted to recognise Sir Steve's considerable achievements, locally, nationally and internationally. His work has been both transformational and truly influential, and it is extremely fitting for us to pay tribute to him at the University of Exeter, an institution at which he has made such an enormous impact."