Vibrant street festival at the University of Exeter to celebrate Lunar New Year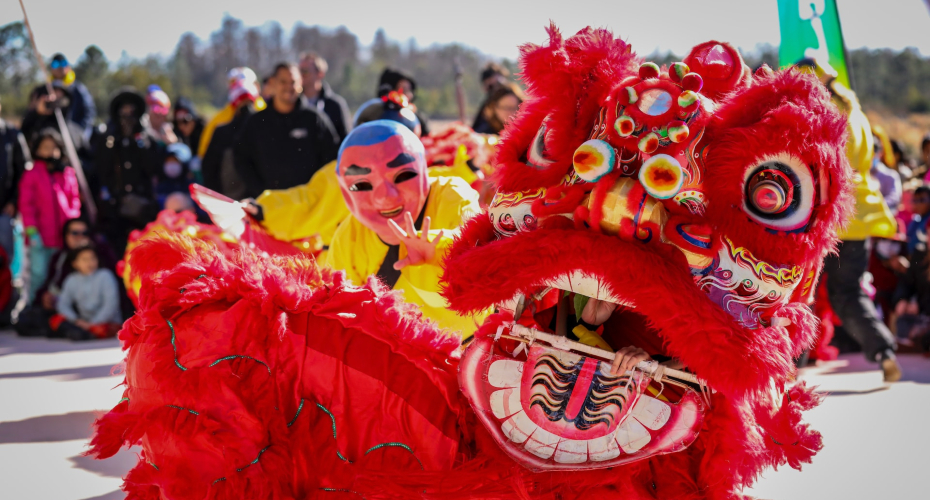 Everyone is welcome to celebrate the Lunar New Year with food, fireworks and games at the University of Exeter.
Also known as the Spring Festival, Lunar New Year is the most celebrated and longest of all Asian festivals and is observed by millions of people around the world.
The University of Exeter's vibrant street festival, on the afternoon of Monday 30 January, will mark the arrival of the Year of the Rabbit and is open to all. Partygoers are encouraged to wear red.
The event, at the Streatham campus, will begin at 12noon. People can enjoy tasty Asian food, write a new year's wish and hang it on one of the trees inside the Forum building and try intricate Chinese knot work.
They can also watch a traditional tea ceremony and try some delicious tea, have their fortune told, play new year games, take part in a treasure hunt and speak to the brilliant Chinese Community Welfare Service about their vital work.
There will be 2,000 lucky "red packets" to give away on the day. The event ends with fireworks at the rear of the XFI building at 6:45pm.
The event is organised with the university's Chinese Society, Chinese Community Welfare Service (CCWS), HK Pass, Japanese Society, Malaysian Society, Multicultural Society, Thai Society and Vietnamese Society.
Alice Dang, from the Vietnamese Society, who is studying Marketing and Management, said: "In Vietnam, we call Lunar New Year a Tet holiday. It is our traditional celebration of the Lunar New Year when families reunite and celebrate the start of a new year together. We make some traditional dishes such as "Banh Chung" and "Banh Tet" which consist of sticky rice, pork, and mung beans wrapped in banana leaves. We also watch fireworks on the New Year's Eve.
"I hope that these celebrations would be a great chance for everyone to learn more about each other's Lunar New Year culture. Our stall will be decorated with a traditional Vietnamese Lunar New Year's theme. There will be also traditional sweets and a Vietnamese animal game for everyone to try. Members of our society's committee will be there to greet everyone and share our Lunar New Year culture."
Edison Wan, from the Hong Kong Public Affairs and Social Service Society, who is studying for a BSc in Biological and Medicinal Chemistry, said: "Lunar New Year is important to me because it is the time for families to come together and celebrate. It is always heart-warming visiting relatives to share our blessings and celebrate the start of a new beginning.
"It will be super exciting to get to experience Lunar New Year with different cultures, taste different sweets and play different games!"
Joel Lim, from the Malaysian Society, who is studying law, said: "Lunar New Year is important to me because it is a chance to see and reconnect with my family members and friends. It isn't just the money in red packets, lion dances and firecrackers, it is a reason for family members around the world to come back to their roots and visit their loved ones, which symbolise one of our core values as Chinese people. We place a significant importance on family relations and friendships."
Professor Lisa Roberts, University of Exeter Vice Chancellor, said: "We are very much looking forward to celebrating the Lunar New Year and welcoming the local community at this special event, which highlights the vibrant diversity that exists in our University community. Many thanks to the staff and students who have worked so hard to organise all these activities and who have brought such a celebration of Asian culture to our campus."