A new framework shows how local buy-in can deliver net-zero transitions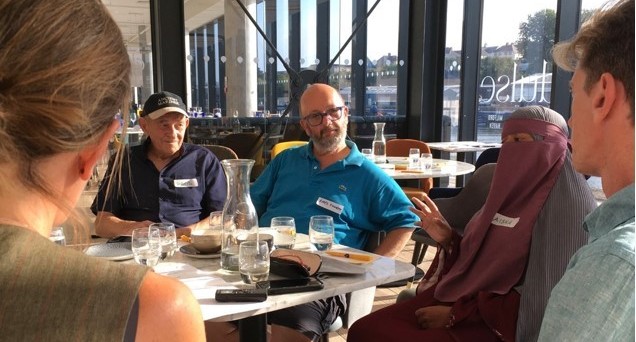 A new framework is being launched this week that shows how fair and acceptable deployment of net-zero technologies can be delivered.
Local communities must be consulted about – and benefit from – large-scale decarbonisation industries built in their areas, researchers say.
The UK government has set a 2050 net-zero target, and its plans include technologies such as carbon capture and hydrogen production.
So far, net-zero planning has tended to focus almost exclusively on technological challenges and "top-down" deployment – and often communities are barely involved.
University of Exeter researchers are launching the new framework at three workshops this week, along with researchers from the Universities of Sussex, Manchester and Leeds who work on similar projects in key locations: Milford Haven, Ellesmere Port and Grangemouth.
Professor Patrick Devine-Wright said: "These are heavily industrialised places, and their communities have experienced both the costs and the benefits as various industries have thrived and declined.
"Net-zero infrastructure such as carbon capture must be located alongside high-emissions industry, in places such as these.
"But people in these areas need to know what impact these infrastructures will have on their lives."
The new framework is based on three key ideas: local "sense of place", the concept of a "just transition" and "social licence", and sets out how industry, government and communities can tackle climate change in a fair, inclusive and acceptable way.
Professor Devine-Wright added: "This framework fills an important gap in understanding how we decarbonise industries.
"Such industries may be highly profitable but local communities don't always see the benefits. Nor is their knowledge always recognised.
"As net-zero plans are developed, we need more and better engagement. Local communities can't be left out of this conversation."
By working with communities in England, Scotland and Wales, the researchers can assess how devolved UK governments are doing things differently.
Professor Devine-Wright continued: "A lack of proper local engagement is a major policy gap and could lead to communities pushing back, delaying vital progress to tackle the climate crisis.
"The framework shows how a combination of clear government leadership and proper engagement with host communities, local authorities and businesses can deliver just, place-sensitive and acceptable net-zero transitions."
The aim is not only to share the framework, but to get feedback on it from different local stakeholder groups and to co-produce locally tailored "action plans" to guide place-based, just transitions.
Dr Abigail Martin, from the University of Sussex, said: "We bring a strong emphasis on the value of bringing together different stakeholders – and especially giving voice to host communities and workers – in key locations where public and private investment is targeting technological change.
"Whether it be CCUS (Carbon Capture, Usage and Storage), hydrogen deployment, more renewable electricity or other infrastructural and industrial innovations, net-zero change must be place-sensitive and environmentally and socially just in order for the deployment of decarbonisation technologies to achieve meaningful, publicly accountable reductions of CO₂ and other pollutants."
The researchers are also producing guidance for policymakers on these crucial issues.
This work has emerged from four projects funded by the Industrial Decarbonisation Research and Innovation Centre (IDRIC), that included researching a "Net Zero Sense of Place" and "Just Transition".
The research has already had valuable impact.
Mark Hughes, Chief Operating Officer of NECCUS (the Roadmap/Cluster plan lead for Scotland) said: "The work undertaken by the IDRIC / University of Exeter in their Net Zero Sense of Place Project has been critical in providing invaluable insight from the local community.
"Their approach has allowed local voices to be heard and the consultation process has been open, transparent and easily accessible.
"It has provided multiple opportunities for all stakeholders to contribute, ensuring that preconceived ideas and assumptions are challenged.
"I would strongly recommend that project developers undertake such an approach when engaging with a local community."
The research team includes Sussex, Leeds and Manchester universities.
To find out more, visit https://idric.org/