Exeter's MBA students tackle 'truly extraordinary' circular economy challenge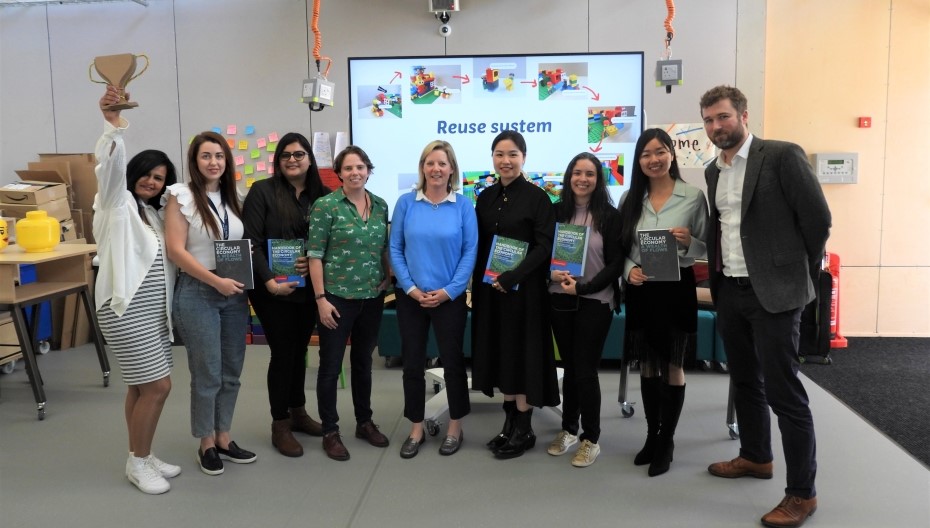 University of Exeter MBA students took a 'deep dive' into the world of Circular Economy as part of the cohort's week-long corporate challenge.
The Circular Economy Corporate Challenge is a week-long live challenge during which Exeter MBA teams draw on their learning from the Designing a Better Future for All module and apply it to a real world challenge.
This year the live challenge was presented in collaboration with DS Smith, a leading provider of sustainable packaging solutions, paper products and recycling services in Europe and North America, with coaching from MBA module leads Dr Merryn Haines-Gadd and Professor Fiona Charnley from the University of Exeter Business School's Exeter Centre for Circular Economy.
The teams were asked to create reusable packaging systems for use in ecommerce as well as for white goods, taking into account circular design strategies, the business model and the infrastructure to make it work.
Ankita Mishra, who was on the winning team, called the week-long challenge a "truly extraordinary experience', saying: "What really inspired us during the course of the challenge was DS Smith's dedication towards a sustainable future. Our project focused on a high consumer engagement section of e-commerce which was returns, so consumer experience was at the centre of our solution.
"It was promising to see that our team attempted to tackle this Herculean task that DS Smith is keen on undertaking and that we emerged victorious. This challenge was an incredible opportunity for us to deepen our understanding of the circular economy and to put our knowledge into action."
Dr Merryn Haines-Gadd described collaborating with a corporate client like DS Smith as a "fantastic opportunity" for the MBA cohort, "as they get to apply their knowledge and experience to a live circular economy brief and understand in detail the complexity of designing circular business models and systems".
Hugh McCann, Senior Circular Growth Manager at DS Smith, added: "The circular economy is based on the principles of designing out waste pollution, keeping products and materials in use, and regenerating natural systems, and offers an alternative solution to the current linear economy that is based on a 'take, make, consume and dispose' mindset.
"At DS Smith, the circular nature of our business is already serving as the gateway to the circular economy for customers as we support their changing needs, sustainability goals, and the growing demand for sustainable packaging. We are thrilled to invite the circular economy designers of the future into space, and excited to see how they will address the challenges we pose them."
Ends