New app reveals which polluters are driving Arctic melt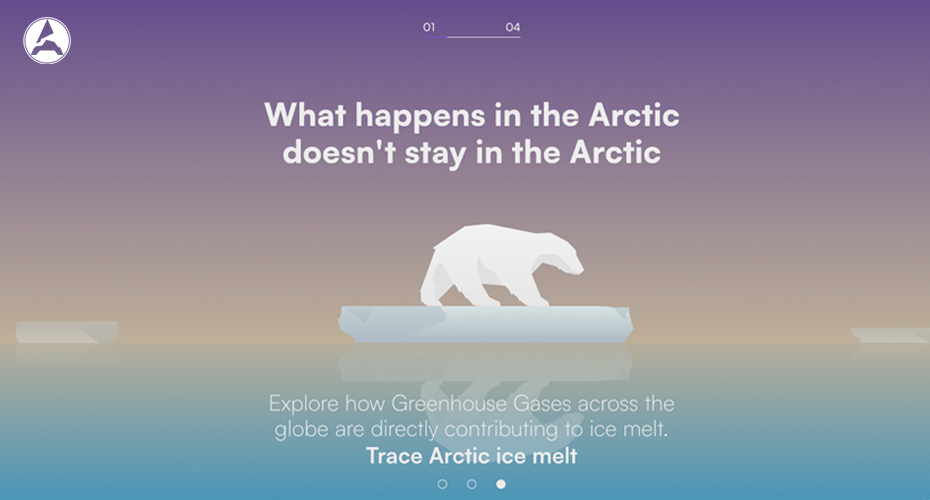 A new app launched today reveals the stark impact of global carbon emissions on rapidly melting Arctic sea ice.
Climate science indicates that the loss of Arctic sea ice worsens global heating, making extreme weather events such as the heatwaves that have ripped through Europe, the US and China this month more likely.
The new app directly links Arctic melt to the emissions of businesses and organisations around the world.
Users can type in a location and the app reveals who the biggest polluters are in those areas, focusing on three initial sectors: aviation, manufacturing and fossil fuel operations.
The app then uses AI to estimate how much carbon they are emitting and what those emissions mean for Arctic summer sea ice loss, based upon research by Professor Julienne Stroeve.
This innovative Arctic sea ice app was developed by the climate science communications platform Arctic Basecamp, led by the University of Exeter's Professor Gail Whiteman, in partnership with Earthrise Media, and has been launched with the help of Emmy nominated actor Rainn Wilson, leading sea ice climate scientist Professor Julienne Stroeve from UCL (University College London) and Chuck Tatham, Emmy nominated writer and producer of hits Arrested Development, How I Met Your Mother and Modern Family.
It is the first app of its type to use US Vice President Al Gore's ClimateTRACE data, an emissions inventory that is the world's first comprehensive accounting of GHG emissions based primarily on direct, independent observation.
The online tool and accompanying sea ice data visualisations give an easily accessible way to understand the changes happening in the Arctic now and some of the root causes.
The web app aims to raise awareness of the loss of Arctic sea ice and the huge repercussions it has for the rest of the world.
Numerous studies have established that Arctic sea ice loss is directly related to global CO2 emissions and worsens warming, as the melting Arctic ice means there is less white ice cover to reflect the sun's energy back into space.
Julienne Stroeve, Chief Science Officer at Arctic Basecamp and Professor of Polar Observation and Modelling at University College London, said: "Visual tools like this can help the general public gain a better appreciation for how their local industries impact Arctic sea ice melt and encourage more sustainable practices."
Estimates suggest the loss of Arctic sea ice together with reductions in snow cover over the boreal land areas will exacerbate global warming by 25-40%.

"Arctic sea ice is an indicator of climate stability and today there is about 40% less sea ice coverage at the end of the melt season than in the 1980s," said Professor Gail Whiteman, founder of Arctic Basecamp and Professor of Sustainability at the University of Exeter Business School.
"We know that more people need to be aware of the importance of Arctic sea ice, no matter how far away from the Arctic they live. This tool will give people a relatable and personalised means of understanding the crisis that is easy to share on social media – bridging science, communication, and powerful action all in one place."
Dr Zack Labe, a postdoctoral researcher at Princeton University, added his support for the tool: "It really bridges the gap between the peer-reviewed science, which shows how anthropogenic emissions are tied to Arctic sea ice loss, with actual greenhouse gas emissions at the community level. The new interactive tool is intuitive, accessible, supports local climate action, and excels at visualizing a complex climate science research topic for non-experts. I look forward to sharing it with others."
You can try out the Arctic sea ice tool at https://arcticrisk.org/resources/arctic-sea-ice-meltometer/