Professor Ian Bateman OBE joins headline climate panel for British Science Festival 2023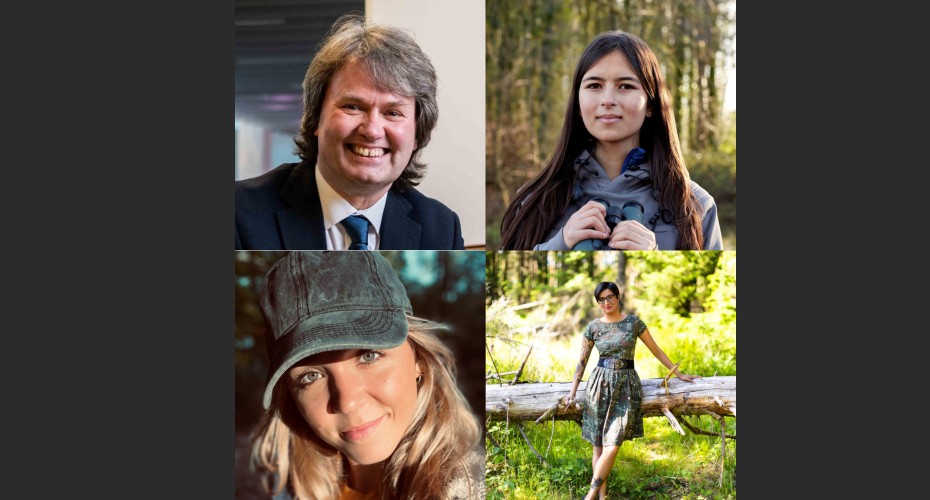 To mark World Nature Conservation Day (28 July), the British Science Festival has announced speakers for its headline climate panel, including Professor Ian Bateman OBE, Director of the Land, Environment, Economics and Policy Institute (LEEP) at the University of Exeter alongside environmentalist and activist Mya-Rose Craig, Extinction Rebellion's former spokesperson, Zion Lights and Exeter-based science communicator and author, Sophie Pavelle.
This year the British Science Festival is hosted by the University of Exeter from 7-10 September, bringing pioneering researchers together to share their work with the local audience through talks, activities, interactive events, installations, performances and more.
The event will take place on Saturday 9 September at Exeter Cathedral and the panel will be discussing the competing pressures of how land across the UK is used and what our future landscape could look like.
As our climate changes, it brings into focus the competing pressures on how land across the UK is used. There is increasing pressure to protect 30% of land for nature, and a growing recognition that we'll need to carve out further space for innovative energy and food solutions.  By 2050, with the current goal for the UK reaching net zero emissions of greenhouse gases, we could have a completely different landscape all together.
'This Green and Pleasant Land?' panel will discuss their thoughts on 'UK 2050', the actions they believe are needed to protect land for nature and such as sustainable technology, a new approach to land use, and the future challenges each entails.
Talking about the event, Professor Ian Bateman OBE, Director of the Land, Environment, Economics and Policy Institute (LEEP) at the University of Exeter said: "I am absolutely delighted to join this wonderful panel of experts to explore the many and varied benefits of our land across the UK, and look at the way in which decisions are made to benefit the natural environment, support sustainable local business and create healthy rural and urban communities.
"Attending the British Science Festival, both to listen as well as speak, is an exciting opportunity to hear from the engaged and varied group of people that this Festival will bring together to Exeter."
Professor Ian Bateman OBE is the Director of the Land, Environment, Economics and Policy Institute (LEEP) at the University of Exeter and his main research interests focus on ensuring sustainable wellbeing through working with business and policy makers to bring together natural science and economics. Professor Bateman has advised Government Cabinet ministers on environmental improvement for over 10 years, has published over 170 papers in scientific journals on his work and was appointed OBE for services to environmental science and policy in 2013.
More about the panel
Mya-Rose Craig is a 21-year-old British-Bangladeshi birder, conservationist, race and environmental activist campaigning for equal access to nature, to stop climate change and biodiversity loss, and to ensure global climate justice, all of which she believes are closely interlinked. She has authored three books, We Have a Dream (2021), which highlights 30 young global environmentalists of colour; Birdgirl (2022), in which she shares how she found her voice and joy through birding during a deepening family mental health crisis; and Flight (2023), a children's book about the world of migrating birds. She is an Ambassador for The Wildlife Trusts, Beaver Trust, Greenpeace, Survival International and Oxfam; and has spoken on stage alongside the likes of Greta Thunberg and Malala Yousafzai.
When asked about the festival, Mya said: "I am really pleased to be taking part in the 'This Green and Pleasant Land?' panel at the British Science Festival, representing a generation of people who have not yet had the opportunity to influence decisions on land-use change, or have their voices heard on the pressures of how land is used."
"I look forward to interacting with visitors who are open to new ideas and inviting them into a different conversation."
Zion Lights is a science communicator who is known for her environmental advocacy work. She is founder of the evidence-based climate activism group Emergency Reactor and author of The Ultimate Guide to Green Parenting. Zion has become a world-leading speaker on clean energy, specifically nuclear energy, and also lectures on effective science communication, tackling misinformation, and climate action. She is the former Editor of The Hourglass, Extinction Rebellion's print newspaper, and was also a spokesperson for the group for two years.
Chair of the upcoming panel, Zion Lights, said: "I'm delighted to have been invited to chair the panel discussion 'This Green and Pleasant Land?' at the British Science Festival alongside Ian Bateman, Mya-Rose Craig and Sophie Pavelle.
"Exeter is my hometown, where I am raising two daughters, so I am very excited about having the Festival here this year. I am passionate about sharing impactful viewpoints and research with new audiences, and I think it's crucial to get people thinking about solutions to the problems we face. I am looking forward to being a part of potentially igniting new ideas for visitors with this panel."
Sophie Pavelle is a science communicator and author from Exeter. She published her first book, Forget Me Not: finding the forgotten species of climate-change Britain in 2022, which this year won The People's Book Prize for Non-Fiction and has been longlisted for the Wainwright Prize for Writing on Conservation. Sophie, a zoologist by training, now works for the Beaver Trust. She is an Ambassador for the Wildlife Trusts and sits on the RSPB England Advisory Committee, and is a Trustee for UNESCO Exeter City of Literature. Her writing appears in New Scientist, National Geographic Traveller, The Guardian, and others.
Speaking about the festival, Sophie said: "I can't wait to attend my first British Science Festival, hosted in my hometown, and share my passion for protecting and nurturing our wild spaces, both in Exeter and beyond."
"I look forward to seeing where the conversation takes us, and how this debate could have an impact on visitors long after they've gone home."
The panel discussion takes place from 3.30pm to 4.30pm on Saturday 9 September at Exeter Cathedral in Exeter city centre. Tickets are free for the public and can be booked here.
The full programme for the British Science Festival 2023 is now live at britishsciencefestival.org