Students work with Spaceport Cornwall on hackathon event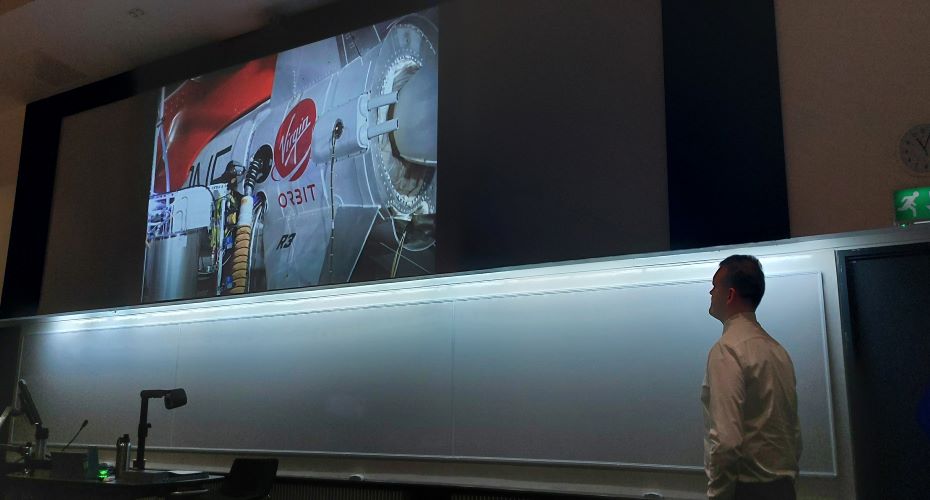 Aspiring engineers and entrepreneurs have been given the chance to apply their skills to the space and marine sectors as part of a special 'hackathon' event supported by Spaceport Cornwall.
Around 270 undergraduates responded to business challenges set by the Spaceport and Falmouth Harbour Commissioners to conjure creative approaches over the course of three days of collaboration.
Working in small teams, the students focused on designing an environmental-monitoring buoy system that could be connected to Kernow Sat 1, and envisioning a community outreach programme on the importance of space in the 21st century.
It is the second academic year in a row that the University has run the spaceport hackathon for first year undergraduates on its engineering degree.
"Challenging our students in this manner is a great way of embedding into our degrees real-world scenarios and 21st century employability skills such as teamwork and communication," said Ceri Howells, Lecturer in Engineering & Entrepreneurship. "And the environmental and space focus of the format really taps into two of the biggest and most topical themes in the region – which is why we're delighted to have the support we do from our two partners in Cornwall.
"The students fully committed themselves to solve one of three driving questions, with holistic sustainability at the forefront of their solutions. The quality of the outputs was outstanding and our students should be proud of themselves to deliver such work so early in their studies."
The students were set the challenges on the first day of the event – which for many of them was also their first day at the University. Each of the teams put together a presentation detailing their project and recorded a video to explain it.
Among the ideas formulated by the students tackling the space outreach programme included young children getting hands-on with a Mars rover to learn about the skills and tasks demanded by the space industry, and the use of VR technology to simulate walking on Mars to capture the imagination of teenagers and young adults.
Those students working on the ocean monitoring buoy focused upon a range of potential applications, including the creation of a network of low-energy devices that would monitor pollution levels along the Cornish coastline; using buoys to monitor sound pollution and biodiversity around offshore wind turbines; and the use of buoys to measure pH levels in seawater.
The outputs have been shared with Spaceport Cornwall and Falmouth Harbour Commissioners.
"These types of collaborations with industry partners not only lend richness to the student experience, but they are a key element of creating knowledge in the region," said Grant Day, the new European Space Agency Regional Ambassador. "It offers students an invaluable insight into some of the challenges and opportunities that might await them as graduates, while our partners benefit from fresh ideas and thinking."