Exeter professor dishes out scoop on climate change in New York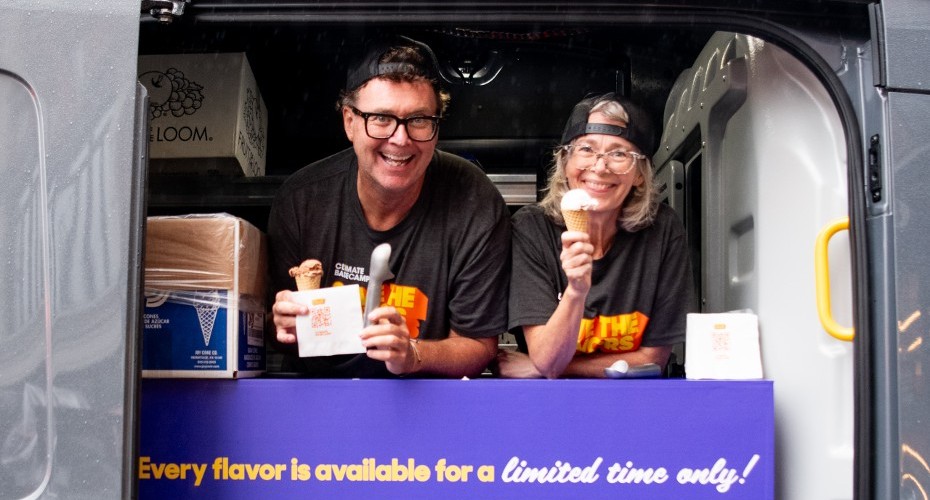 An Exeter professor gave away free ice creams in Union Square Plaza yesterday (18 September) in an attempt to 'make climate cool again' during New York Climate Week.
'Save the Flavours' is a campaign by Climate Basecamp, a new science communications platform that aims to use popular culture to get people talking about climate change.
Climate Basecamp is founded by Gail Whiteman, Professor of Sustainability at the University of Exeter Business School, alongside actor Rainn Wilson and comedy writer and producer Chuck Tatham.
Its 'Save the Flavours' campaign aims to raise awareness of the dangers climate change poses to many popular ice cream flavours, with ingredients such as vanilla beans, chocolate, coffee, mango and more all at serious risk as the climate warms.
Professor Whiteman and Chuck Tatham will be inviting guests to enjoy an ice cream while talking about tackling the threats of climate change and keeping all our favourite ice-cream flavours on the planet for generations to come.
A range of (save the) flavours will be available, from 'Choco too-late' to 'Don't Piss-tachio it all away'.
Professor Gail Whiteman said: "It´s not just about saving the flavors, it´s about saving us. By speaking science to culture, we hope to awaken collective consciousness about how climate action should be important to all of us.
"The future of humanity is affected by actions taken today, by governments, businesses, and us as individuals, but we know solutions are out there, we need bold climate action, and we need it soon. Plus who doesn't want a free ice cream on a hot day in New York?"
Climate Basecamp follows on from the huge success of Arctic Basecamp, which aims to 'speak science to power' about the risks of Arctic melt, and which has a track record of innovative initiatives such as bringing an iceberg to COP26 in Glasgow.
Its new sister initiative will aim to get everyone talking about climate change through using five pillars of popular culture – food, entertainment, music, sports and fashion – as a lever for change.
For its 'Save the Flavours' campaign, Climate Basecamp is calling everyone to contact major food retailers to disclose endangered ingredients on product packaging, saying that corporations must first acknowledge endangered foods to in turn bring awareness to the public.
To learn more about the initiative and access a social media template visit www.climatebasecamp.org.