Students to swim across Lake Geneva for eating disorder charity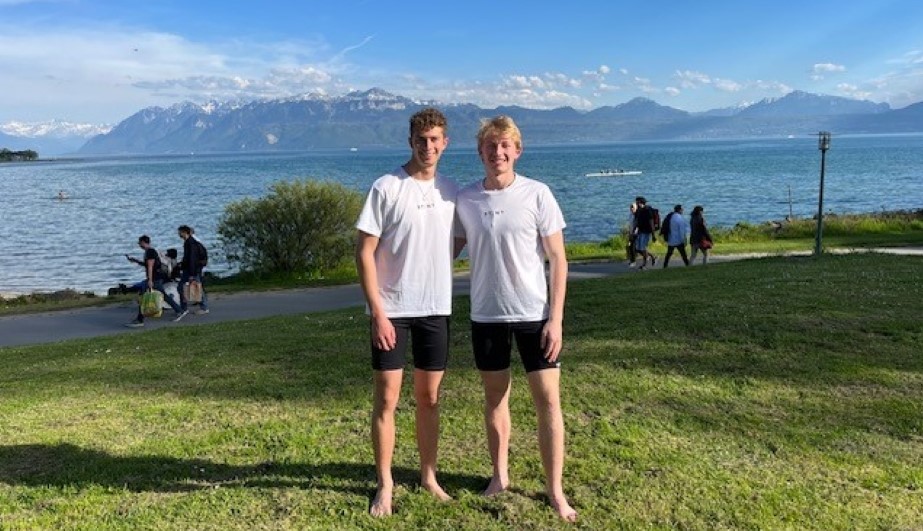 A University of Exeter Business School student will aim to swim across Lake Geneva later this month in a money and awareness-raising feat of endurance for charity.
Oscar Sanger, who studies Business Management and will be entering his final year in September, decided to raise money for the eating disorder charity Beat after a close family member became ill with bulimia and anorexia.
Studying in Lausanne on a year abroad and far from his family, Oscar was preoccupied with the condition of his teenage cousin who had been hospitalised, and looking for ways he could show his support.
"The disease has been just horrible," said Oscar, 22. "My cousin is only 15 and has been retained in a hospital several times. It's been devastating for our whole family too: my aunt had to quit her job to look after my cousin, my uncle also needed time off work and it has had hugely detrimental effects for my younger cousins."
Each morning on the way to class in Lausanne, Oscar and his friend would walk by Lake Geneva with its stunning views of distant snow-topped mountains, which got him thinking.
"We wondered how far it was to the other side of the lake so we looked it up and saw there was a route to swim it. I really wanted to do something to show support for my family and raise awareness of what my cousin has been going through and the two things sort of clicked together, and I thought that would be my challenge."
After doing some internet research, Oscar was shocked to find how prevalent eating disorders have become among young people, with one academic study stating that 13% of adolescents will experience a food eating disorder before they are 20.
"Almost all my friends know someone who has suffered with an eating disorder," Oscar said, explaining that the objective of the challenge for him has broadened and is now as much about raising awareness of how common eating disorders are, their detrimental effects and the help available.
Oscar and his friend William Henman, a student at St Andrew's, have raised over £2,000 so far and have managed to secure sponsorship fromStint, a company which facilitates flexible work for students, to pay for the support boat and lifeguard necessary to complete the challenge.
The money raised will go to Beat, the UK's largest food eating disorder charity, which has been in constant contact with the pair as they train for the swim.
"The cause of an eating disorder won't be the same for everyone, but I think the pressures to conform to the ideal body type that younger generations experience now – especially with social media being such a big part of people's lives – is frightening to be honest," said Oscar.
Referrals of young people with eating disorders for NHS treatment almost doubled in number from 2019 to 2020, and Oscar points out the difficulties for public health officials trying to tackle rising obesity rates at the same time.
"It makes you ask, how do you combat both? And the answer for me is education, teaching kids when they are young about the importance of food, balanced diets and cooking, to our physical and mental health.
"Kids also need to be taught about eating orders, including the signs that someone might have one and the help available to them from charities such as Beat.
"As with the recent shift on open discussions about mental health, society must do the same with eating disorders to facilitate an environment where individuals are encouraged to have open conversations."
Oscar and William will be crossing Lake Geneva on 31 July, and there's still time to support them with a donation.
Anyone affected by the issues in this article can access professional support by contacting Beat here and by calling their hotline on 0808 801 0677.
University of Exeter students can also access the University's Wellbeing Services.