University of Exeter apprentice wins at Multicultural Apprenticeship Awards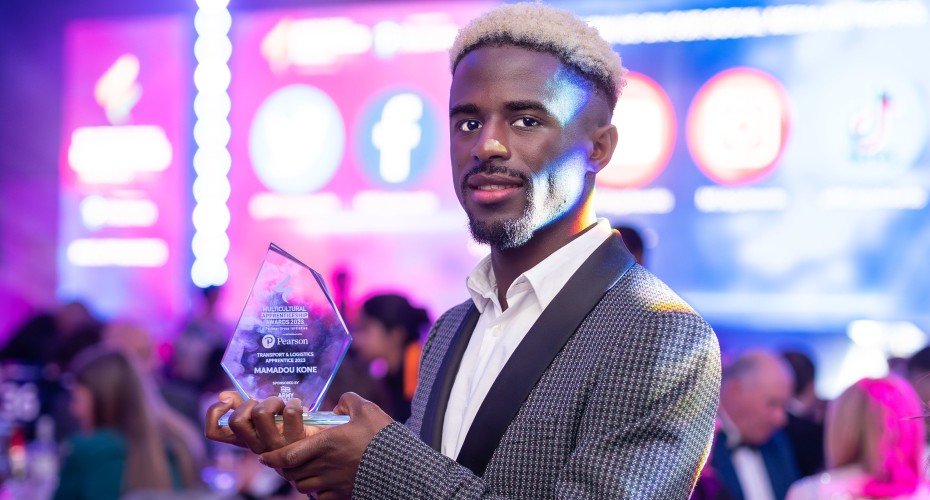 A University of Exeter apprentice is celebrating after winning at the Multicultural Apprenticeship Awards.
Mamadou Kone, who was one of six shortlisted apprentices studying at University of Exeter, won in the Transport and Logistics category.at an awards ceremony in Birmingham last week.
Mamadou chose a Degree Apprenticeship as way of accessing higher education and developing his skills and knowledge after focusing much of his childhood and teenage years on pursuing a career in football.
He is now an apprentice on the Chartered Manager Degree Apprenticeship programme, where he combines studying for a degree in Responsible Business Management with a full-time job working for Amazon.
Mamadou described his first year on the programme as 'incredible', culminating in a promotion to the position of Area Manager overseeing a team of 100.
"It was an honour to be shortlisted for this prestigious award alongside so many other inspiring apprentices, so I am thrilled to have actually won it!
"It signifies that those around me recognise my commitment, my efforts and determination to succeed on what has been a challenging journey."
Rachael Johnstone, Associate Dean for Taught Students and Director of the Centre for Degree Partnerships, said: "We are so proud of what Mamadou has achieved so far on his Degree Apprenticeship, and congratulate him as well as all of the University of Exeter's six nominees, who are all truly blazing a trail and showing just how transformative Degree Apprenticeships can be."
The University of Exeter is the largest provider of degree apprenticeships in the Russell Group and currently offers 2,900 degree partnerships, which it aims to increase to 5,000 by 2030.
Last month its new Centre for Degree Partnerships was opened by Education Secretary Gillian Keegan.
Learn more about Degree Apprenticeships at the University of Exeter here.