University researchers showcase scientific wonders at Glastonbury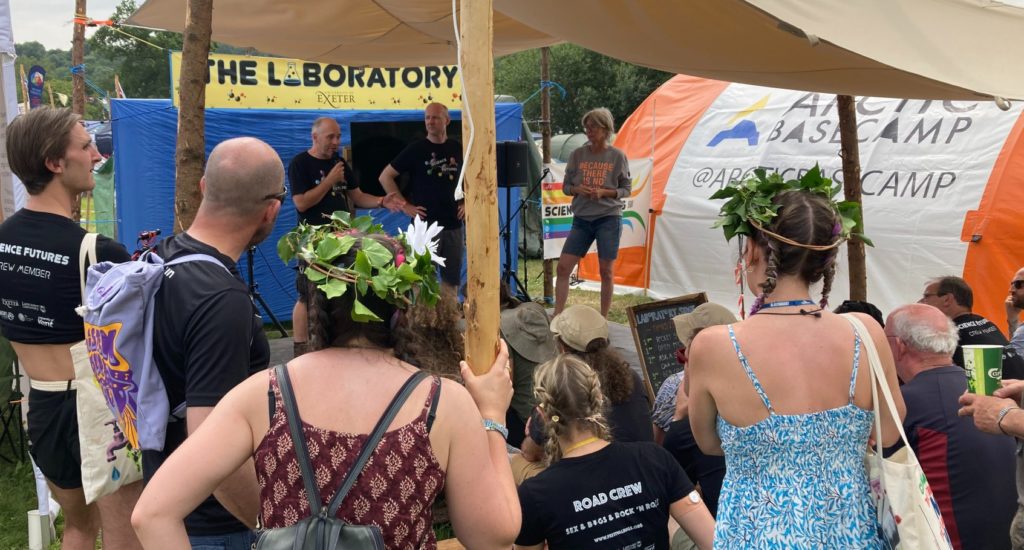 From climate change to robot surgeons, and from spiders to AI and deepfakes, festivalgoers at this year's Glastonbury Festival can learn and take inspiration from an entire area dedicated to science.
Based in the festival's Green Futures Field, Science Futures is an area of discovery where people can explore many varied ways in which science shapes our lives.
Through a mix of innovative installations, games, music, discussions and demonstrations, Science Futures will offer a chance for people to find out about the science behind new discoveries.
It will also provide unique opportunities for people to hear from, and meet, the approachable researchers tackling critical problems and those behind cutting-edge innovations.
The University of Exeter is helping to organise and provide content for Science Futures, which is co-ordinated by Lancaster University's Professor Emma Sayer.
The Laboratory stage will feature a packed and varied line-up cutting across different fields of science and technology, including the "science behind the Arcadia spider", Q&A sessions on climate change with Professor Richard Betts MBE of the University of Exeter and Met Office, discussions around the impacts of AI and deepfakes, as well as music including a "Funk and Soil" DJ set.
Professor Betts will also be co-ordinating Sex & Bugs & Rock 'n Roll, a decade-long science engagement collaboration, which started with support from the British Ecological Society and has gone from strength to strength thanks to the involvement of the universities of Lancaster, Exeter, Oxford and Kent and the Met Office.
"The Sex & Bugs & Rock 'n Roll stall is always huge fun," Professor Betts said.
"We meet so many lovely, enthusiastic festivalgoers and have some fantastic conversations about ecology and climate change.
"I can't wait to be back!"
Professor Dan Bebber, of the University of Exeter's Department of Biosciences, is co-ordinating the Plant Power Station with four doctoral students from the BBSRC-funded South West Biosciences Doctoral Training Partnership (SWBio DTP).
The Plant Power Station brings the science of sustainable agriculture to life, entertaining and engaging festivalgoers of all ages.
In a beautiful marquee, welcoming scientists will lead visitors through a series of games and activities tackling important issues like pollination, pest management, carbon footprints, organic farming, GM crops and food sourcing.
"The Plant Power Station is a great way for students to share their research on agriculture and food systems with festivalgoers," Professor Bebber said.
The Futurarium marquee will host numerous stands and exhibits including an insightful demonstration of some of the highly specialist equipment used by the BBC Natural History Unit to capture their amazing footage of the natural world.
Professor Gordon Blair and his team from Lancaster University and UKCEH will offer insights around the carbon footprint and sustainability of the technology and cloud computing we all use everyday called "How green is your cloud?"
"Running a science area at Glastonbury Festival is just the best thing in the world," said Professor Sayer.
"It's fantastic to see how much people enjoy experiencing and discussing science when we swap the lecture theatre for somewhere like the Green Futures Field.
"The way we present research in Science Futures fits so well with the vibe of the festival – and people love it!"
Shows on the Laboratory stage will include:
BBC Natural History Unit
Change the Earth Summit (Glasto Special) with Darren Jones MP
The Great Ape Challenge
Arcadia – The science behind the spider
Professor Richard Betts and guests – climate change Q&A
The Nature-Technology relationship with Professor Gordon Blair
Ask a scientist brunch
Beats of Science with DJ Mike Whitfield aka Funk and Soil
Climate songs from Rosie Eade "Folk Pixie"
The art exhibition "Science, not fiction" will be an outside showcase of art in science, and science in art, featuring contributions from 11 artists.
For the full Science Futures line-up – and exciting announcements as the festival approaches – follow @sci_futures on Twitter and Instagram.
For the full Glastonbury line-up including the Laboratory stage visit www.glastonburyfestivals.co.uk
Also at the festival, nursing and medicine students from the University of Exeter will put their learning into action by volunteering as first responders.
Students will deliver medical care as part of the Festival Medical Services (FMS) and gain real-life experience in responding to incidents and illnesses.