Exeter students to help deliver medical care at Glastonbury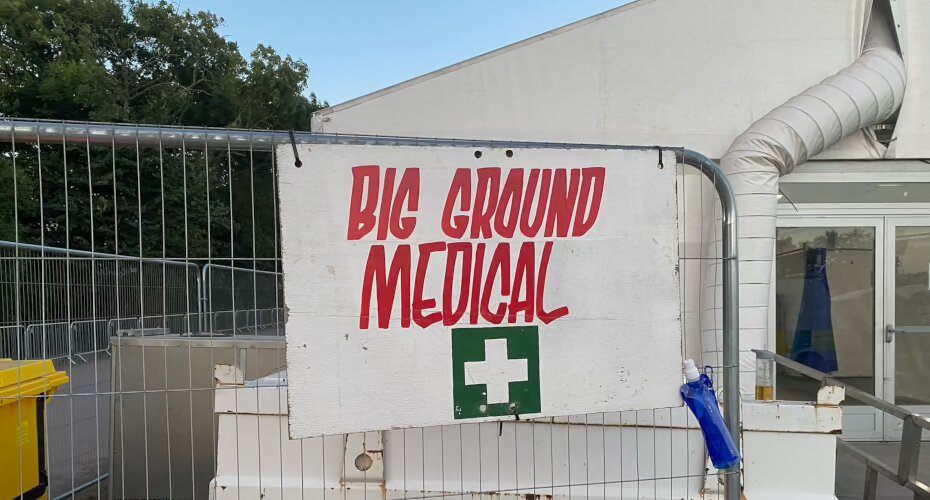 Nursing and medicine students from the University of Exeter will put their learning into action at this year's Glastonbury Festival by volunteering as first responders.
Students will deliver medical care at Glastonbury 2023 as part of the Festival Medical Services (FMS) and gain real-life experience in responding to incidents and illnesses at one of the UK's biggest events.
The group have received special training ahead of the festival, including basic life support and management of shock and burns, to prepare them for the potential cases they may have to respond to when 210,000 music fans visit the 191-acre site on June 21-26. Through this they will gain medical qualifications which will contribute to their degrees.
Third-year medicine student Amy Sheffard is among the volunteers and said: "Volunteering at Glastonbury will be a great way to develop my skills in emergency care – and I also have an interest in expeditions and field medicine, so this should be a great first experience of that.
"One of the most exciting but also scary things about a festival like Glastonbury is I could be dealing with anything! Practicing medicine in the field, with limited equipment and in a busy environment will enhance my skills in ways beyond what I can learn in the hospital, and I'm looking forward to working within and learning from a team of experienced medics."
Another third-year medicine student who's volunteering is Elystan Cheetham, who said: "I have a keen interest in emergency medicine, especially outside of the hospital environment, and this is a chance to do that in a unique way. We'll be working in a pressured environment, possibly in tricky weather conditions, where we need to keep a clear head and a steady hand at all times.
"We'll mainly be treating non-emergency issues like small wounds and maybe even a fracture, as well as possibly heatstroke and sunburn. But we've heard past stories of heart attacks and even some people going into labour – so we've got to be prepared for anything."
Professor Ian Fussell from the University of Exeter is a Team Member of FMS and will help lead the student group. He said: "Exeter's partnership with FMS provides a fantastic opportunity for our medical students and we're delighted to have this opportunity to help keep the public safe and well at Glastonbury.
"Our students will be responding to a variety of incidents in a fast-paced and ever-changing festival environment. This experience should prepare them well for working on NHS frontlines in the future and I'm really pleased they'll be showcasing their talents and representing the medical school at one of the biggest music events in the world. They're a great group and superb ambassadors for the university."
Students are invited to apply for a place on the FMS Responder team each year and are expected to contribute to the funding of their training for this role.