Exeter students help keep festival goers safe and well at Glastonbury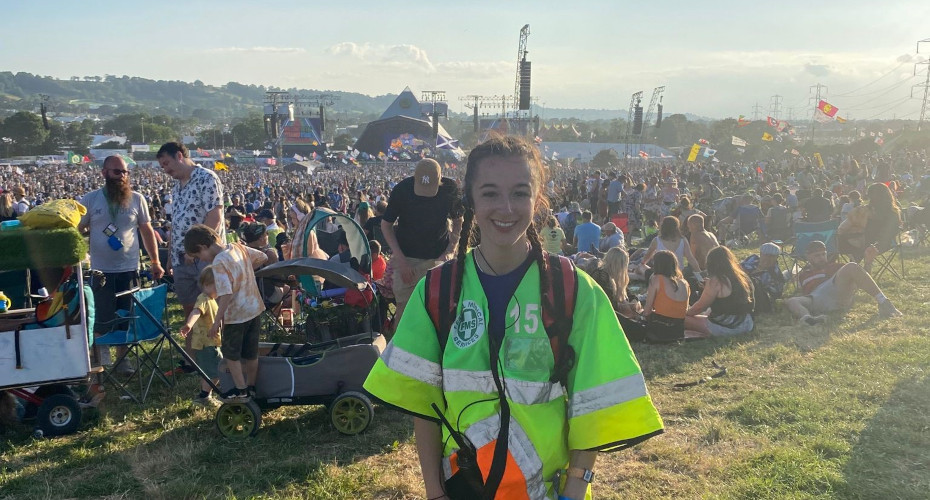 Nursing and medicine students from the University of Exeter were putting their skills into action at this year's Glastonbury Festival while volunteering as first responders.
The students delivered medical care at Glastonbury 2023 as part of Festival Medical Services (FMS), who provided special training ahead of the event to prepare them for the variety of cases they had to respond to when 210,000 music fans visited Worthy Farm over the past week.
The group gained medical qualifications which will contribute to their degrees. Among them was third-year medicine student, Amy Sheffard, who said: "Glastonbury has been the best experience of my whole life. Not only was the festival itself a magical place, but it was a privilege to be able to start using some of my medical training. The generosity of the public was a real highlight, from words of encouragement, to help navigating crowds, to being given an ice lolly – which was certainly needed carrying heavy kit in the heat!
"I learned skills that I never get the opportunity to develop on the wards – moving crowds to get an ambulance through and reporting over a walkie-talkie were totally new experiences – and I also learned so much from the more experienced responders I was paired with for each shift. Communication was the most vital skill, whether that was reporting the most important details to those managing callouts, to keeping things as simple as possible for patients.
"It was the best feeling to make even a small difference to the safety of those attending this iconic festival. I'm exhausted, but I can't take the smile off my face. Overall, volunteering at Glastonbury has been such an incredible introduction to pre-hospital medicine and I hope to volunteer as a first responder at other events soon." 
Second year nursing student, Orianne Capsticks, was also among the volunteers and said: "During my time at Glastonbury, I had to conduct skills such as accurately taking vital signs in a highly pressured environment and to escalate the findings in an appropriate professional manner to the multidisciplinary team. I was exposed to a wide variety of situations and also had to support and reassure patients' family members and friends. 
"Primarily a shift involved assisting with triaging patients when they entered the medical tent, before conducting a set of initial vital signs whilst the nurse was categorising the patient based on presenting symptoms. After admission I conducted electrocardiograms (ECG) to record the rhythm, rate and electrical activity of the heart and had the opportunity to communicate with the doctors to be able to understand the recording. 
"I was under no illusion that this experience was going to be easy and potentially distressing at times, but I have developed my skills and adapted them to meet a patient's needs. This professional development and progression can be transferred back into my learning and further enhanced in settings that I hope to work in, such as accident and emergency."
Professor Ian Fussell from the University of Exeter is a Team Member of FMS and helped lead the student group. He said: "Exeter's partnership with FMS provides a fantastic opportunity for our medical students and we were delighted to have this opportunity to help keep the public safe and well at Glastonbury.
"Our students responded to a variety of incidents in a fast-paced and ever-changing festival environment. This experience should prepare them well for working on NHS frontlines in the future and I'm really pleased they showcased their talents and represented the medical school at one of the biggest music events in the world. They're a great group and superb ambassadors for the university."
Students are invited to apply for a place on the FMS Responder team each year and are expected to contribute to the funding of their training for this role.